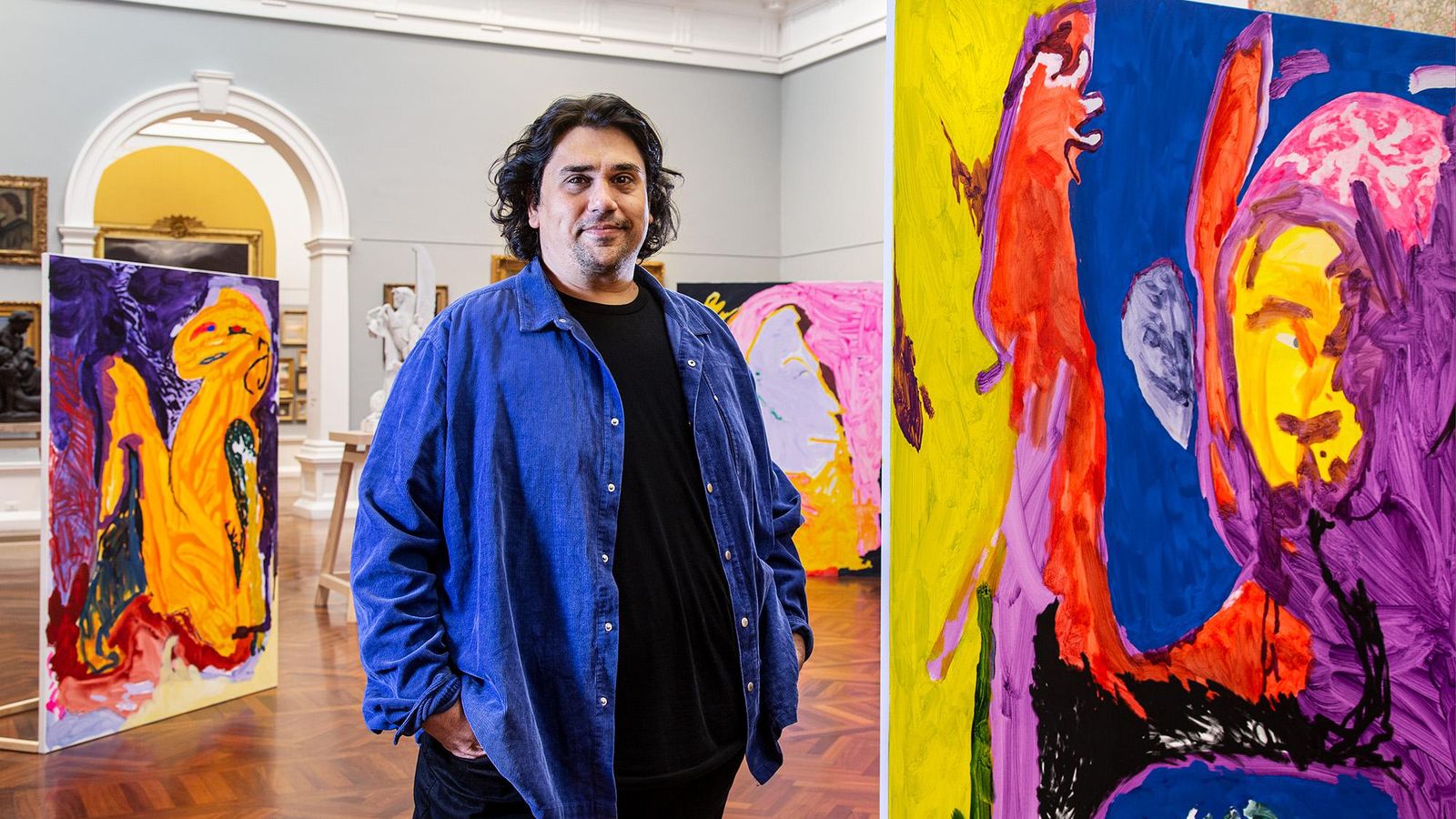 Tom Polo
---
Born Sydney 1985
Lives and works in Sydney
Represented by Roslyn Oxley9 Gallery, Sydney, STATION, Melbourne and Galerie Transit, Mechelen
Tom Polo uses painting and painted environments to explore how conversation, gesture and exchange are embodied acts of portraiture. Frequently incorporating text and figurative elements, his works draw upon acute observations, absurdist encounters, personal histories, and imagined personas. An ongoing interest across his practice is the emotional and performative relationships between people within social, theatrical and psychological space.
Artist text
By Bradley Vincent
For Tom Polo, whose paintings feature figures more aligned with the absurd than the realistic, the clock fixes his work to our world. clockwatch (end/during), 2021–22, fills a wall of the AGSA atrium. A massive timepiece, it creates a threshold for visitors to cross. Here is a moment anchored to the indisputable reality of the passing of the day amidst the temporally shifting world of the art gallery, with its confluence of old and new, fact and fiction, the accessible and the inscrutable. The time on its face is something tangible, and for Polo it serves as a moment for the audience to ground themselves. A pause.
This functional clock also features a vast bank of video vignettes for display, further records of the real, tangible, world. In these, recorded on his iPhone, we see small moments of social interaction, or what the artist, a prolific recorder of the world around him, calls 'field research'. These videos, as well as a vast tranche of photographs, are typically the starting points of paintings, becoming moments within compositions that transcend the confines of the everyday. Presented for the 2022 Adelaide Biennial throughout the Elder Wing and integrated in the AGSA collection, Polo's paintings stand upright on supports, evoking the unmistakable forms of theatre flats.
These figurative abstractions create a cast of characters, on display, blurring the lines of looking and being looked at. Theirs is an alternative but related world, a world parallel to our own, and it is testament to Polo that he always achieves a cohesive vision of a speculative space. This is a world of control and uncontrol, where exaggeration and absurdity are finely balanced with familiarity. The resulting uncanniness is ringed with humanity as figures look beyond their stretchers, and, as Polo would say, 'are preparing to prepare' to take the stage.
The full version of this essay by Bradley Vincent is published in Free/State.
This project has been assisted by the Australian Government through the Australia Council, its arts funding and advisory body