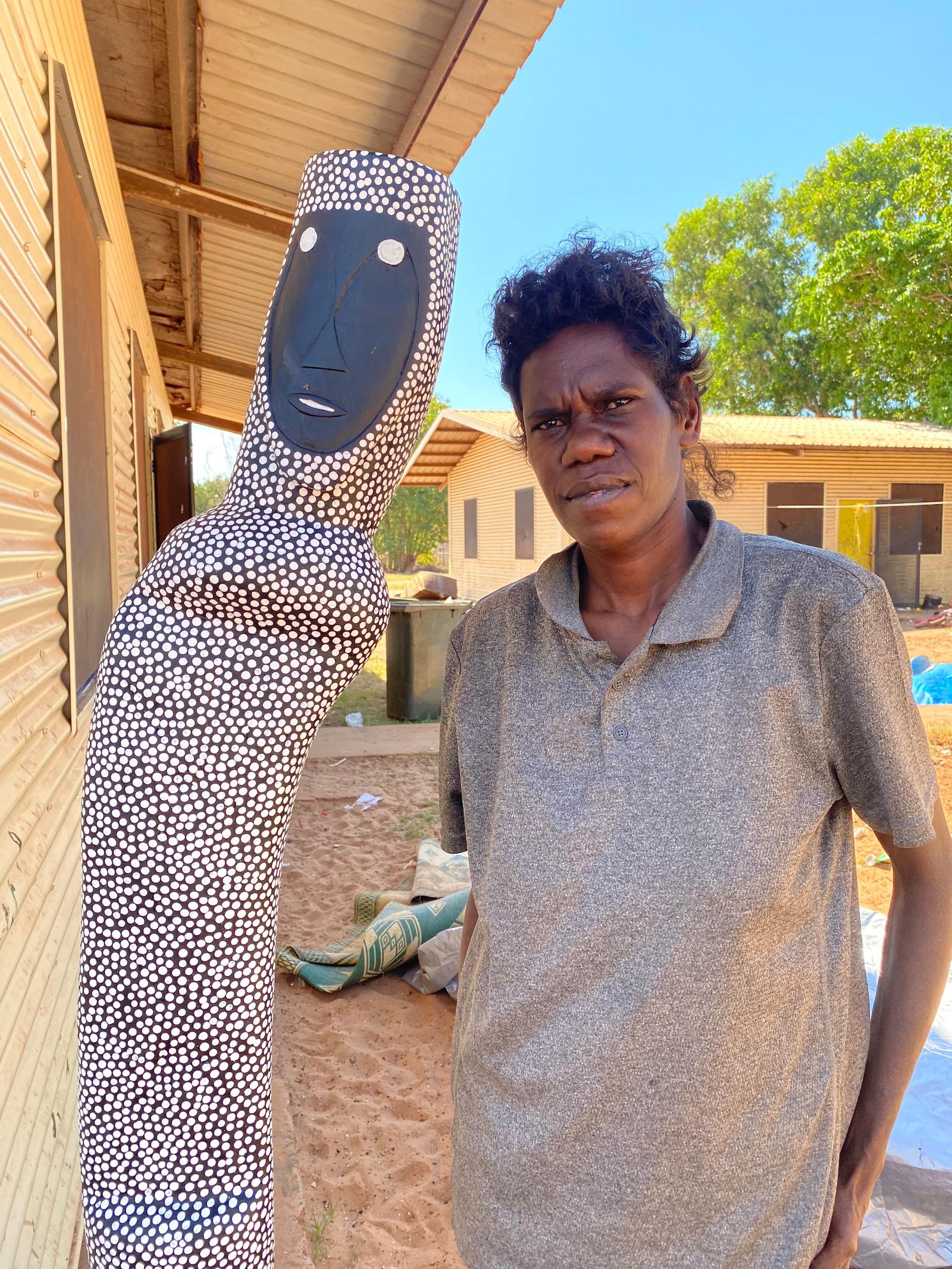 Serena Bonson
---
Born Miwirnbi, Arnhem Land, Northern Territory 1980
Djowinge moiety and Djinang people, Northern Territory
Lives and works Maningrida, Northern Territory
Represented by Maningrida Arts & Culture, Maningrida, Northern Territory
Serena Bonson has become known for her striking carvings in stringybark painted in black and white to depict the Wangarra spirits. The Wangarra play a key role in the stories of Bonson's community relating to death, birth and the transition of the spirit into the afterlife, and in rebirth. They are considered indicative of ancestral beings and deeply connected to the waterholes that are central to the stories of the clan and their connections to land. Her heritage is of Djowinge moiety, the Djinang language group and she is part of the Murrungun clan.
Artist text
By Dr Léuli Eshrāghi
Manayingkarírra/Maningrida-based artist Serena Bonson belongs to the Djowinge moiety, Murrungun clan, and the larger Djinang language group. She has become recognised for her striking carvings, made with stringybark or cottonwood timber, and sometimes recast in bronze and aluminium. Bonson, whose homelands face the northern islands of Maluku/Moluccas and West Papua, is a rising star from the southern shores of the Arafura Sea. Depicting the important Warraburnburn, a specific Warrawarra clan-associated spirit/devil/ghost, in expertly deployed blackand- white acrylics and ochres, these works of art are significant in collective interpretations of creation narratives and relate directly to specific moiety positions and responsibilities. The Warraburnburn figures hold an essential role in indicating cycles of death, life, transitions and rebirth, being closely associated with the waterhole An-mujolkuwa in the artist's ancestral territory, as other Wangarra are related to other sites for other clans.
Varying in size, from figures akin to an infant to others as tall as an adult, a suite of Warraburnburn sculptural representations have been crafted by Bonson for Free/State. The dotted sheath of their bodies seemingly conjures the constellations of the night skies and the cover of dusk and night that Warraburnburn might use to adventure around the landscape. Their poetic facial expressions are set as opaque, though interpretations must surely vary. Bonson inherits the responsibility and right to depict this spirit/devil/ghost through her mother's line in the Warrawarra clan, becoming their Djungkay or cultural manager. They 'wear dots', known as An-mujirrkama in the Maringa dialect of the Burarra language.
Working out of the Maningrida Art Centre, the artist has echoed the corporeal motifs worn by dancers in bunggul or ceremony in the adornments on the Warraburnburn figures. These are also said to represent the new lives of the young who are yet to take human form.
The full version of this essay by Dr Léuli Eshrāghi is published in Free/State.