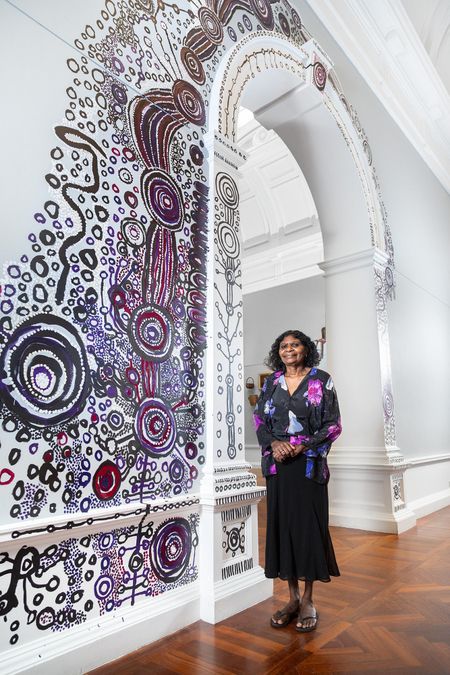 Rhoda Tjitayi
---
Born Pukatja (Ernabella) South Australia 1969
Pitjantjatjara people, South Australia
Lives and works in Adelaide
Represented by APY Art Centre Collective, Adelaide
Rhoda's grandfather was from Nyapari and grandmother from Makiri, Tjala Minyma Ngura (Honeyant Women's sacred place). She is painting her grandmother's story, the ancestral creation story Piltati Tjukurpa. Two sisters, Wanyinta and Alartjatjarra, along with their husbands, travelled the lands looking for food. The two women would travel far to dig and hunt and always returned with food for their husbands, but on one particular occasion decided they would eat some of the food before heading back to their husbands. Their husbands became angry that their wives had not returned and decided to trick their wives by turning into two water snakes and going into the water holes near the site. The men, in the form of water snakes became angry and swallowed the two sisters.
Artist text
By Dr Léuli Eshrāghi
Rhoda Tjitayi's monumental paintings attest to the vitality of Indigenous conceptions of relationality, truth and temporality. An accomplished artist, she is also a translator and singer–songwriter in Pitjantjatjara language.
A long-time resident of Pukatja community, sometimes still referred to by its mission-era name of Ernabella, Tjitayi, through her expressive language, gathers the monumental energies of millennial histories and presences in ancestral territory, translating the precious narratives onto canvas. Recent projects in which Tjitayi has participated have focused on strengthening young people's access to, and practice of, their Indigenous ceremonial-political practices, particularly in the Pukatja and Amata communities, which are home to vibrant Aboriginal art centres.
The works of art by Tjitayi that feature in the 2022 Adelaide Biennial of Australian Art: Free/State are titled Piltati Tjukurpa and measure up to five metres wide. They relate to various perspectival positions on the creation narrative of the artist's matrilineal Country of Makiri, known as Tjala Minyma Ngura, the women's sacred place of the honey ant.
Reconfigurations each time of the intergenerational responsibility to this creation narrative and associated territory, Tjitayi's paintings are magnificently complex and rich, offering non-Pitjantjatjara an opportunity to meditate on her grandmother's Country through the mediated prism of paintings exhibited much to the south in Kaurna Yarta.
The full version of this essay by Dr Léuli Eshrāghi is published in Free/State.