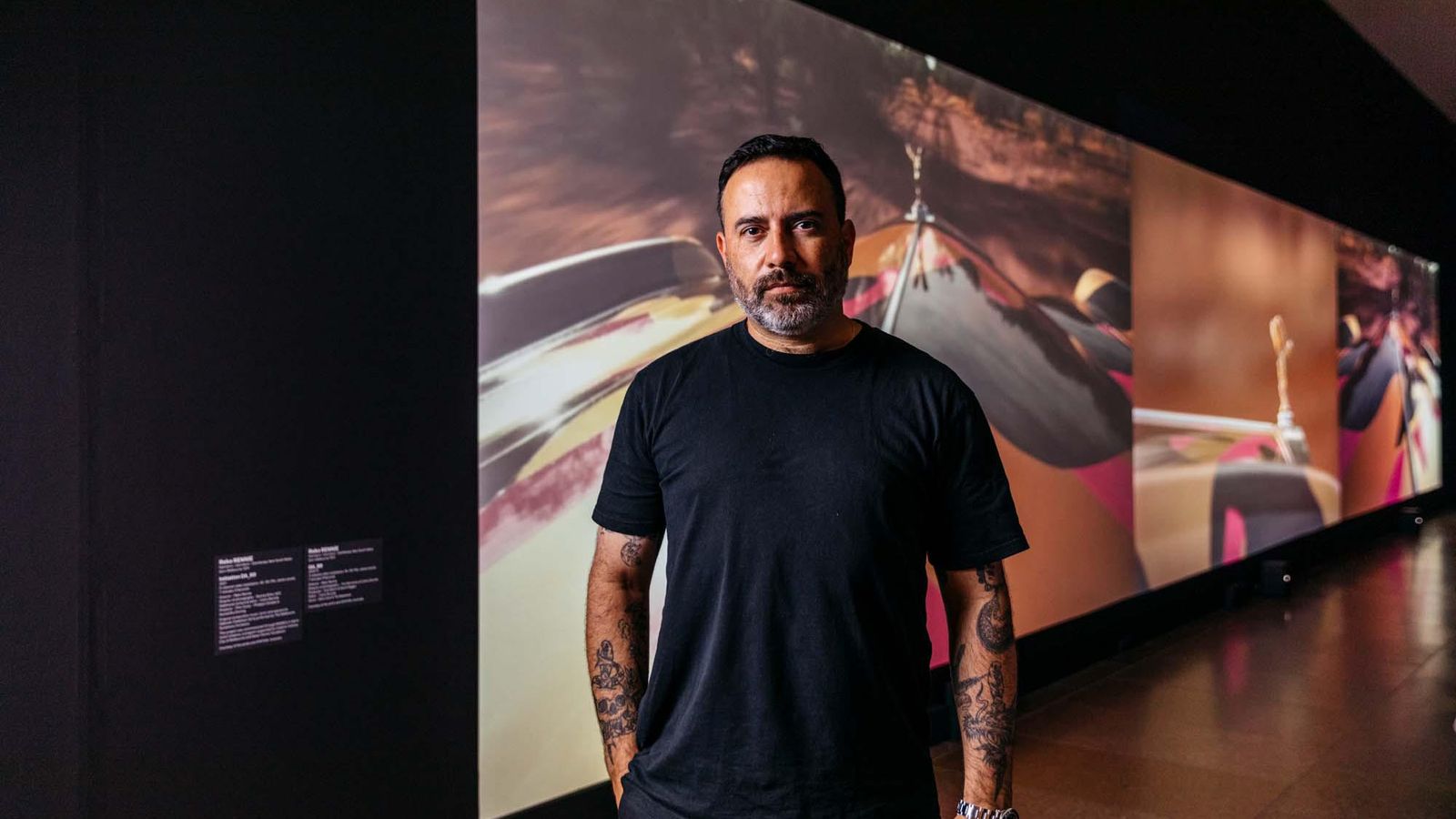 Reko Rennie
---
Born Melbourne 1974
Kamilaroi/Gamilaroi/Gamilaraay people, New South Wales
Lives and works in Melbourne
Represented by STATION Australia

Reko Rennie is an interdisciplinary artist who explores his Aboriginal identity through contemporary media. Through his art, Rennie provokes discussion surrounding Indigenous culture and identity in contemporary urban environments.
Largely autobiographical, his commanding works combine the iconography of his Kamilaroi heritage with stylistic elements of graffiti. Merging traditional diamond-shaped designs, hand-drawn symbols and repetitive patterning to subvert romantic ideologies of Aboriginal identity.
Artist text
By Dr Léuli Eshrāghi
In Kamilaroi/Gamilaroi/Gamilaraay artist Reko Rennie's 2021 work, Initiation OA_RR, commissioned by RISING Melbourne, a pink 1973 Holden Monaro coupé is the central protagonist, travelling with a camera on a journey through the neighbourhoods and industrial arteries of Rennie's youth. Across the workingclass western suburbs and entrepôt districts of Birrarungga/Melbourne, the hot metallic-pink Monaro moves through ancestral and contemporary thoroughfares and backstreets, by day and by night. Yorta Yorta soprano and composer Deborah Cheetham AO's rousing operatic score metaphysically and aurally holds space for the three-channel work, which seemingly hovers on rich thermal winds above Country as deftly as local and migratory birds might do.
A considerable expansion on the earlier work OA_RR, 2016, which traces Rennie's return to Country and the creation of burnout rings as ceremony, Initiation OA_RR affirms the continuing Kamilaroi/Gamilaroi/Gamilaraay presence, applying the widely popular register of drag-racing culture in circuits outside most Australian settler colonial metropoles, small and large, to great effect. The burnouts arising from the Monaro coupé's engine heaving and revving on a stretch of open tarmac, with the familiar billow of exhaust and brake smoke and the cries of the tyres on sandy lands, are offered as an initiation into and inculcation of cultural values.
Coming to the visual arts through the language of 1980s American graffiti culture and committed to representing urban Aboriginal experience such as his own lived connection to community, Rennie continues to mark territory with the signature diamond motif of his Kamilaroi/Gamilaroi/Gamilaraay Nation, shared with surrounding First Nations, on buildings, trains, laneway walls, public murals and paintings. Cheetham voices the strength, lament and power of First Nations continuity, despite all of the continuing horrors of genocidal settler colonial regimes.
The full version of this essay by Dr Léuli Eshrāghi is published in Free/State.