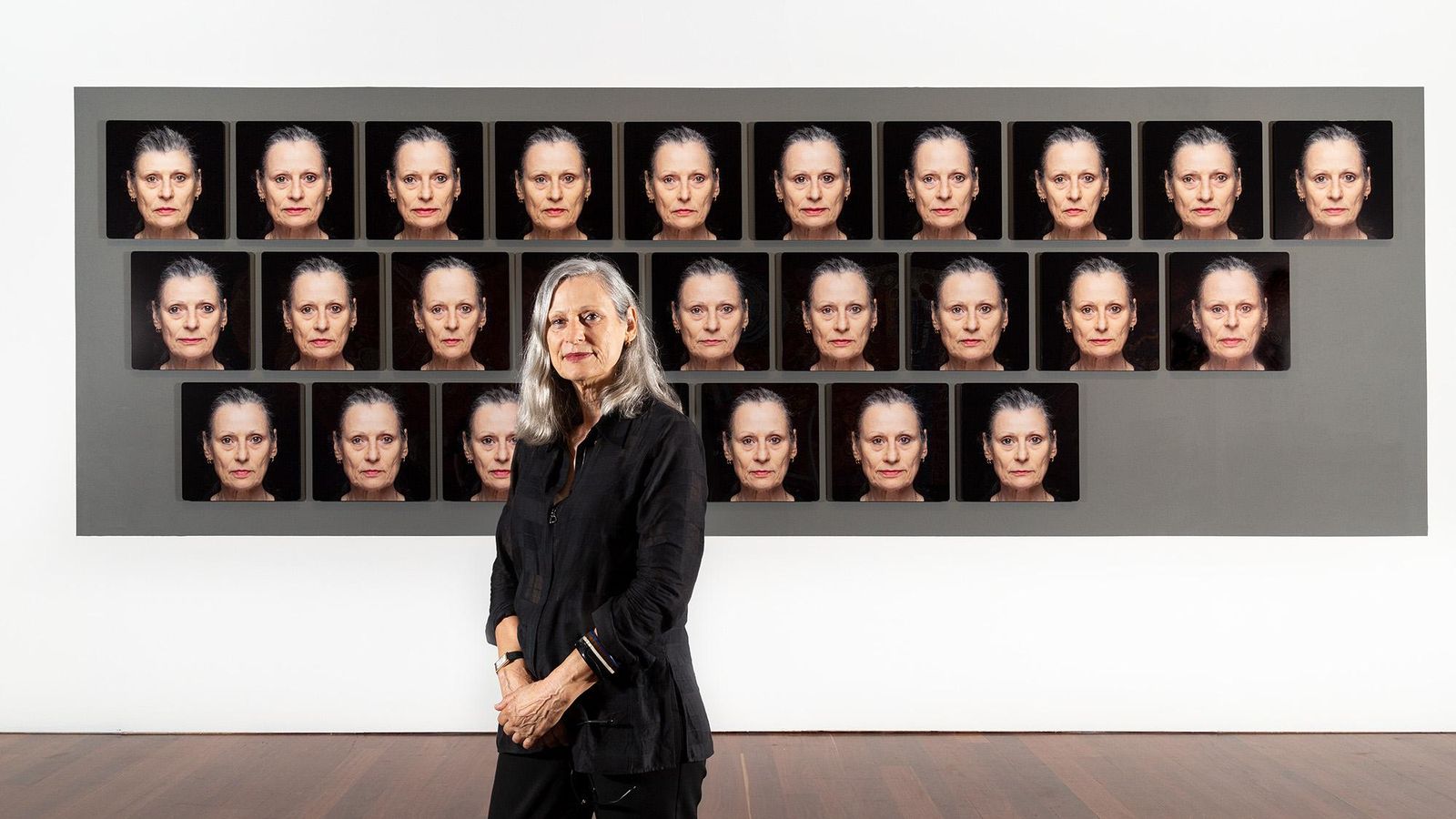 Julie Rrap
---
Born Lismore, New South Wales 1950
Lives and works in Sydney
Represented by Roslyn Oxley9 Gallery, Sydney and Arc One Gallery, Melbourne
Prescient and ahead of her time, Sydney-based Julie Rrap's body art and performance practice from the mid-70s in Australia has expanded to include photography, painting, sculpture, and video and continues to inspire generations of artists.
Artist text
By Bradley Vincent
For Julie Rrap, technology, albeit still fraught, may ultimately provide us with a space for shared experience and accountability. Write Me (2021) examines the social contract of the public sphere. In a career that has often returned to the body as a site of action and politics, recent times have reduced Rrap to a constrained and warped vision of their familiar face. 26 times over, across a keyboard shaped grid, with its familiar, specific alignments, play out 26 versions of the artists face, each representing a letter of the alphabet. Reflecting on these cropped, constrained images of herself, Rrap suggests that staring at her face in endless zoom meetings and feeling so restricted in movement was possibly the catalyst for the work.
Accompanying the photographs are two rooms. In one, a corresponding keyboard allows the visitor to write to Rrap, the words appearing on a large screen as the distorted images of the artists face warp and flicker with each keystroke. The artist is animated like an automaton, or summoned perhaps, conjured like a spectre by the typist's words. In a second room is a large projection work in which the artists face is animated in response to a text, composed by Rrap, from a series of writings on freedom by women authors across time.
'Write me'. It is equal parts plea and command – an incantation willing people to engage. With this work, Rrap creates a space for expression and for its reverberations to play out. All while watching over it, wondering at the possibility of connection, both across time and between us.