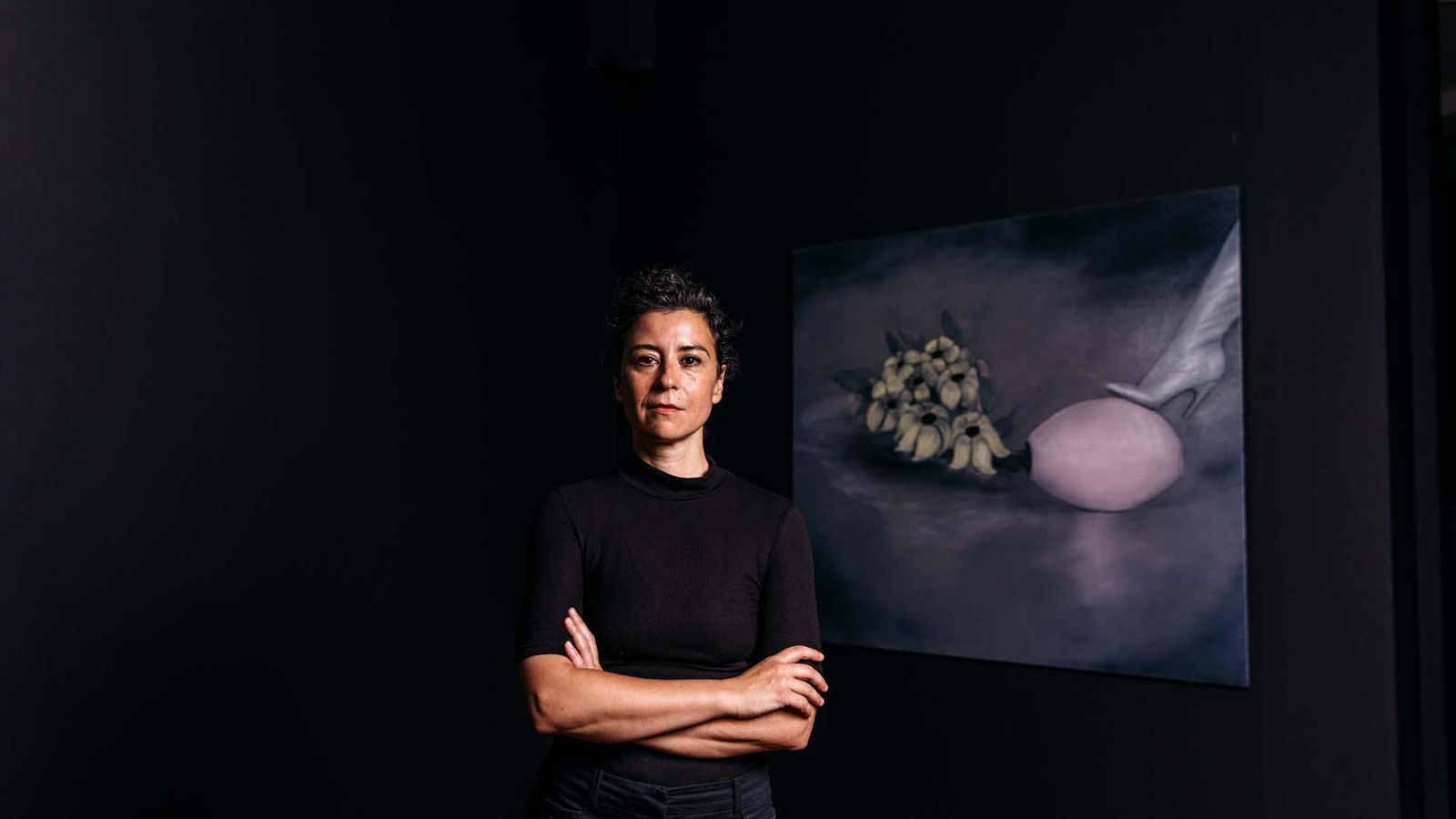 Jelena Telecki
---
Born Split, Croatia 1976
Lives and works in Sydney
Represented by Sarah Cottier Gallery, Sydney
Jelena Telecki is interested in representation and how it can articulate her sense of personal and shared narrative, internal and the external. She has exhibited extensively in Australia, UK and Japan since 2008, and was awarded several residencies, scholarships and grants including the one-year studio residency at the Artspace, Sydney in 2019 and University of Sydney Postgraduate Award 2008-2009. She was awarded Masters of Visual Arts in 2010 from the Sydney College of the Arts, University of Sydney.
Jelena Telecki: no more slaves, no more masters
By Patrice Sharkey
Telecki is a painter who left her homeland during the Yugoslav Wars – a series of separate but related ethnic conflicts, wars of independence and insurgencies fought in the former Yugoslavia between 1991 and 2001.6 Even before the civil war, she tells me, she experienced a sense of being trapped in her country. This was compounded by arriving in a new 'state' 'that doesn't want you either' despite acknowledging the country in which you were raised no longer exists. Her complicated relationship with the idea of the nation state and citizenship has led Telecki to an ongoing interest in social theory and power relationships, with her previous bodies of works addressing ideas of utopia and dystopia, failure of unity, nationalism and suffering (see State Art, 2014).
I don't think I'd be exaggerating if I say [the term] is an oxymoron for people coming from my part of the world
While she alludes to historical events, Telecki is more interested in personal evocation than literal representation. It has been said elsewhere that, in her work, 'traces of historical trauma assume an interior dimension that is sensed as part of a phantasmatic excess'. Working always with a sombre palette, she produces images that are mysterious, cinematic and darkly absurd; abstracted memories become the things of dreams – and nightmares.
One visual element that has been lending Telecki's paintings an unnerving and cryptic quality for some time is her quotation from the BDSM world, in the form of the gimp (a sexual submissive dressed in a full-body bondage suit). For Telecki, the gimp is a prop or stand-in that signals the power roles that we learn in society; the joys and pains of our inescapable and mutually dependent human relations.
Her latest series of oil paintings, produced specially for the Biennial, take us one step further into Telecki's expanding otherworld. Two key references have become implicit points of return during her making process. The first is Nicolas Lokhoff's Social pyramid, 1901, a political cartoon of the capitalist system, made under the rule of the Russian Empire, which depicts the wealthy on the top ('We rule you!'), with the impoverished masses at the bottom, shouldering the weight of the elite and their supporters (that is, the church and police). The second reference is Busby Berkley's choreographies – the elaborate, hypnotic musical productions made for film in the 1930s and 1940s that involved complex geometric patterns using large numbers of smiling showgirls.
Telecki draws a line between these two figurative depictions of towering human formations according to the way in which they both beguile and exploit power imbalances. In the case of Lokhoff's pyramid, similar graphic denunciations of the capitalist system appeared in every history book during Telecki's early education as a means to demonstrate the corruption and abuse suffered by working-class people in non-socialist states, by contrast with those in Yugoslavia. In the case of Berkley's choreographies: behind the perfect, sparkling spectacles devised by a male director were hidden the pain and exhaustion of anonymous female dancers.
The full version of this essay by Patrice Sharkey is published in Free/State.
This project has been assisted by the Australian Government through the Australia Council, its arts funding and advisory body