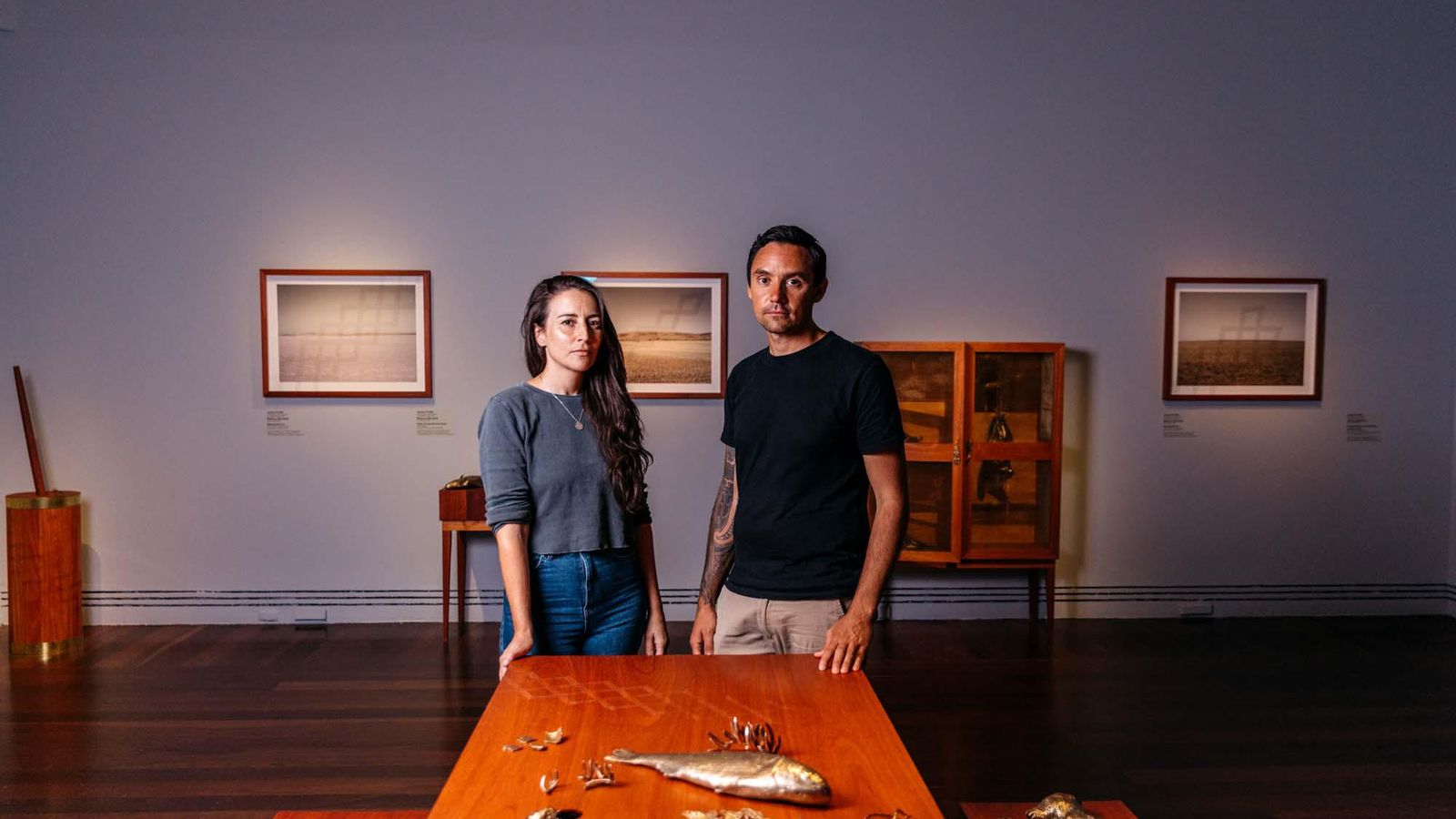 James Tylor & Rebecca Selleck
---
James Tylor, born Mildura, Victoria 1986
Kaurna people, South Australia
Represented by Vivien Anderson Gallery, Naarm/ Melbourne, GAG Projects – Greenaway Art Gallery, Tarntanya/Adelaide and N. Smith Gallery, Warrang/Sydney

Rebecca Selleck, born Canberra, Australian Capital Territory 1986
Represented N. Smith Gallery, Warrang/Sydney
Both live and work in Canberra
James and Rebecca use their practices to illuminate issues around the continuing cultural and environmental impacts of colonisation in Australia, referencing their subjective experiences to create multi-layered installation, sculptural and photographic works. Rebecca's use of domestic furniture as a device to physically engage viewers tied perfectly with James' background in carpentry and carving, as well as with their desire to create work that captures their contemporary experiences against the backdrop of Australian history which helped inform it. They use their collaborative practice to explore their family's colonial, Indigenous and new immigrant histories through furniture making, bronze casting and photography, reflecting on the impact of colonisation on their experience with the environment and contemporary Australian culture.
Artist text
By Dr Léuli Eshrāghi
Resident in Ngambri and Ngunnawal territories, Kaurna and Te Arawa artist James Tylor and Maltese and Anglo-Celtic artist Rebecca Selleck have created a sophisticated series of interior design belongings that offer direct redress to the much-celebrated South Australian pride of a settler colonial identity independent of penal colonisation. Belying such a misplaced and commonly misrepresented genealogy to Anglo-Celtic hegemony across the territories of many First Nations are the literatures and oratures testifying to the oppressed, drawn from Indigenous and other racialised peoples in forced servitude to the cloned aristocratic society imposed from Europe.
Tylor's ancestry includes the Kaurna people, whose enslaved labour built the European settler colony from the very First Nations ceremonial-political structures and villages the occupiers sought to displace and destroy. These works are an extension of the collaborative series Inhabiting (new), 2021. Combining their strengths in deftly crafted and functional comments on domestic coloniality, the artists' marks across the vessels' surfaces and creatures, manifest in bronze plant and animal forms, are deeply committed to a Kaurna cultural renaissance. These interior design wares are testament to Tylor and Selleck's negotiation of intercultural futures that are resolutely non-colonial, evidence that they have individually and collectively learned from the accumulated breaches of cultural protocols and flows across Kaurna Yarta, and also Ngambri and Ngunnawal territories.
Tylor and Selleck have particular skin in the game, partners in art and in life, who are bringing up their child together in the First Nations territories occupied by the capital of the nation founded in 1901 on the fears of being overwhelmed by a 'Yellow Peril' and Blackbirded islanders from the Great Ocean. By this I mean that theirs is a collaboration that is committed to world-making in the most non-colonial of manners possible, while employing several forms familiar to Eurocentric art histories such as those of furniture design, metalwork and natural sciences museology. Like the storage vessels Tylor and Selleck have fashioned together from various eucalyptus timbers from across so-called southeastern Australia, the built environment of the state art museum host to Free/State lends itself to the artists' strategic take on visibly familiar genres of creative expression.
Referencing the alienation of First Nations lands, waters, ceremonial-political practices and freedoms, the carved and marked furniture is accompanied by a suite of photographs titled Warpulyainthi, 2021, expanding on Tylor's series We call this place … Kaurna Yarta, 2020, where Kaurna motifs from the Kuri ceremony are overlaid with care over photographs from across Kaurna Yarta landscapes. Warpulyainthi means to serve or work, a direct reference to Indigenous servitude in the British settler colony. Selleck's signature slain or resting animal figures, as well as the use of edible plants once abundant in the Kaurna Yarta nation cast in bronze and lovingly placed throughout, offer a haunting presence to complete this installation.