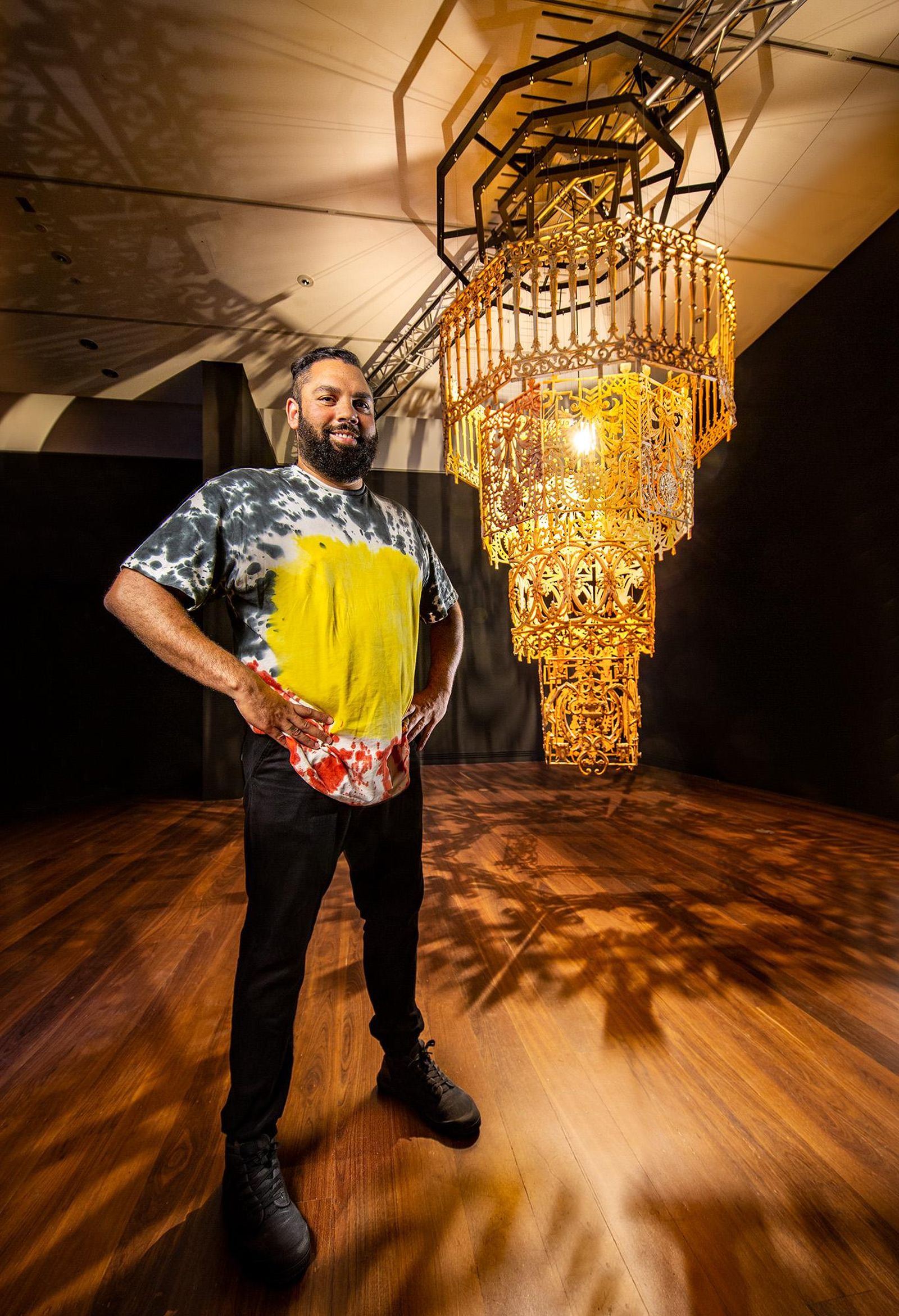 Dennis Golding
---
Born Sydney 1989
Kamilaroi/Gamilaraay people, New South Wales
Lives and works on Gadigal Country
Dennis Golding is a Kamilaroi/Gamilaraay artist, curator and collaborator based in Sydney. His practice reclaims Aboriginal history and identity through sharing his personal experiences and childhood memories from growing up within Sydney's Redfern. Golding critiques the processes of colonialism in Australia using a range of mediums to encourage new conversations around historical, social, political, and cultural narratives.
The Block
By Sebastian Goldspink
Dennis Golding stands at the top of Everleigh Street in Sydney's Redfern on unceded Gadigal land, surveying an area referred to as 'the Block'. His childhood memories are contained in this small parcel of land adjacent to the railway lines and yards, a place that historically provided employment for Aboriginal people from all over the state. The neighbouring Everleigh railyards saw the galvanisation of the Aboriginal Civil rights movement and solidified Redfern as the proxy capital of Aboriginal Australia. This has always been a site of struggle and overcoming, and Dennis's lived experience is part of this story. His current studio sits in these same railway workshops, now part of the CarriageWorks precinct, his art-making a far cry from the backbreaking labour of manual servitude performed by earlier occupants. He describes his youth on these streets. He reflects on the architecture of the Victorian terrace houses – the homes and community centres of the area, with beautiful iron lacework adorning their balconies. It is this history that Dennis's work for the Adelaide Biennial explores.
Golding sees the tradition of First Nations shield making in these lace patterns, often etched with totemic figures and landscapes. He is reclaiming this fundamentally imperialistic architecture as his own, of his people: in the context of Redfern, the terrace houses are Aboriginal architecture.
He plays with the flora and fauna depicted in these lace panels. The flowering gum, a much-used motif in the lacework, is found in abundance in the town of Collarenebri on Country in northwestern New South Wales, the traditional home of the artist's family, and the word 'Collarenebri' literally translates to 'place of many flowers'.
His installation brings together these motifs, drenched in the orange lights of the street, with shadows echoing collective reminders of place.
The full version of this essay by Sebastian Goldspink is published in Free/State.