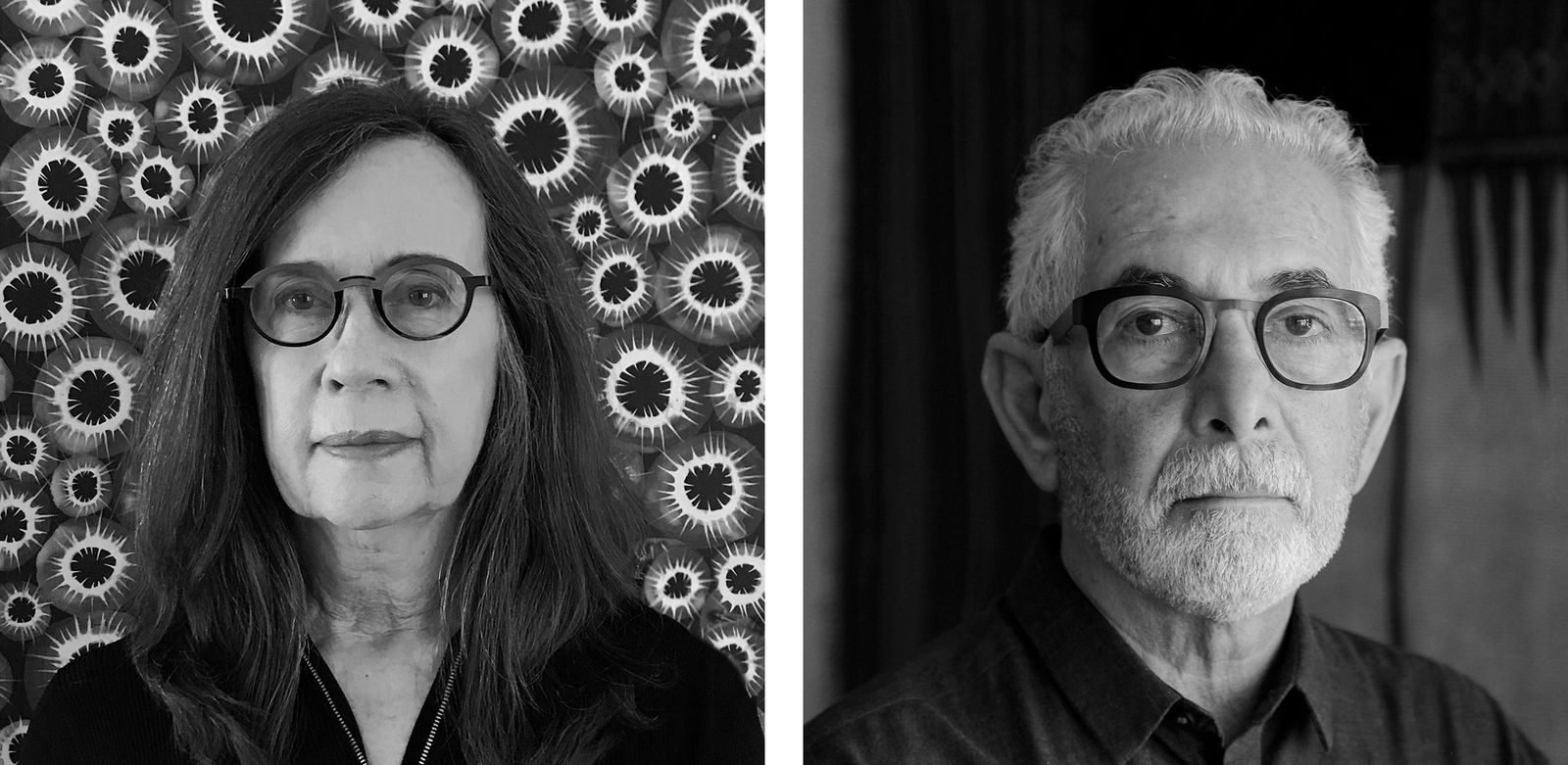 Angela & Hossein Valamanesh
---
Angela Valamanesh, born Port Pirie, South Australia 1953
Represented by GAG Projects – Greenaway Art Gallery, Adelaide and Gallery Sally Dan-Cuthbert, Sydney
Hossein Valamanesh, born Tehran, Iran 1949, died Adelaide, Australia 2022.
Represented by GAG Projects – Greenaway Art Gallery, Adelaide and GREYNOISE, Dubai
Angela lives and works in Adelaide.
For Angela and Hossein Valamanesh, both artists make art inspired by their spiritual connectedness to place. For Angela, born in Port Pirie, South Australia, this connection has an unassailably Australian origin, while for Hossein, having migrated to Australia from Iran as a young man, the sign and symbols of his Persian heritage are often interwoven with his Australian identity. Materiality is a shared concern, one that has evolved from a shared life. The states of being together and alone, a dualism experienced by all couples but intensified when both individuals share a profession, a studio and a home.
Angela and Hossein Valamanesh: in love
By Patrice Sharkey
For over thirty years, Angela Valamanesh has worked across drawing, installation and ceramics to produce monstrous yet delicate forms that fuse together the organisms, systems and shapes found in nature and in the human body. Images from early microscopes were the focus of Valamanesh's doctoral work (completed in 2012) as they show us how all life forms are interconnected: 'Once you start looking at something under a microscope you can't help but notice the similarities – everything is cellular, we are united with the plant and animal world'.19 Recently she has been inspired by a famous scene in the 1960s black comedy sitcom, The Addams Family, which sees the family's matriarch, Morticia, in her hothouse, cutting off and discarding blooming roses. Like Morticia, Valamanesh is more intrigued by the plant's spiky stems and the protection they provide the roses.
Indeed, she is most enamoured by plants that have evolved to thrive in harsh conditions. For the Biennial she has produced a series of long, thin cylindrical botanical forms, which appear dangerously overrun by thorns. If we consider the ways by which we learn to live alongside other species in our environments, then Valamanesh's sculptures become fertile metaphors for survival and sacrifice: in the natural world, thorns, spines, spikes and prickles can be life-threatening to predators but they also serve a lifesaving purpose for their owner.
Hossein Valamanesh was born in Iran in 1949 and emigrated to Australia in 1973. As an artist who brings a profound depth and beauty to the many mediums in which he works, Valamanesh is renowned for his explorations of the complexities of identity and place. Drawing upon the culture of his Persian heritage and his experience of a new country, his installations, sculptures and videos are created using found objects, natural materials and elemental substances. His contribution to the Biennial includes Constellations 1–5, 2020, a series of dark, cosmic configurations summoned from gold leaf and gravel. Made by throwing a number of small stones onto a flat surface and connecting them with straight lines, Valamanesh wilfully embraces ideas of chance and coincidence. This series is paired with What goes around, 2021, a suspended spherical mass of dry redgum branches, fortuitously rescued by Valamanesh after they had fallen onto his studio roof. The ends of each branch have been painted black and embossed with gold leaf, such that they recall a galaxy of stars, as their glinting, entangled form revolves in space. Each of these works poetically encourages us to broaden our sense of consciousness and reminds us of the fleetingness of life: although we are here on earth, bound to our bodies, held to the ground by gravity, we circulate in a greater, expanding universe.
The full version of this essay by Patrice Sharkey is published in Free/State.