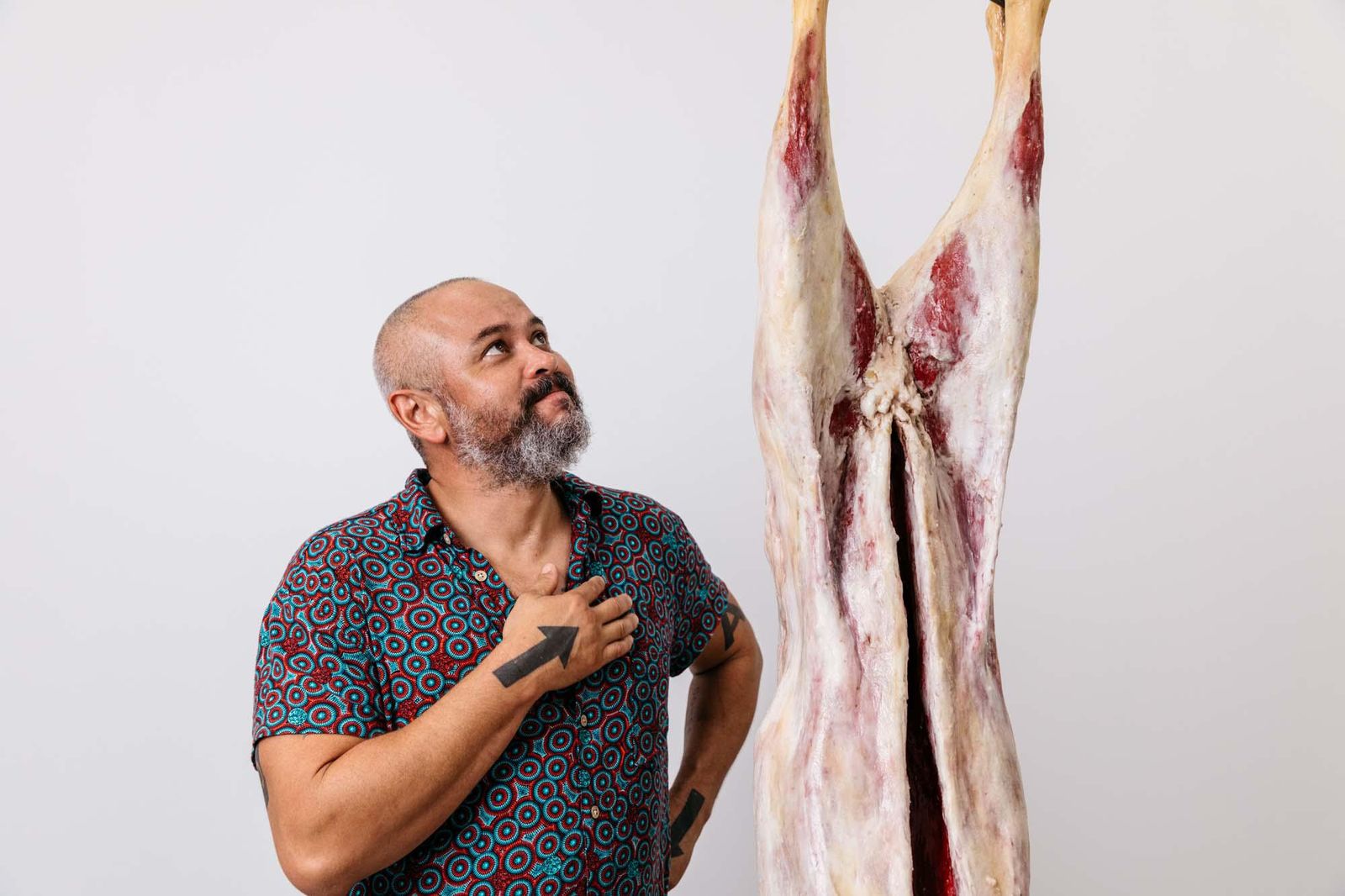 Abdul-Rahman Abdullah
---
Born Port Kembla, New South Wales 1977
Lives and works in Mundijong, Western Australia
Represented by MOORE Contemporary, Perth
Abdul-Rahman Abdullah's practice explores the different ways that memory can inhabit and emerge from familial spaces. Drawing on the narrative capacity of animal archetypes, crafted objects and the human presence, Abdul-Rahman aims to articulate physical dialogues between the natural world, identity and the agency of culture. Working primarily in sculpture and installation, his work has been described as magic realism, creating poetic interventions with the built environment. Living and working in rural Western Australia, he provides unique perspectives across intersecting communities, foregrounding shared understandings of individual identity and new mythologies in a cross-cultural context.
Artist text
By Dr Léuli Eshrāghi
Abdullah draws on his experiences of growing up Muslim in Western Australia to a white father and Malay mother, southeast Asia being a region rich in precolonial connections of trade and ceremony with Tiwi and Yolŋu peoples, among others, whose territories line the southern shores of the Arafura Sea.
The series In the name, 2015–22, is the result of a decade of experimentation with moulds, environments and senses, based on the artist's childhood reflections on preparing meat according to halal conventions in his suburban home in Boorloo/Perth. Produced from moulds created between 2015 and later destroyed, the sculptures within In the name are expressions of specific memories, rendered immersive and sensorially 'real' enough to fool the senses. Seductive in their slick installation and shiny surfaces, these works of art are, of course, simultaneously repellent, as contemporary society prefers to keep the slaughterman's labour in an abattoir, far from public view. To highlight the conceptual and visceral qualities of Abdullah's works in Free/State, I want to reinforce the questioning of acceptable social norms on which Western societies are structured.
Expertly drawing on the various meat-processing practices of the artist's Muslim community, Abdullah's works address ongoing phenomena where race hierarchy, cleanliness and transitioning sheep from the living to the dead represent differing cultural values in a society not yet multicultural, not yet pluralistic, beyond a stated desire in name. In the name creates a time beyond time, presenting the bare-bones reality of the human consumption of animals in a hyperreal context, confirming the deployment of Western conceptual art as societal critique, particularly when the registers of Greco-Roman sculpture, with its field of Classics centred on upholding much more recent cultural values around whiteness, are subverted in wood and paint.
The full version of this essay by Dr Léuli Eshrāghi is published in Free/State.