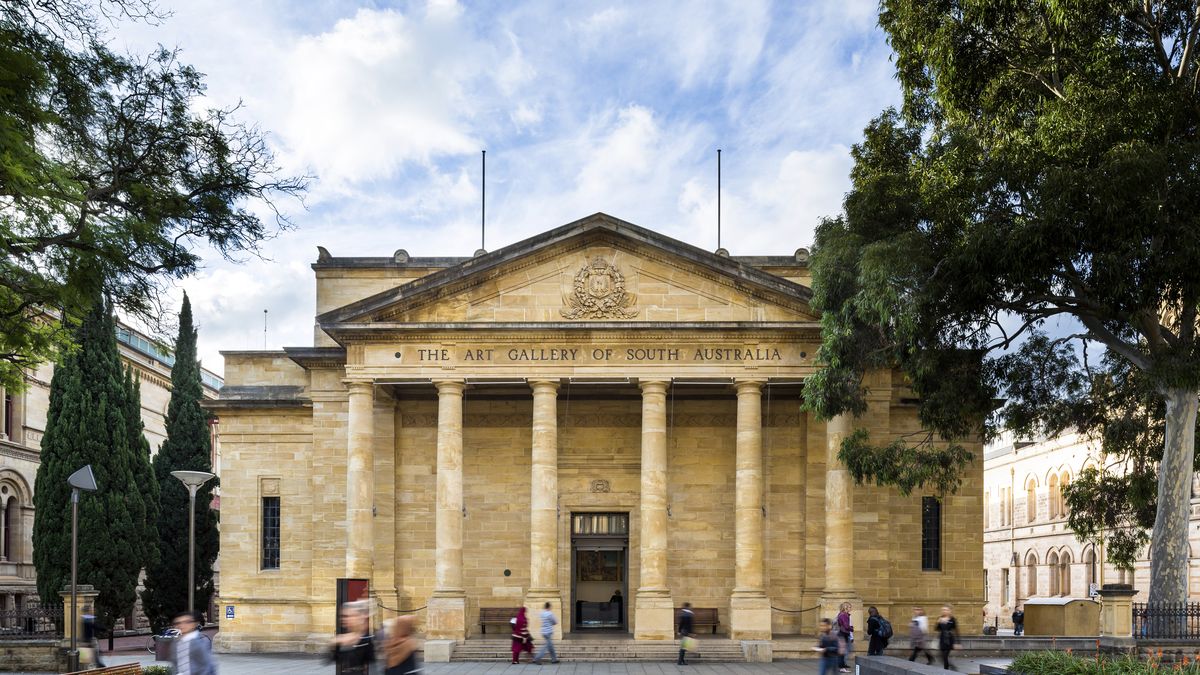 Special Interest Group Tours
---
Special Interest Groups (SIGs) visit for 1 hour tours each month from February to November. Each SIG is scheduled to visit on the same day/time each month (e.g. the first Monday of the month at 11am). Tours are rescheduled if they fall on a public holiday.
Tour topics change each month subject to AGSA's exhibitions and displays.
Each visit requires the following contribution to the continuous learning of our Volunteer Gallery Guides:
$20 for a maximum of 10 tour participants (1 guide allocated)
$30 for a maximum of 15 tour participants (2 guides allocated)
$40 for a maximum of 20 tour participants (2 guides allocated)
Special Interest Groups also attend AGSA's ticketed exhibitions (usually once/year). In this instance each SIG member is required to purchase an exhibition ticket and the guide payment for the tour is waived.
Special Interest Group tour participants are to gather and meet the allocated guide/s in the Atrium for the commencement of each tour (unless otherwise advised). Refer to the AGSA Gallery Map for details (Map 2, identified with a C).
2023 SIGs Tours
Westbourne Park Probus
1st Monday at 10.30am
≤10 participants = 1 guide = $20 guide fee/tour
Val Bickley Group
1st Monday at 11.30am
≤10 participants = 1 guide = $20 guide fee/tour
Adelaide U3A1
1st Tuesday at 1.30pm
≤20 participants = 2 guides = $40 guide fee/tour
Adelaide U3A3
1st Wednesday at 1.30pm
≤10 participants = 1 guide = $20 guide fee/tour
Val Burnett Group
1st Thursday at 10.30am
≤10 participants = 1 guide = $20 guide fee/tour
Mary's Group
2nd Monday at 11am
≤10 participants = 1 guide = $20 guide fee/tour
Adelaide U3A2
2nd Tuesday at 1.30pm
≤10 participants = 1 guide = $20 guide fee/tour
Burnside Painting
2nd Wednesday at 10.30am
≤10 participants = 1 guide = $20 guide fee/tour
Culture Vultures
2nd Wednesday at 11.30am
≤10 participants = 1 guide = $20 guide fee/tour
Retire Active SA 1
2nd Thursday at 12.30pm
≤10 participants = 1 guide = $20 guide fee/tour
Phillips Group
2nd Friday at 11am
≤10 participants = 1 guide = $20 guide fee/tour
Rainbow Social Connections ECH
3rd Monday at 10:30am
≤10 participants = 1 guide = $20 guide fee/tour
Legacy Ladies
3rd Wednesday at 11am
≤10 participants = 1 guide = $20 guide fee/tour
U3A Flinders University
3rd Wednesday at 1.30pm
≤20 participants = 2 guides = $40 guide fee/tour
Queen Adelaide Club
3rd Thursday at 10.30am
≤20 participants = 2 guides = $40 guide fee/tour
Norwood Combined Probus
3rd Thursday at 11.30am
≤10 participants = 1 guide = $20 guide fee/tour
Twopenny Group
3rd Thursday at 1.30pm
≤20 participants = 2 guides = $40 guide fee/tour
Lyceum Group
3rd Friday at 10.30am
≤20 participants = 2 guides = $40 guide fee/tour
Retire Active SA 2
4th Monday at 10.30am
≤20 participants = 2 guides = $40 guide fee/tour
U3A Hills
4th Monday at 1.30pm
≤20 participants = 2 guides = $40 guide fee/tour
Rita Stock Group
4th Wednesday at 10.30am
≤10 participants = 1 guide = $20 guide fee/tour
Proms Group
4th Wednesday at 11.30am
≤10 participants = 1 guide = $20 guide fee/tour
Wednesday Group
4th Wednesday at 1.30pm
≤10 participants = 1 guide = $20 guide fee/tour
Adelaide U3A4
4th Friday at 10.45am
≤20 participants = 2 guides = $40 guide fee/tour
EAGGERS Group
Last Tuesday at 1.30pm
≤20 participants = 2 guides
Carrick Hill Guides
As requested