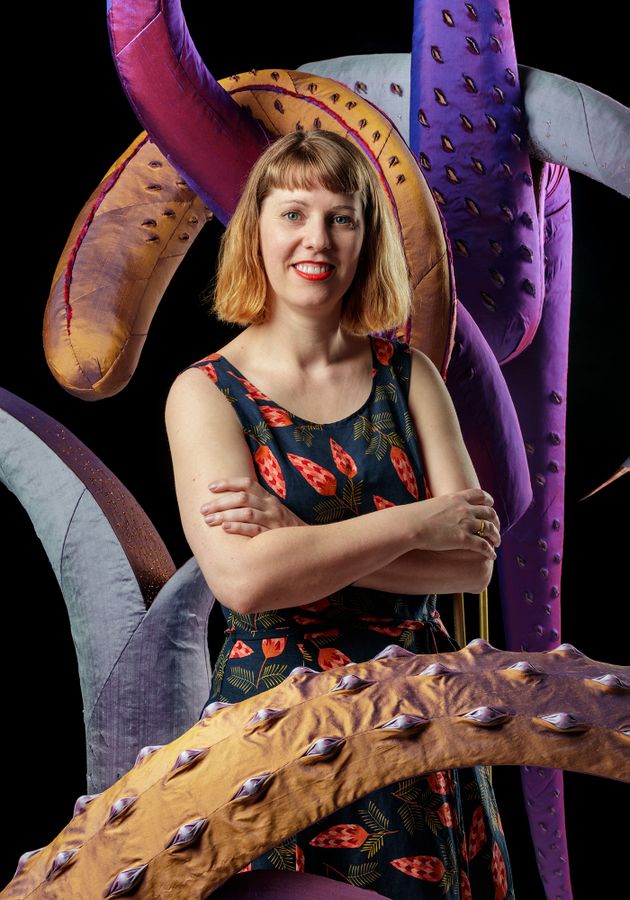 Five minutes with artist Julia Robinson
---
We sat down recently with South Australian artist Julia Robinson to talk about her work Beatrice, on display as part of the 2020 Adelaide Biennial of Australian Art.
How does it feel to have your work presented as part of the 2020 Adelaide Biennial of Australian Art?
Being part of the 2020 Adelaide Biennial is significant, touching and incredibly powerful for me. It is a dream opportunity to work with an amazing curator in a spectacular site and to share the experience with so many artists whose practice I admire. It is a privilege to be able to contribute to this nationally recognised exhibition, to extend my practice and to undertake an ambitious work.
Tell us briefly about your work in the 2020 Adelaide Biennial of Australia
My work is located in the Museum of Economic Botany in the Adelaide Botanic Garden and is a single work made from multiple twisting forms and utilising fabric manipulation techniques such as slashing, pinking and slitting. In responding to Leigh Robb's curatorial provocation to examine notions of the monstrous, I considered how this could tap into the broader themes of transformation, regeneration, mutation and decay already present in my work.
The result is Beatrice; a sculptural conflation of the mythic sea monster Scylla, as described in Homer's Odyssey and the protagonist Beatrice from the short story Rappaccini's Daughter by Nathanial Hawthorne, an elegant Gothic narrative that blends tragedy and perverse science in an exotic garden setting. The story concerns the fate of Beatrice, the toxic human incarnation of her father's barbaric botanical experiments, and speaks to the literary concept of the monster as a conduit for fear and desire.
The work eschews any figurative human elements, presenting rather a metamorphic vision of Beatrice; a congress of body and plant, poison and beauty. Positioned amongst the vegetal specimens of the Museum's collection, alongside Monk's Hood and Belladonna, Beatrice is a conflation of silken skins, spilled interiors and split forms that echo both bodies and fruit.
When and why did you make it?
Work on Beatrice began in late May 2019 and occupied me until mid-January 2020. It took some planning to achieve the desired design and resolve the technical aspects before production could begin. Following this, Beatrice leapt to life and continued evolving throughout the months leading up to installation.
Monster Theatres Virtual Tour
View the 2020 Adelaide Biennial Virtual Tour featuring curators, artists and guest speakers.