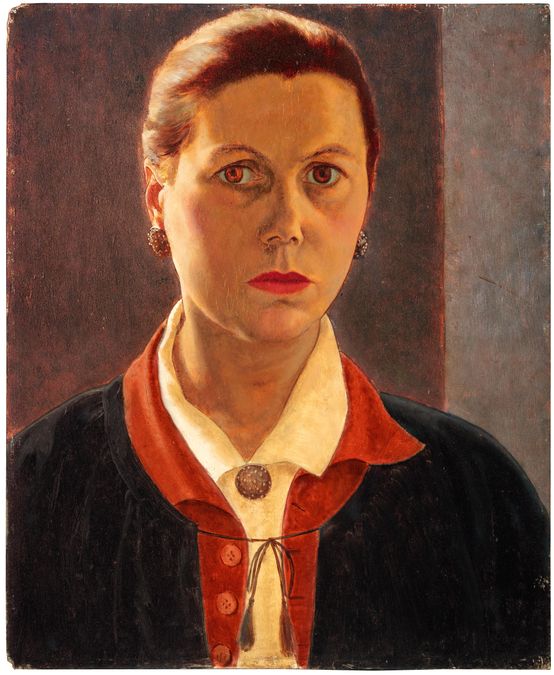 Stella Bowen
---
Stella Bowen (1893–1947) was born in Adelaide and studied drawing for a short time under the inspiring guidance of Margaret Preston. In 1914 she moved to England to study at the Westminster School of Art under English painter and printmaker Walter Sickett. Here she met a range of artists, poets and writers including Ford Madox Ford who she moved to France with in 1918. They had a daughter together and while trying to balance her relationship and motherhood, she had little time for her painting pursuits. However, Bowen did travel to Italy in 1923 where she was inspired by the expressive gestures and rich textures used by 14th century Italian painters Giotto and Botticelli. Bowen left Ford in 1928 and she began to paint again, gaining work through commissioned portraits which provided her with a regular income.
During the Second World War she was one of the five women appointed by the Australian War Memorial as an official war artist. She was employed from 1943–1944 for the primary purpose of recording members Royal Australian Air Force stationed in Britain.
Self portrait was painted shortly after Bowen separated from Ford. Dominating the picture plane, the subject meets our eye directly with a penetrating gaze. Lit crisply from the side, Bowen's face is thrown into the shadow. Her expression reveals a degree of contemplation. Smartly dressed, with her painting smock tied loosely at her neck and with her hair combed back, she presents herself as a woman of strong-will, determined to pursue a professional career.
What is the expression on Bowen's face? Recreate Bowen's expression and photograph your attempt. Compare your expression to other members of the class.
Does Bowen's expression appear soft and gentle or cold and hard? Provide reasons for your response.
Describe Bowen's pose, gesture and attire. Find three examples of a portrait where the sitters' pose, gesture and attire are very different. What does this suggest about the sitter?
Locate other examples of portraits of women. How have portraits of women changed over time? How are they different to portraits of men?
Official war artists are commissioned by the Australian War Memorial and play a significant role in Australia's interpretation of wartime history. Investigate Australian war artists who have been commissioned under this scheme since the First World War to today. How has their role and style changed over time? Considering the digital world in which we live, does the Australian War Memorial need to continue to engage with artists? Divide the class and conduct a debate with the topic:

"The Australian War Memorial needs to continue funding for official war artists. Use a variety of artists to support your arguments for and against".

Complete a case study on official war artists Stella Bowen, Sybil Craig and Nora Heysen. Compare each artist's approach to this subject matter.
Bowen was inspired by 14th century Renaissance painters and their ability to capture the unique appearance of the subject thus expressing an individual identity. Create a self-portrait which reveals your identity.
Research different depictions of women throughout art history and document the changes. Create a portrait of a woman in your life which captures their experience of being a woman today. If you do not know them well, you may need to interview them.