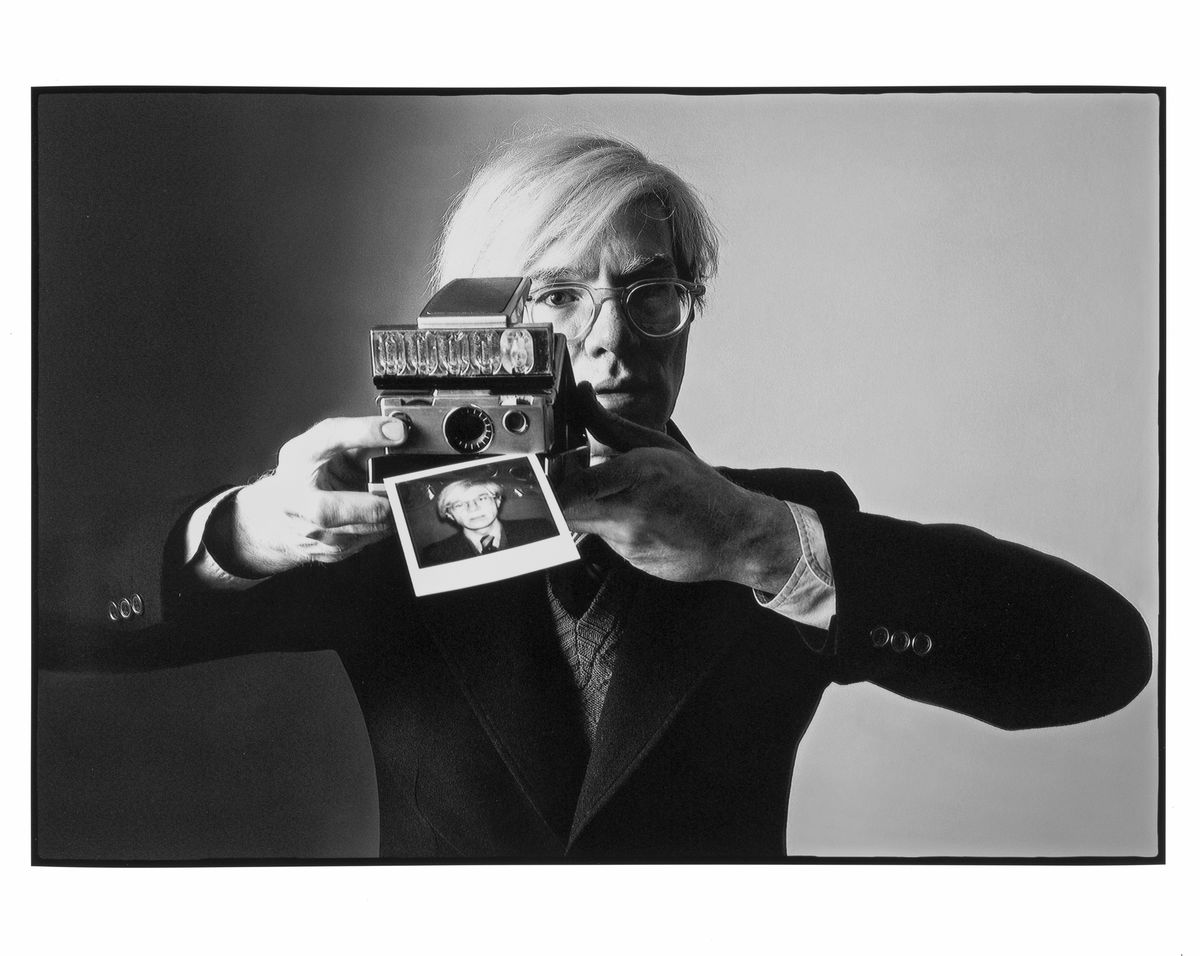 Andy Warhol and Photography: A Social Media
---
Andy Warhol (1928-1987) was an American artist most commonly associated with the Pop Art movement which emerged in the 1950s in Britain and America. Pop artists borrowed imagery from the everyday and popular culture including movies, advertising, product packaging, music and comic books. Warhol made the everyday iconic, using commercial products as subjects in his works such as Brillo washing powder, Coca-cola, and the Campbell's soup can.
From the beginning of Warhol's career, photographs became an important source material and were used by the artist as the basis of his paintings and screenprints. Warhol used his own photographs and photographs taken by his friends but he also used images he found in magazines, advertisements and publicity material. His well-known painting of Elvis Presley, for example, is based on a publicity still from the movie Flaming Star (1960).
Collect photographs of famous people, advertisements, posters or album covers. Use these images to create a collage to comment on consumer culture.
Instant Moments
In the late 1960s Warhol's closest friend and a fellow artist, Brigid Berlin, bought a Polaroid camera and began to obsessively photograph her life and surroundings. Inspired by her example and attracted to the immediacy of the medium, Warhol himself bought a Polaroid camera and used it until 1976 to compulsively document his life and social scene. He then purchased a new camera, a Minox 35 EL, the smallest type of 35 mm camera at that time. This facilitated a new direction – black-and- white photography – which lasted until his death in 1987, and resulted in many thousands of 8 x 10 inch gelatin-silver photographs, each of which exists as a work of art in its own right.
Imagine you are Brigid Berlin for the day. Obsessively photograph your own life from the time you wake up until you go to sleep.
Even with the invention of digital technologies, some people still prefer taking photographs with film. Take a look at examples of images that have been captured using film. What differences do you notice? What are the benefits of using film today?
Look at the work Dental moulds, 1982-83, by Warhol. Photograph an unusual or unique object you have seen at home or school.
Stillies
In addition to creating his Pop Art paintings, Warhol was a leading underground filmmaker, making hundreds of experimental films. Some were silent, some were loosely scripted and others were largely improvised; most invariably relied upon friends and acquaintances as 'actors', such as in his 1965 film Camp. The exhibition Andy Warhol and Photography: A Social Media includes various screentests or 'stillies' – three-minute silent portraits of sitters who were instructed to sit motionless and gaze directly at the camera.
Create your own 'stillies' with your classmates. Using a camera phone, take turns being the filmmaker then the sitter and stitch the short films together to create your own class film. Will you film your sitter only from the front or might you capture a 360 degree tracking shot? Who in your class remained still for the longest?
Candid Camera
Commissioned portraits became a significant part of Warhol's artistic practice. He based these portraits on Polaroid snapshots taken by him during photo shoots in his studio. The instantaneous nature of Polaroid photography allowed Warhol and the sitter to immediately select an image to be transformed into a painting. Warhol's studio photo shoots were often a social and collaborative affair, with studio assistants and others photographing alongside Warhol, while studio guests watched on.
Warhol took his camera everywhere; it was a constant presence in private and social situations, where he captured his friends and celebrities in candid moments with a 'snapshot' aesthetic. Warhol's gelatin-silver photographs were first seen publicly when he published his photographic book, Andy Warhol's Exposures, in 1979. At that time, he described his philosophy on photography:
'My idea of a good picture is one that's in focus and of a famous person doing something unfamous. It's being in the right place at the wrong time' [1]
[1] Andy Warhol, with Bob Colacello, 'Introduction: social disease', in Andy Warhol's Exposures, Hutchison, London, 1979, p. 19.
Swiss-based gallerist, Bruno Bischofberger, who had a long association with Warhol, considers Warhol's gelatin-silver photographs to be part of his diaristic tendency to record his life, writing that: 'Warhol's tape recordings and dictated diaries could be regarded as his verbal memories, while his photographs became his 'pictorial or visual memory' [2]
Create your own photographic portfolio of a particular event or daily routine. Begin by taking as many photos as possible. Select the best forty photographs that capture this experience. Now create a second portfolio using the same photographs, but now select only ten images. What visual memories are now missing? Were the images you eliminated really required in your first curation?
Make a pocket portrait. Empty all the items from your pockets or school bag. Do not rearrange them and photograph them as they fall. Now place the objects in an interesting composition where you might focus on order of size, shape, or colour. Photograph your arrangement. Now compare the candid and the created image you have made. If you don't have many items in your pockets or bag, make a selection of small objects from your home and photograph these instead.
[2] Bruno Bischofberger, 'Andy Warhol's Visual Memory, 2001, p.4, http://www.brunobischofberger.com
With permission, take a series of photographs of your friends or family doing extraordinary things.
Contemporary Contact Sheets
In film (or wet) photography, contact sheets are made by placing the negative strips directly onto photographic paper to make one print. This way, the photographer can see all the frames from one roll of film at once. Today, in most smart phones, when scrolling through our images, we see lots of images at once – this could be considered a contemporary version of a contact sheet. Warhol's contact sheets reveal his daily journeys, the people he meets, and his wry observations of details from everyday life, including shop windows, signage and roadside rubbish. Warhol's eye was also drawn to serial imagery and abstract patterns, including things such as a shadow on a sidewalk. The images he was collecting through photography were often later reworked for his proposed 'stitched' photographs.
Most of Warhol's gelatin-silver photographs were printed by Christopher Makos, a photographer working for Warhol's Interview magazine who later became a collaborator with Warhol. Makos said, 'I undoubtably learnt a great deal from him, but he also learnt from me, especially about photography. We were ... continually exchanging impressions and ideas'. [3] They often photographed the same subjects side by side – whether travelling or in the studio – and Makos also took many photographs of Warhol. Makos' portraits of Warhol depict him doing everyday or 'unfamous things', including rowing a boat on a lake in Paris, or posing wearing a clown nose.
[3] Christopher Makos, Andy Warhol, Charta, in collaboration with Edition Bruno Bischofberger, Zurich, 2002, p. 8.
The exhibition Andy Warhol and Photography: A Social Media posesthe question: was Warhol the original influencer? What do you understand an influencer to be today? Who would you list as top influencers in the world today? Discuss these questions as a class and together come up with your own definition of an influencer. As you learn more about Andy Warhol in the exhibition and in this resource, do you think Warhol was a social media star before the very idea was even invented.
SO YOU WANT TO BE FAMOUS?
Andy Warhol famously said that everyone would have 15 minutes of fame. Fast-forward to 2023 and minutes now feel like seconds. What would you do for your #15seconds? Tag your TikTok or Instagram videos with @agsa.adelaide and @adelaidefestival. Bonus points for using David Bowie's "Fame" track
Scroll through your images on your phone, minimise your view so that you can see multiple shots at once. Stop scrolling at points you find interesting and take a screenshot. Does this 'contact sheet' reveal a daily journey like Warhol's? Are the images connected in some way – do they tell a story? Did you need to delete some images for your contact sheet to have seamless transition from one image to the next?
With a friend, go for a walk around your school grounds or local area. Take turns in selecting an object or scene to be photographed with each of you photographing the same thing. Repeat this 10-15 times. Back in the classroom compare your images. Did you and your friend capture the subject matter differently? Stitch your photographs together to create one collaborative piece. You may like to do this digitally or with printed images, needle and string or thread.
The Gallery's Learning programs are supported by the Department for Education.
Art Gallery of South Australia staff Julie Robinson, Dr. Lisa Slade and Kylie Neagle contributed to the development of this resource.