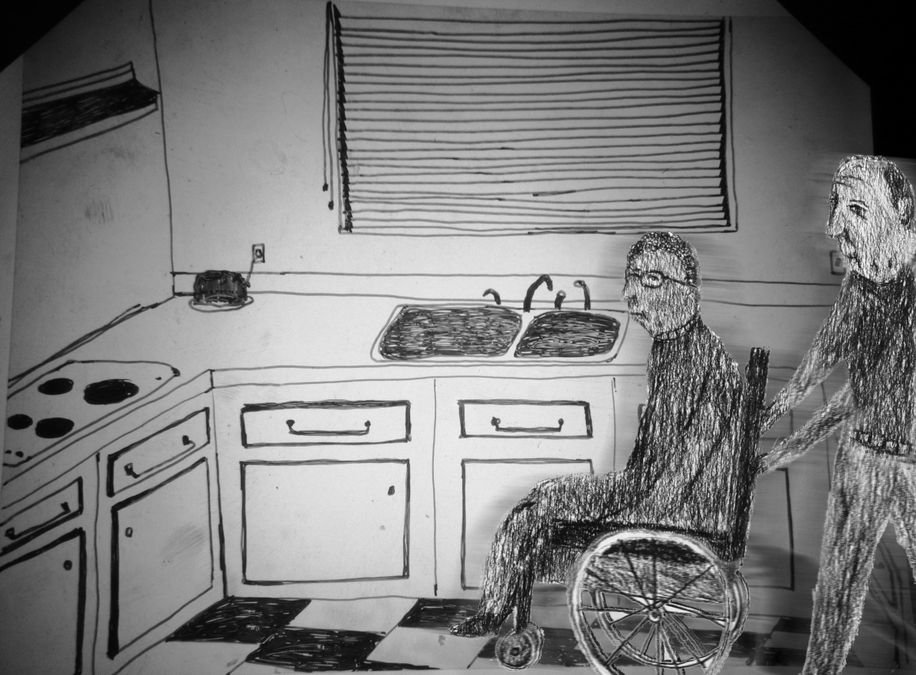 Richard Lewer
---
Melbourne based artist Richard Lewer was born in New Zealand in 1970. His practice includes a wide range of media including painting, drawing, animation, sculpture and performance.
Lewer's practice is motivated by a desire to tell stories about the times in which we live. These stories often deal with human suffering, pain, desperation and bring uncomfortable truths about Australian history to the fore. He identifies as a social realist artist, and like the Australian Social Realists of the 1930s and 1940s, his art is motivated by social commentary and a concern with injustice. [1] Lewer employs narrative and a figurative style to communicate directly, a choice that allows him to reach the widest possible audience. Scanning newspapers each morning, Lewer seeks out unusual reports to be the subject of his art. They are the kind of stories covered by media culture (TV, magazines, social media); yet his tone is not sensationalist or pitying. The stories, when filtered through his art, are both tougher and sadder than that.
Worse luck ... I am still here is Lewer's response to a news story he read about a Perth-based pensioner, Herbert Bernard Erickson. Eighty-one-year-old Erickson survived a failed suicide pact with his wife Julie in 2012. Lewer's animation presents Erickson's story in the first person, describing the trajectory of his life as a carer for his wheelchair-bound wife and her slide into ongoing chronic pain. The couple decided to end their life together. Carefully planning the end, Erickson paid their bills, wrote letters to loved ones, and then killed his wife and their two dogs. Unfortunately, he survived his own suicide attempt and faced jail for murder. Lewer's rendering of these details in his imperfectly drawn animation makes this tragic story almost unbearable.
Lewer's sympathies are with Erickson, and Worse luck ... I am still here demands that we face the uncomfortable reality that according to the law Erickson's act is murder and he can be jailed for his 'crime'?[2] Lewer's work could be heckling and propagandist but it's not. His attention to the vernacular gives his treatment of the subject in his drawings and script an authenticity. By capturing the ordinary details of the Ericksons' life - the toaster on the kitchen bench, the neatness of the couple's bedroom - he underscores how ordinary the couple were.
Lewer is a painter and draughtsman who has, in recent years, extended his drawing practice to include animation. His approach to animation is experimental, low tech and deliberately crude. The basis of this animation is over a thousand drawings and a script he has written.
Although he collaborated with specialists in the animation field, Lewer has no formal training in the area, and the final work has the playful spirit of an amateur. Lewer's drawing style is awkward and visually has more in common with comic books than with formal academic drawing. He exploits the expressive potential of the medium to communicate the emotional experiences of his subject. The drawings, when assembled and animated, make us aware of the isolation of Erickson and the psychological tension of his situation. Lewer's art brings this uncomfortable truth home to us.
Text written by Curator Maria Zagala, 2014 Adelaide Biennial of Australian Art: Dark Heart catalogue, 2014
Pers. comm. with artist, 24 October 2013.
Herbert Erickson committed suicide three weeks after pleading guilty to murder.
Visit Richard Lewer's website to view a selection of his animation works.
Never Shall Be Forgotten - A Mother's Story
What effect does Lewer's choice of 'low tech' equipment have on the telling of these stories?
Why do you think Lewer has chosen to use mainly black and white drawings?
What do these stories have in common?
If these stories were told using high tech animation techniques or using actors to film the stories - how might this change the impact they have on the viewer?
Lewer sometimes uses lesser known stories to inform his work. Find a story about Australia or about an Australian that isn't widely known. Create a work of art that tells this story.
Lewer identifies as a social realist, and like social realists of 1930s and 1940s his art is motivated by social commentary and concern with injustice. Research a social realist artist. How do the concerns raised by these artists compare to Lewer? What things have changed since the 1940s? Tip Yosl Bergner, Noel Counihan and Vic O'Connor.