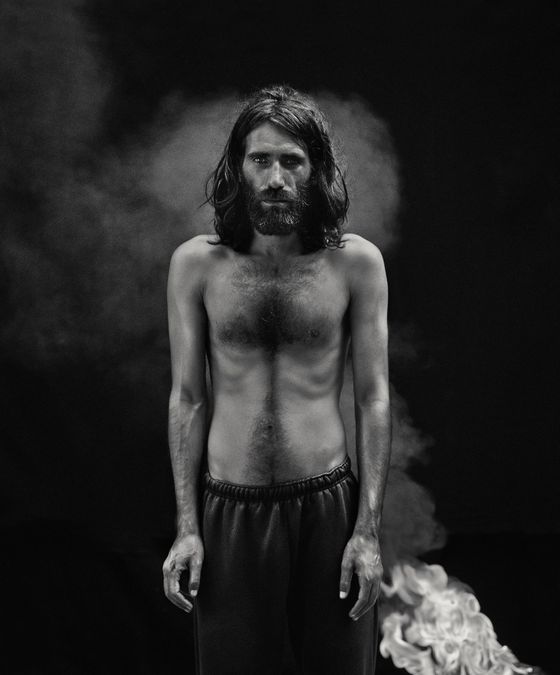 Hoda Afshar
---
Born in Tehran, Hoda Afshar is an artist based in Narrm (Melbourne) who works with photography and the moving image to explore the nature and possibilities of documentary image-making. Through her work, Afshar considers the representation of gender, race and lived experiences of marginal and displaced people. Afshar grew up during a turbulent time in Iranian history – the period of the Iran and Iraq war. She studies photography and began her documentary photographic practice while living in Iran, drawn to the medium with this 'ability to document and make visible hidden realities' [1]
The photographs and video titled Remain resulted from Afshar's travel to the Australian Government's off-shore detention facility on Manus Island, Papau New Guinea, where she worked collaboratively with some of the asylym-seekers to create their portraits. At that time the men had been detained in limbo for five or more years, after initially attempting to seek asylum in Australia. Afshar says of the is series:
"The work involves these men retelling their individual and shared stories through stage images, words and poetry and bearing witness to life in the Manus camps: from the death of friends and dreams of freedom, to the strange air of beauty, boredom and violence that surrounds them on the island". [2]
Afshar photographed some of the men with elements from nature, such as fire, water, earth and air to represent their emotional states. The photograph of Kurdish-Iranian journalist Behrouz Boochani shows him bare-chested, looking directly into the camera, with fire and smoke in the background. The image captures both his vulnerability and strength. Boochani wrote an account of his experiences on his mobile phone, with the manuscript smuggled out of Manus Island and subsequently published as the book No friend but the mountains.
Text written by Senior Curator of Prints, Drawings and Photographs, Julie Robinson, 2022.
[1] Hoda Afshar quotes in Nur Shkembi, 'Hoda Afshar', Artist Profile, issue 45, 2018, accessed 9 May, 2022.
[2] Hoda Afshar, artist statement in The End/Future of History, exhibition room texts, Melbourne, 1 Nov – 14 Dec 2019, accessed9 May 2022.
Agonistes (2021) is an installation comprised of a single-channel video and a series of nine portraits. Exploring the experiences of whistleblowers (people who have spoken out), the work combines new and old photographic techniques. Afshar creates images of whistleblowers who have spotlighted misconduct perpetrated in Australian institutions today. Whether whistleblowing on matters to do with the military, intelligence services, immigration detention, youth detention, or aged and disability care, Afshar's subjects have spoken out for those whose voices were never meant to be heard.
Look at the photographs in the series Remain. What qualities are similar that help us to read these images as a series? What words would you use to describe these portraits?
Afshar's work addresses current political issues, exploring possibilities of documentary image-making. A documentary photograph usually provides a straightforward accurate representation of the subject. Do you think Afshar has done this? What other elements has she manipulated to tell the story of her sitters?
Why do you think Afshar chose to photograph her subjects in black and white instead of colour?
Find out more about Behrouz Boochani. Who is he, what is his story? How might his story help or inspire others?
Research Australia's current border policies. As a class discuss what you have found out – what are some of the issues around these policies?
Investigate and select three different representations of the human form throughout history and from a variety of contexts (not only Western traditions). What do these depictions tell us about the time they were created? What do they suggest about beauty, identity, religion or power – of the sitter or the artist who made them?
Afshar photographed some of the men with elements from nature, such as fire, water, earth and air to represent their emotional states. Consider a symbol that could be used to represent an element of your personality. Stage a scene to photograph a self-portrait that incorporates this symbol in the image.
Q: What is the sustaining question that your practice asks?
A: If there is a single concern that unites my entire work it is probably that of representation, or visibility, in its simultaneous political and aesthetic dimensions. I have tried to explore, in different modes an din relation to different subject matters, the forces that delineate or determine who or what is seen or heard in a given space, and who or what remains invisible, and to explore ways of shifting those lines of visibility by exploring new or different ways of seeing.
Q: What is art for?
A: Art can be for all sorts of things, but good art, I think is a sort of invitation to see or experience the world differently, in accordance with the artist's vision of it, and in a way gets us outside our normal experience, even momentarily. It is an invitation to share in seeing and in this way to 'remake' the world. Thus, art both transcends and, at the same time, invites the experience of the artists and the audience.
Interview from AGSA Magazine, 2021, with Rhana Devenport, ONZM