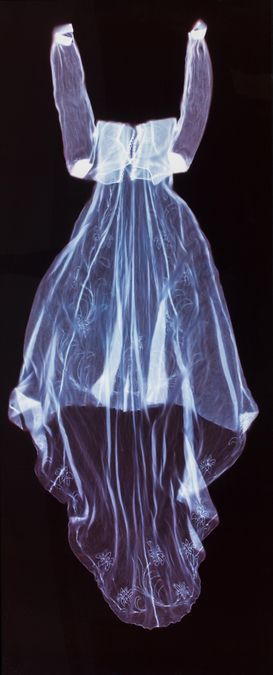 Anne Ferran
---
Using light sensitive paper create your own photogram. You might like to use objects that tell the history of who you are.
Tip: Sunprint is one type of pre-prepared light sensitive paper and is available to purchase online from most art supply stores.
Ferran is interested in history and collections. What collections do you have at home? Are there objects that you or your family own that have sentimental value? Take a series of photographs that capture your collections. You may like to digitally alter your photographs by experimenting with hue and saturation to create images that mimic a photogram aesthetic.
Ferran is interested in stories about women, in particular their absence from history. Find a lesser known story about a woman in history - it might even be someone in your family. Create a work of art that pays tribute to that person.
Influenced by the expermentations of Man Ray and Lázló Moholy-Nagy, Nalini Malani's abstract photograms were explorations in the play of light on geometric forms and architectural shapes. They were created by placing paper cut-outs and objects for lengths of time under the enlarger on photosensitive bromide paper. Look at other examples where artists have used photograms, including by those mentioned above. Make a selection of images that you can find online. Can you identify the objects they have used to make their photograms?
Anne Ferran

Scenes on the Death of Nature I and II
In her photographic tableaux, Australian artist Anne Ferran calls to mind the densely populated scenes found in ancient Greek temples. The greatest of these was the Parthenon, constructed on the hill of the Acropolis between 447-432 BC and dedicated to the goddess Athena. While the Parthenon's pediments depicted stories relating to the gods and goddesses in the Greek pantheon, the temple's 160-metre-long frieze illustrated a public procession that formed part of the Great Panathenaia, a festival honouring Athena. Ferran's all-female cast includes the artist's daughters and her daughter's friends, all wearing classical dress and assuming the gestures and poses found in classical monuments.
Describe Anne Ferran's work of art as though you are describing it to someone who cannot see the work. Look at it closely and then sketch it from memory.
Locate three other works of art that share characteristics with Ferran's photographs. What did you discover? Discuss your selections with a partner.
Anne Ferran often addresses the idea of forgotten female histories in her work. Research one of the following women:

Claude Cahun
Dame Jean Macnamara
Dorothy Lawrence
Fanny Cochrane Smith
Louisa Margaret Dunkley
Marion Mahony Griffin
Olive Cotton
Rosalind Franklin
Ferran's photographs possess strong formal qualities. Make a list of the dominant elements in this work.
Borrow a selection of costumes from your drama department and create a tableau with your classmates. Direct your actors into theatrical positions that consider the formal elements identified earlier. Photograph your scene, paying close attention to composition.
Listen
Maria Zagala speaks about Anne Ferran's work