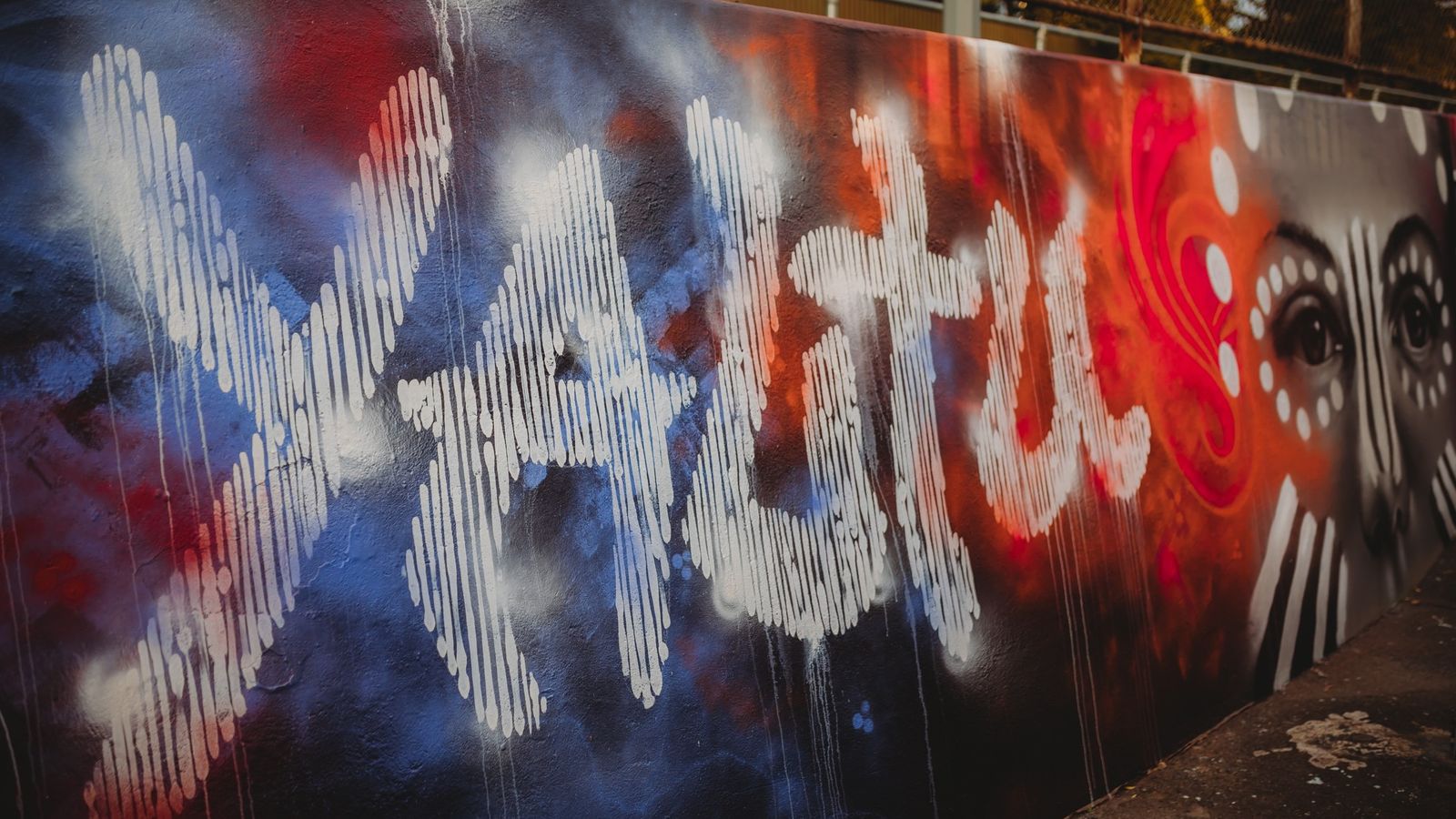 Street Script with Shane Mankitya Cook
---
Shane Mankitya Cook is a proud Wulli Wulli and Guwa descendant from Queensland. Shane has been adopted by the local Aboriginal Kaurna community in Adelaide and named Mankitya, which translates to 'the scarred one'. Shane is being mentored by Jack Buckskin of Kuma Kaaru Aboriginal Dance Group, the group with whom Shane now dances.
Shane's artistic journey began at a young age, learning traditional painting from his mother, although as he grew older his interests expanded into graffiti culture, street art and aerosol, and today all of these approaches are highly prominent in Shane's unique contemporary style. Shane's works of art transcend material and physical boundaries – from working on canvas, participating in international street art festivals and creating large-scale murals, to designing football guernseys for the Adelaide Crows and boxing shorts for Anthony Mundine. Shane's diverse and wide-ranging practice has seen him become a nationally recognised artist.
Since high school Shane has been an advocate for personal growth, practising culture through art and dance and he has played a key role in facilitating workshops in schools, the youth justice system and community-based events throughout the country. His sheer passion and drive have been instrumental in creating numerous opportunities for him: most recently he was selected to compete in the Indigenous Marathon Project in New York, to manage community projects in Kenya and travel for personal development to visit places such as the Kluge-Ruhe Aboriginal Art Collection of the University of Virginia, America.
Create
Make your own street script using your name. The backgrounds in Shane's works are normally layered aerosol with hints of shading, graffiti and mark making done with three or four different tones, so make sure you layer up your surface for an interesting background too.
Materials
Scrap cardboard or a strip of canvas roll
Reusable spray bottle
Water soluble paint
Coloured paper OR Aerosol (three different shades
Acrylic paint (black or white) OR Posca markers
Paint brushes
Step 1
Prepare your scrap cardboard or canvas for painting onto. You can even use a small piece of wood. In the example pictured a scrap piece of canvas has been used.
Step 2
Paint in your background! Select a paint colour and fill a third of the spray bottle with the paint. Slowly add water and stir gently until the paint mixture swirls around in the bottle. To make the mixture easier to spray, add more water. Then experiment with messy mark making, rolling or brushing your colours together. I used 3 shades of blue aerosol.
If using aerosol you will need to ask an adult for some help.
Step 3
Once your surface is dry, using acrylic paint, either black or white, paint your own name or a loved ones name. At this stage it is a good idea to test out some different types of script writing, it can be any style you like!
I have tested a few different ones, you can see below I tested some different types of versions of the letter "T".
Step 4
Now that we have our script in, lets think about some different ways we can stylise it. Shane uses repetitive mark making to build up colours and writing, we can do something similar but think about your own mark. I really like the rain, so I'm going to create drip like marks that will run through my script!
Using blue and white acrylic paint I am able to mix different shades, try it out with your own colours!
You'll also notice my mark making layers are going the same direction as the aerosol I sprayed on earlier.
Step 5
Now for the finishing touches! I really like the marks that I came up with. it looks like rain drops. Now I am going to experiment with scale and do some bigger marks, this will help me merge the script with the background more.