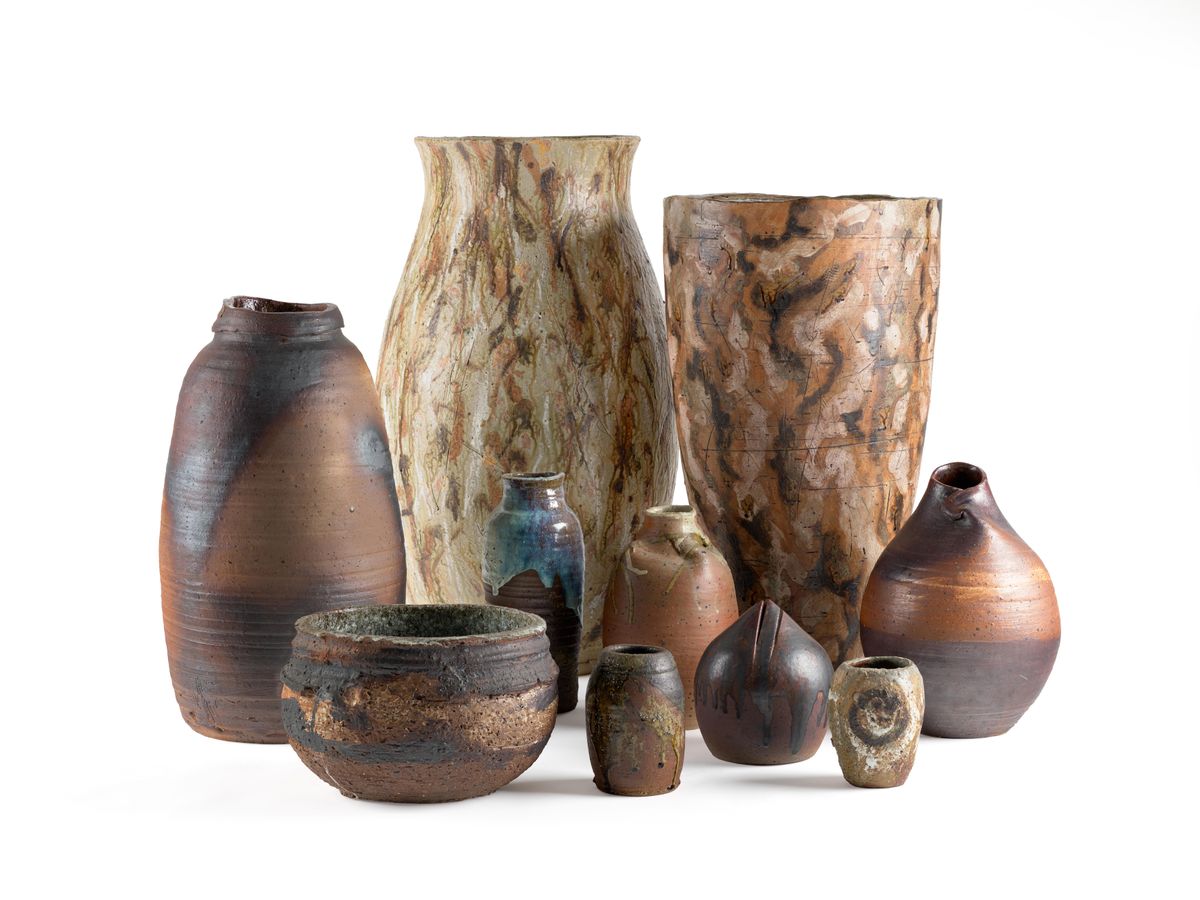 Milton Moon
---
Milton Moon (1926-2019) was an Australian potter and a pioneer of the modernist approach to ceramics in the post-war period.
Born in Melbourne between the wars Moon served in the Australian Navy and went on to work in radio. In the mid-1950s Moon became interested in ceramics, learning the techniques of wheel-throwing earthenware. He worked closely with Queensland potter Harry Memmott and from the late 1960s began to explore the use of gas-fired kilns. This enabled the higher-firing temperatures required for the production of stronger stoneware and enabled great experimentation with glazes. Moon began to teach ceramics in 1961, eventually becoming Senior Instructor in Pottery at the Central Technical College in Brisbane. In 1969 Moon moved to Adelaide where he was appointed the Head of Ceramics at the South Australian School of Art.
Listen
Rebecca Evans Introduces Milton Moon: Crafting Modernism

Founder of Dutton Pottery, artist Neville Assad, shares his insights on Milton Moon.

Tracey Lock speaks on Milton Moon: Crafting Modernism
Earthenware is a type of clay, sometimes known as terracotta. Roof tiles, building bricks, pot plants and crockery are often made using earthenware clay.
Stoneware is a dense clay that is fired at high temperatures. This makes the objects resistant to liquids and is a more durable type of clay to work with.
Milton Moon: crafting modernism locates Moon's sixty-year practice in ceramics in the wider story of Australian art, also examining the enduring influence of the Australian landscape on his practice. This exhibition looks at key moments of transformation in the career of Moon and contextualises his work within a broader story of Australian art-making. This exhibition celebrates his highly original and painterly approach to ceramics and examines the influence of Australian modernism and Japanese art on his work, as well as introducing his lesser-known work in painting and drawing.
Find out more about Milton Moon with the exhibition catalogue.
Moon and the Australian Landscape
Moon was primarily concerned with making pots that drew from his own environment rather than being influenced by international trends. An avid diver and bushwalker, his work in ceramics explored the elemental and textural nature of the Australian landscape. Moon spent a great deal of time on the Great Barrier Reef, including on Heron Island and the Swain Reefs, and on Stradbroke Island. Vase, blue-green, green, white, black oxides references the contours and tonality of the rock formations and coral reefs along Queensland's coastline.
Moon: painting and experimentation
Early work by Moon shows him to be an accomplished painter as much as a potter. Great painters don't always choose canvas or board as their preferred medium, and in the case of Moon, clay – along with experiments in glazes and oxides – became his preferred mode.
Moon's stoneware pot, Jardinière, 1964, features ash glaze (made from various wood or straw), and contrasting glaze decoration. The energy of the design is achieved through a quick and intuitive application of glaze. Moon says about this work that, 'sometimes the end result is only an expression of nothing but the material used'.[1] His words here are in keeping with the modernist declaration of 'truth to materials'. This is the idea that the materials used in art and design should be seen for what they are and should not be concealed or made to imitate something else. Jardinière is an example of the Moon's painterly approach to ceramics. His rapid brushwork and his application of glaze in Jardinière foreshadow his later work, which references Japanese brush-and-ink painting and calligraphy.
[1] Denis Pryor, Focus on Milton Moon, Queensland of University Press, St Lucia, Qld, 1967, pg. 40
Modernism is the cultural response to the rapid changes of the Industrial Revolution. Beginning around the mid-nineteenth century, modernism reflected the dramatic shifts in society that took place in Europe, North America and eventually the world. Manufacturing, new modes of transportation, such as the steam engine, the car and the aeroplane, as well as the invention of electricity and telecommunication and the rise of capitalism, transformed formerly agrarian societies into urbanised cities and towns. Modernism is the artistic response to this rapid change.
In terms of its visual expression, modern art was markedly different from its predecessor movements. The previous centuries of Western art had long been occupied with mythological, biblical or historical subjects. Art was understood as an illustrative tool, used on behalf of the church or by those in power. Modern art, however, revolutionised this understanding as it sought to find new expression to respond to the changes of the modern world. Over the nineteenth and twentieth centuries, the parameters of art and the role of the artist were deeply questioned. Artists began to value art as a form of personal expression and for holding value intrinsic to itself. Art loosened its grip on being illustrative or illusionistic, making a long grand arc towards abstraction in the late 1960s.
Moon and Japan
In 1973, Moon travelled to Japan where he lived for a year in Kyoto, spending his time visiting historical kilns, leading potters of the day as well as cultural leaders. Moon's main purpose was to study the relationship between Zen Buddhism and Japanese culture, specifically pottery. Historically Zen Buddhism was associated with prominent artists and patrons who fostered the development of the arts of ceramics, calligraphy, the ritual of tea and garden design.
The ceramics Moon created after he had returned to Australia reveal the influence of prominent styles of pottery in Japan, including the use of the distinctive green colour associated with Oribe ware, a style of Japanese ceramics that dates back to the sixteenth century. The dimensions and shape of Moon's Small bowl with green dripped glaze, 1970, approximate the bowls (chawan) utilised for the ritual of tea in Japan. The Oribe style bowl reveals the raw clay, which contrasts with the striking veins of green glaze.
In Japan Moon made a series of dishes and bowls with a grey glaze, which provided the perfect canvas for exploration of his new brush skills. He was particularly inspired by patterns on kimono, as well as seasonal flora, blown or scattered by the wind. Both the kimono and flora are well-established motifs in Japanese art and culture and often symbolically refer to the passage of time and the transience of life.
These dishes, bowls and plates created by Moon in the late 1970s and early 1980s display a distinct series of brush marks that represent plum blossoms blowing in the wind. Others like Dish, 1982, reveal the influence of calligraphy. Moon studied the Japanese language prior to his residence in Japan; however, the calligraphy on the dish is not legible and instead has become a design possibly inspired by the small, colourful strips of paper hung on trees during the Tanabata festival, known as tanzaku.
Artists are often inspired by their natural environment. Look at River red gum by Moon. What qualities of a River red gum tree do you think the artist wanted to capture? Look at works by other artists that are inspired by nature. For example Clare Belfrage references eucalypt trees in her work Passage #44, while Angela Valamenesh has been inspired by the colours in the South Australian landscape including the Riverland and the Flinders Rangers. Inge King was fascinated by the harsh and unfamiliar Australian bush, which in turn inspired her to create bold monumental forms that contrasted with her new environment
Take a nature walk around your local area. Photograph, sketch or collect natural materials that have fallen from trees or plants. Select your favourite item. Create a sculptural vessel inspired by this object. Tip: If using clay, while leather-hard, work back into your piece using a variety of tools to make different marks to create texture.
Moon experimented with glazes and used his clay objects as a canvas. Collect a variety of objects and surfaces to practice painting experiments on. These could be plastic containers, carboard boxes, aluminium tins or fabric. Experiment with different types of paint and the method you use to apply it. Try using tools other than a paintbrush as well as mixing things into your paint.
Identify and photograph all the things in your home that are made of clay. Tiles, crockery, plant pots, sinks, vases, etc. You might be surprised just how many things around your home have been fired in a kiln.
Moon looked to Australian painters for inspiration such as Ian Fairweather, John Olsen, Albert Tucker and Fred Williams, who were also influenced by the Australian landscape. Look at works of art by these artists and compare their work to that of Moon. List the characteristics of each artists' works. Are there any which are similar or different?
Look at a range of works by Moon. As a class discuss which ones you think were inspired by Moon's time bush walking versus those inspired by the water, coast and rock formations he observed when he was diving. Provide reasons for your answers.
Moon says about this work that, 'sometimes the end result is only an expression of nothing but the material used'. Create a sculpture out of your chosen material. Let the material lead the way. The texture, form, and scale will be dictated by your chosen material. For example, a sculpture made of fabric may be softer and have less structure than a work made of wire or cardboard, which may have the potential to be taller and more ridged. Spend time exploring and documenting the properties of chosen material.
Push the properties of clay. Who can make the tallest, widest, thinnest pinch pot or coil pot. Explore various types of clay to show why different clays are chosen for different purposes. While you may not have access to this in your classroom, you can find different examples of ceramics in our online collection which use earthenware, stoneware and porcelain.
As Moon referenced the patterns found in the fabrics of kimonos look at the textiles in your wardrobe and/or home. Recreate the patterns you find on a clay vessel. Alternatively, roll/press the fabric into the clay to capture its texture. Fold or scrunch the fabric to create more defined texture in the rolled clay.
The Gallery's Learning programs are supported by the Department for Education.
Art Gallery of South Australia staff Rebecca Evans, Russell Kelty, Tracey Lock, Kylie Neagle, Dr. Lisa Slade contributed to the development of this resource.