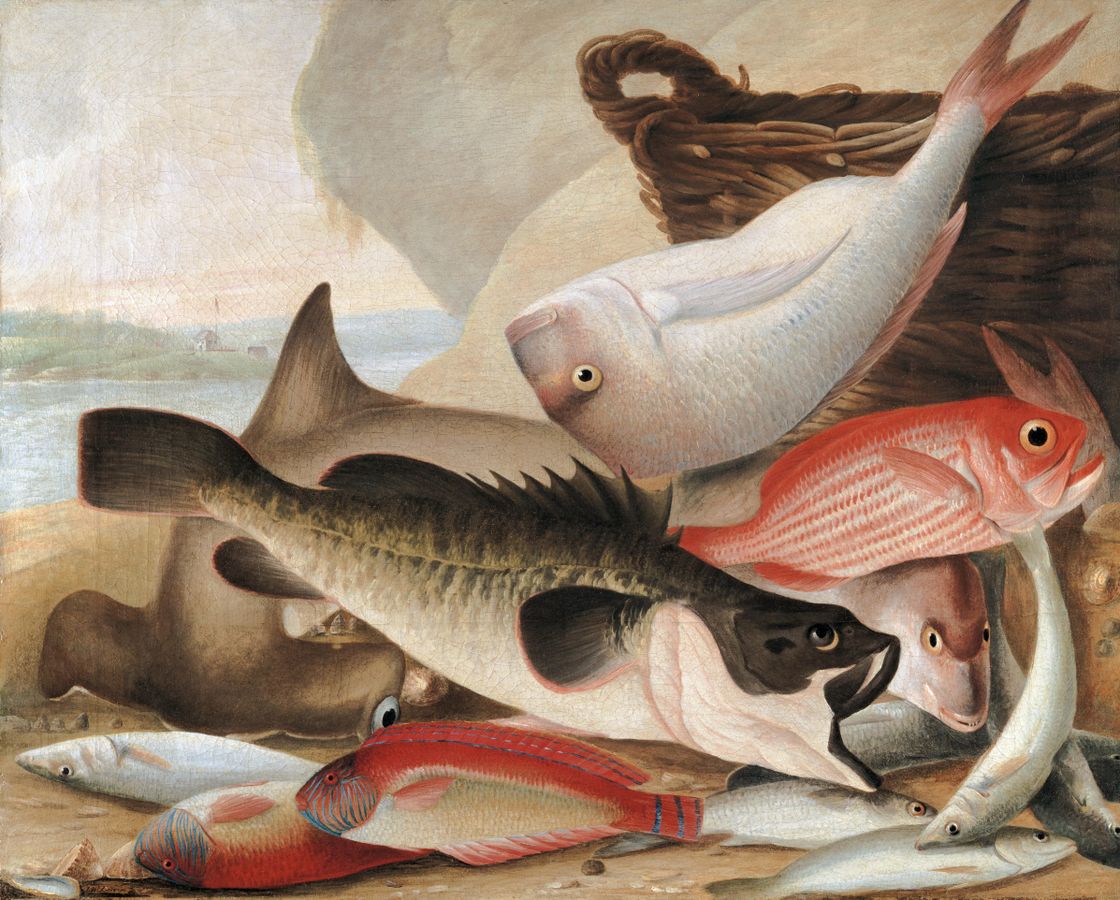 Fish Catch and Dawes Point, Sydney Harbour by John William Lewin
---
English-born John Lewin trained as a natural-history painter in London and arrived in Sydney in 1800 with the intention of making his fortune painting and collecting specimens of Australian flora and fauna (particularly birds and insects). He travelled on scientific expeditions around New South Wales and was employed by Governor Lachlan Macquarie as the Colony's first official artist.
Fish catch and Dawes Point, Sydney Harbour is the earliest known oil painting on canvas in Australia. It depicts fish that could be found in the Gadigal waters of Sydney Harbour. They include the snapper, hammerhead shark, crimson squirrelfish, estuary perch, rainbow wrasse and sea mullet. The fish are carefully arranged in the foreground, suggesting their abundance and the bounty available in the new colony. Lewin officially recorded several fish and some were named after him, among them, the hammerhead shark later named Zygaena lewini and now Sphyrna lewini. This painting shows Lewin's skill for scientific detail and a departure from the traditions of natural history painting. It is also reminiscent of Dutch still life painting and sporting paintings that show a fisherman's catch which were popular in Britain at the time. The background stretches to Dawes Point, which is where the northern point of the iconic Sydney Harbour Bridge is located.
Australian Curriculum Connections - Year 5 History
Reasons (economic, political and social) for the establishment of British colonies in Australia after 1800 (ACHASSK106)
The nature of convict or colonial presence, including the factors that influenced patterns of development, aspects of the daily life of the inhabitants (including Aboriginal Peoples and Torres Strait Islander Peoples) and how the environmentchanged (ACHASSK107)
The Gadigal people are the traditional owners and custodians of the city Sydney, where Dawes Point is located. Research the rock engravings (petroglyphs) which are located here. What do these engravings tell you about the lives of Aboriginal people? Who are the traditional owners of the land where you live? What is the traditional place name for where you live?
What information about Sydney Harbour and Dawes Point during the 1800s could we gather from Lewin's painting? If you were to recreate this painting today, what things might have changed? Research the environment at Dawes Point and identify the changes which have happened since the 1800s.
Investigate examples of natural history illustrations from the 1800s. Compare these to work of Lewin as well as scientific records of plants and animals you might encounter today. Conduct a SWOT analysis on each example. In groups decide which record is the most reliable and why. Why are historical records of plants and animals still important today?
Imagine Lewin was on the docks in Sydney Harbour observing the fisherman's catch. What sounds might he have heard? Create a soundscape of these scene using objects found in your classroom.
You are a natural history painter who has been asked to document the environment where you live. Select a plant or flower and draw it in detail. Describe this specimen to someone who has never seen it. What other information might be important to include?
The Gallery's Learning programs are supported by the Department for Education.
This education resource has been developed and written in collaboration with Elle Freak, Associate Curator, Australian Paintings & Sculpture, Kylie Neagle, Education Coordinator and Dr. Lisa Slade, Assistant Director, Artistic Programs.