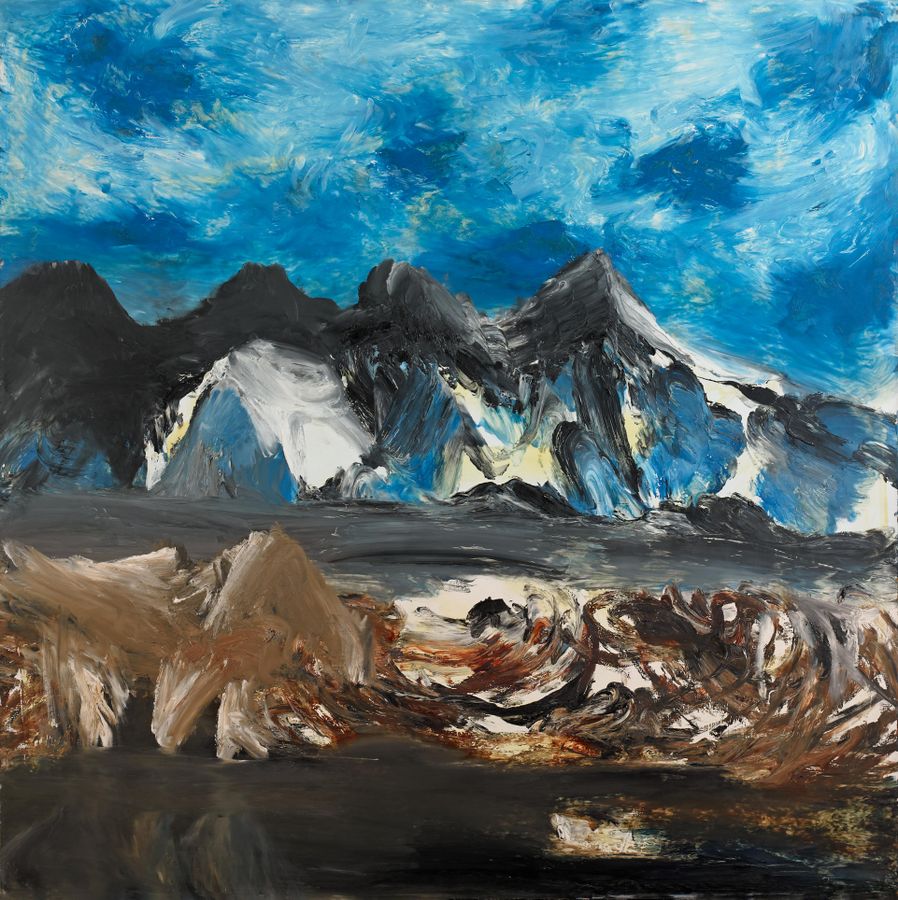 Antarctica by Sidney Nolan
---
From childhood, the Australian-born artist, Sidney Nolan, was fascinated by the heroic Antarctic exploring expeditions of Robert Scott, Ernest Shackleton and the Adelaide geologist, Douglas Mawson, of the early twentieth century. Sir Edmund Hillary's successful epic overland crossing (1955–58) of Antarctica further ignited Nolan's ambition to travel to that continent, and in January 1964 an opportunity arose for him to undertake an eight-day visit. The brief experience was profound. Nolan recalled:
I had this cliché idea of Antarctica being flat, an enormous paddock across which dogs would run and explorers would battle … but I found a majestic kind of great continent, very much higher than Switzerland, and glaciers the size of Sydney Harbour coming down at steep angles. One felt this instantaneous fear at the first sight of it, that it would annihilate one; but this was overcome by the sense of wonder in it
According to his detailed inscriptions, this example from the series was completed in London, on 30 August 1964, and although the exact location is uncertain, it is most likely a view looking towards the mainland and the Transantarctic Mountains, which stretch down to the Ross Sea. Antarctica demonstrates Nolan working at the height of his virtuosic painterly powers and highlights his use at the time of a new fast drying gel medium, which allowed him to paint 'wet on wet' with an unprecedented intensity and speed. Through the use of this gel material, brushes and his own hands, he achieved unusual striped colour combinations, alluding to the crystalline effect of frozen water.
The compressed energy of the frenetic marks and the fragile Antarctic environment captured in this work resonate with global anxieties associated with climate change.
Antarctica expands on his well-known nationalist themes and points to a modernist landscape tradition that both speaks of universal concerns and transcends political borders. Australian art's exploration of 'elsewhere' places, beyond our shores and particularly Antarctica, are of increasing relevance to a bigger story of Australian art.
Australian Curriculum Connections - Year 6 History
The contribution of individuals and groups to the development of Australian society since Federation (ACHASSK137)
The Gallery's Australian collection includes other Antarctica works, including those by Frank Hurley, Bea Maddock and Ian North. Take a look at the works of art by these artists and Antarctica by Nolan. Although made using different mediums, how are these works similar? What qualities does Maddock and Nolan's work have compared to Hurley and North?
Advances in technology have made Antarctica one of the most surveilled territories on the planet, yet it remains a site of imaginative projection for creative citizens. Imagine you are one of these artists. Research this artist and write a story about their experiences in Antarctica. Weave the factual information you have discovered about them, their experiences and Antarctica generally into your story. Display your short story along side a copy of the work of art in your classroom.
Listen
Tracey Lock discusses Sidney Nolan's painting, Antarctica
The Gallery's Learning programs are supported by the Department for Education.
This education resource has been developed and written in collaboration with Tracey Lock, Curator of Australian Art and Kylie Neagle, Education Coordinator.