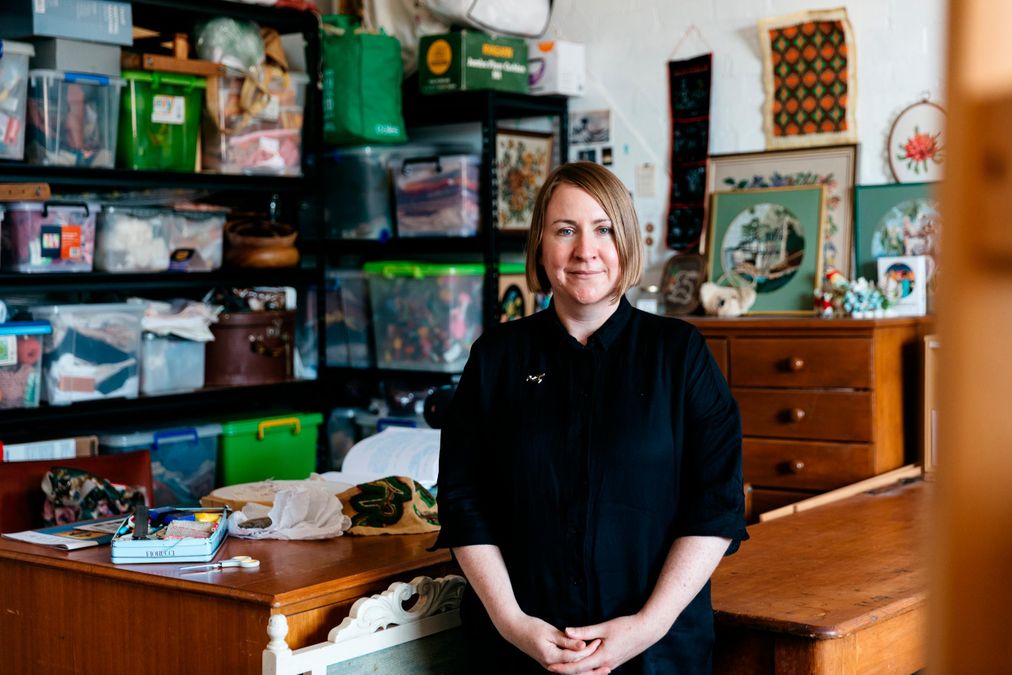 Sera Waters
---
Born in Murray Bridge in 1979, Sera Waters is a South Australian artist, writer and academic currently living in Adelaide. As the descendant of five generations of South Australian settler colonists – her forebears came to Australia from England, Scotland, Ireland and Germany – Waters draws on the narratives of her familial history to redress gaps and silences within Australian history. Working predominantly in textiles, fibres and sculpture, her meticulous skill in hand-embroidery and domestic hand-crafts was propelled by an opportunity to study Western European stitching techniques at the Royal School of Needlework in England, in 2006. Waters returned to Adelaide armed with the material vocabulary of her matrilineal ancestors – the skills her great-grandmother and great-great-grandmother would have regularly practised – as a means to examine "the threads that have been inherited from the past, to intentionally reset their course."[1]
Waters often uses found or second-hand textiles to create her work. Over the past fifteen years, she has produced large sculptural installations to small intimate portraits using a wide range of materials, from op shop tea towels to her grandmother's bedsheets, even using materials as unlikely as kangaroo skins. In repurposing used and vintage textiles, her practice emphasises "the marks and enrichment of age, wear and life… I'm trying to carry history along in the materials." Her highly detailed and laborious hand-craft processes also draw attention to the medium of time; "the time I spend with every little piece of fabric and every stitch is to really think about the past and how it operates in the present." [3]
For Free/State, the 2022 Adelaide Biennial of Australian Art, Waters has produced her most sizeable installation to date. Storied Sail Cloth (2022) features five large sails made from vintage linen and hemp, whose surfaces have been intricately worked back into with montaged scenes of ecological crisis, ghostly portraits and fragments of topological maps. Each sail is bestowed with its own subtitle – Ketches,Drainage, Mine, Seeding and Pugholes. These titles summon Waters' ancestral connections to the pioneering industries of South Australia – land clearing, agriculture, farming and mining – whose environmental consequences we continue to grapple with today. Her use of the sail motif is similarly driven by another historical kinship, in this instance with the McKay family. Arriving in Port Adelaide in 1838, to establish a sail-making business, the McKay family owned the Annie Watt, a prime example of a late nineteenth-century ketch – a two-masted sail boat – that was integral to the pastoral development of the Spencer Gulf. "Truth-telling is the most vital force toward decolonisation – and I come at that through my own family historical entanglements, telling their pasts in order to learn from them."[4]
For Waters, the symbolism of the sail is complex and contradictory. It is deeply connected to a colonial history of land grab and the instigating acts of Aboriginal dispossession; it is a harbinger of change and destruction. From a twenty-first century perspective, the sail is also an emblem of hope – sailing towards new horizons, a new and better future. Waters hand-skills, rather ironically, may be a method for future-proofing, particularly against a background of increasing collective ecological and social crises. "I am interested in what traditions might need to come back. This is a chance to put hand-crafted embroidery and textile techniques, like soon to be lost sail-making techniques, in a contemporary context in order to bring back their value."[5]
[4] Email correspondence with the Art Gallery of South Australia, 2022.
[5] Ibid.
Articles and Books
Goldspink, Sebastian. Free/State. Adelaide: Art Gallery of South Australia, 2022.
Hart, Sheridan. "Sera Waters unpicks the long stitches of Australian history." Art Guide Australia. 3 October, 2018.
Kelly, Miriam. "Sera Waters: Domestic Arts." Artlink. 1 December, 2017.
Waters, Sera. "Crafty Prepping."Artlink. 1 March, 2020.
Williamson, Brett. "Buried at Sea: A sail maker's tribute." ABC. 10 April, 2014.
Websites
Hunter, James. "William Russell Pty. Ltd." SA History Hub, History Trust of South Australia, accessed 1 February, 2022.
Sera Waters. Artist website.
"Sera Waters: Domestic Arts." The Riddoch. 11 September – 31 October, 2021.
Videos and Podcasts
"Sera Water's ghostly embroideries." Radio National. Streamed audio.12 July, 2017. 8:20.
"Textiles and Craftivism with Britt Burton and Sera Waters." SALA Podcast. 17 August, 2020. Podcast. Audio. 29:49.
"The Guildhouse Fellowship: In Conversation with Sera Waters and Lisa Slade."Guildhouse. 17 March, 2021.
Waters is interested in domestic traditions such as stitching, beading and quilting? Do you know someone in your family who practises any of these skills? Photograph something they have made using a home-made tradition. Write a story about this hand-made item to accompany your photograph.
Look at Waters' work in Free/State. What types of knotting techniques has Waters used? Sketch or photograph these details. Investigate the history of knotting. What interesting techniques did you discover? Experiment creating a range of different knots with string, jute or yarn. Create a work of art using knotting techniques.
Waters often reuses found or second-hand textiles to create her work, from op shop tea towels to bedsheets. Find a second-hand textile, either in a second-hand shop or at home. Alter or embellish this textile in a way that enhances its existing condition or details. You could use needle and thread or draw directly onto the piece with fabric pens.
Ask each member in your family to donate an item of clothing or fabric (tea towel, bed sheet or pillowcase). Using stitching or beading create a work of art that combines each piece of fabric into a unified work of art that communicates who your family are – their strengths, likes or dislikes, personality etc. You may use other pieces of fabric, thread, wool or paper to embellish your design.
Waters has researched several distinct impacts that colonial practices have had on the environment. These include:
Drainage of the state's South-East region whereby the wetland-dominated landscape was converted into pastoral lands.
Loss of oyster beds, with oyster shells converted into concrete to build the new colony.
Introduction of invasive species.
Sustained extraction of natural resources such as gas and coal.
Research another pioneering industry in Australia (land clearing, agriculture, farming and mining) which has impacted the Australian landscape and its flora and fauna. Create a work of art that responds to one these issues. Tip: Like Waters, be explicit in your research and focus on one specific area with a clear issue being investigated.
Waters' investigates and questions the past – both in terms of important people, places and hand-made practices. Research a lesser-known story about the place where you live. Write a letter to someone telling them all about what you have discovered. Create an illustration to accompany your letter.
Storied Sail Cloth (2022) features five large sails that depict montaged scenes of ecological crisis, ghostly portraits and fragments of topological maps. Each sail has its own subtitle – Ketches, Drainage, Mine, Seeding and Pugholes. Find out the definitions of these words. What is the connection between the sub-titles and the works of art?
What does the symbol of the sail mean to you? What does it remind you of? Ask your family what they think of when they see a sail?
Sera Waters is interested in what traditions might need to come back one day, against a background of increasing ecological and social crises.
What traditions do you think are nearing extinction? Will we need to use a pen to write in 50 years-time? Will the art of hand-writing soon be lost forever?
Imagine there were no factories or technology available. What skills do you think you would need to survive?
In 2016, Sera Waters' work Camouflage Cloaks for Invaders: Robe, 2016 was featured in Sappers & Shrapnel, a contemporary art project inspired by the little-known and undervalued art form known as trench art. This term describes the objects made from the waste of warfare – objects crafted by soldiers, civilians and prisoners of war. Whether intended as trophies of war, souvenirs for those at home, or talismans for the battle ahead, trench art is an expression of our ineffable need to make art.
Sappers and Shrapnel Artist Talk: Sera Waters
The Gallery's Learning programs are supported by the Department for Education.
This education resource has been developed and written in collaboration Dr. Belinda Howden, Kylie Neagle Education Coordinator and Dr. Lisa Slade Assistant Director, Artistic Programs.