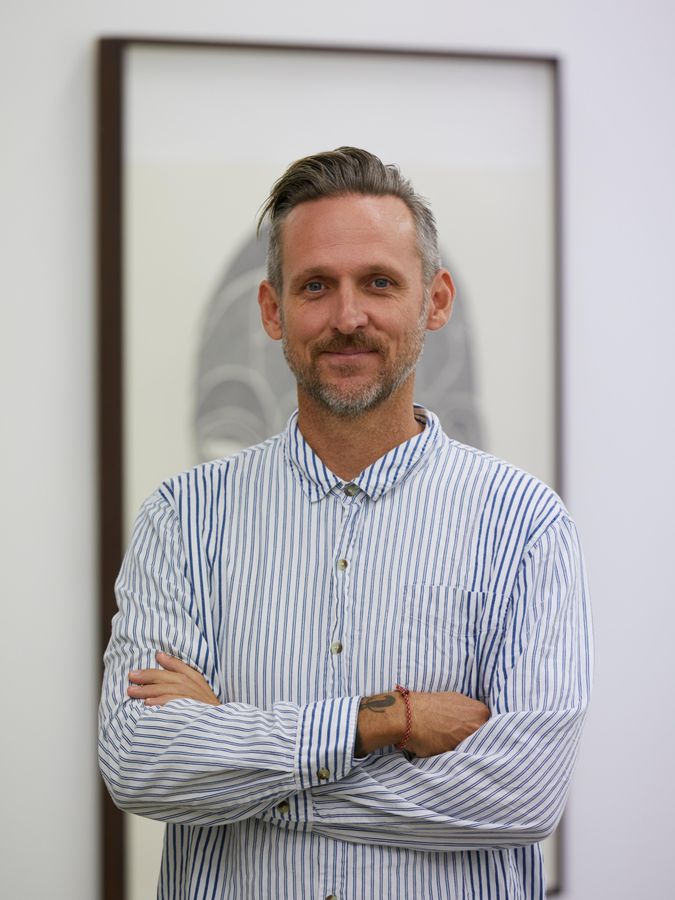 Laith McGregor
---
Born on the Sunshine Coast, Queensland, in 1977, Laith McGregor is an Australian artist currently living and working in Byron Bay. McGregor majored in painting in 2007 at the Victorian College of the Arts, Melbourne, but it wasn't until after he graduated that drawing took a central role in his practice. Known for producing portraits using the humble biro, large-scale durational drawings, as well as sculptural installations featuring unconventional drawing mediums and surfaces, McGregor considers drawing a very direct and fundamentally human practice. "The line as a symbolic gesture dates back to our primitive origins and filters into the fabric of our everyday lives… It's a primal instinct, used to map, guide, express and converse."[1]
Prior to the pandemic, McGregor spent a lot of time travelling. In particular, he visited and worked in Bali sometimes as frequently as twice a year. As a result, he began to focus on themes of travel and diarism – he would approach drawing as a daily inscription of his thoughts, ideas and new visual stimuli. He also became increasingly aesthetically engaged with exotic representations of the Asia Pacific region. He began to explore visual tropes of the jungle; his drawings incorporated imagery of Balinese artefacts, like urns, pitchers, carvings and busts; his collages reworked the salt, sand and sun of vintage tourism campaigns; and he studied the works of late nineteenth and twentieth century European artists Henri Rousseau, Paul Gauguin and Georges Remi – the creator of The Adventures of Tintin – who share a history of portraying exoticised and, at times, fictional artistic encounters with the Asia Pacific.
For Free/State, the 2022 Adelaide Biennial of Australian Art, McGregor produced an almost five-metre long pencil drawing titled HOPE (2022). Created over the course of a year, line by line, the meticulous graphite work ekes out the compressed scenes of a fictional tropical landscape, a mid-layer of realistic renderings of earthenware water vessels and top layer of hard-edged abstract shapes borrowed from nautical distress flags. Upon close inspection, images of monkeys, birds and lush foliage emerge from McGregor's monumental greyscale mark-making. The far left edge depicts a coastal strip where one of McGregor's stark white circles doubles as a blinding sun – an optical trick. To view the work from a distance though, large-scale letters also miraculously appear. Another visual sleight of hand, the word HOPE manifests like a mirage or message spelt out on the sandy edge of a remote island. "You have to always remember that drawing is fundamentally about looking."[2]
The nautical theme continues in McGregor's work Strange Days (2022), an installation of 1095 recycled bottles gathered over the past three years, one for each day of the year. Each bottle contains a text, drawing, note or message created by participating audience members. Affixed to the gallery wall, the bottles mark out 'S.O.S.' – a maritime mayday signal historically tapped out in Morse code. "At some stage over the last three years we have all felt like a castaway stuck on an island reaching out to loved ones with our own messages in a bottle."[3] Strange Days embodies McGregor's expanded approach to drawing, not just because of its physical presence but as a work made collaboratively with anonymous contributors. "We have all felt the distress and yearning for someone to save our souls. But as English poet John Donne once noted 'No man is an island', we are all experiencing a collective state of being during these strange days."[4]
[1] Laith McGregor, "The art that made me: Laith McGregor," Art Gallery of NSW, 2017. [2] Laith McGregor, "Online art tutorial | Drawing portraits with Laith McGregor," NGV Melbourne, Youtube, Video, 13:29. [3] Email correspondence with the Art Gallery of South Australia, 2022. [4] Ibid.
Books and Articles
Austin, Amanda. "Laith McGregor." Iris, profile, 02.
Australia Print Workshop Gallery. "Laith McGregor: Storyteller." Melbourne: Australian Print Workshop Incorporated, 29 March – 17 May, 2014. Exhibition catalogue.
"Laith McGregor sends out an S.O.S." Art Almanac. 26 January, 2022.
"Laith McGregor."Artist Profile. 2021.
Leonard, Robert. "Laith McGregor: Ramblin' Man." Robert Leonard. 2016.
McGregor, Laith. Archipelago. Melbourne: Perimeter Editions, 2020.
McGregor, Laith. S-O-M-E-O-N-E. Melbourne: Perimeter Editions, 2016.
"The art that made me: Laith McGregor." Art Gallery of NSW. 2017.
Wolff, Sharne. "Six and a Half Questions | Laith McGregor." The Art Life. 8 April, 2016.
Websites
"Laith McGregor." Starkwhite.
"Laith McGregor." Station Gallery.
Videos
"Laith McGregor: Borrow Times Exhibition at Caloundra Regional Gallery." Caloundra Regional Gallery. Youtube. Video, 5:52.
"Online art tutorial | Drawing portraits with Laith McGregor." NGV Melbourne. Youtube. Video, 13:29.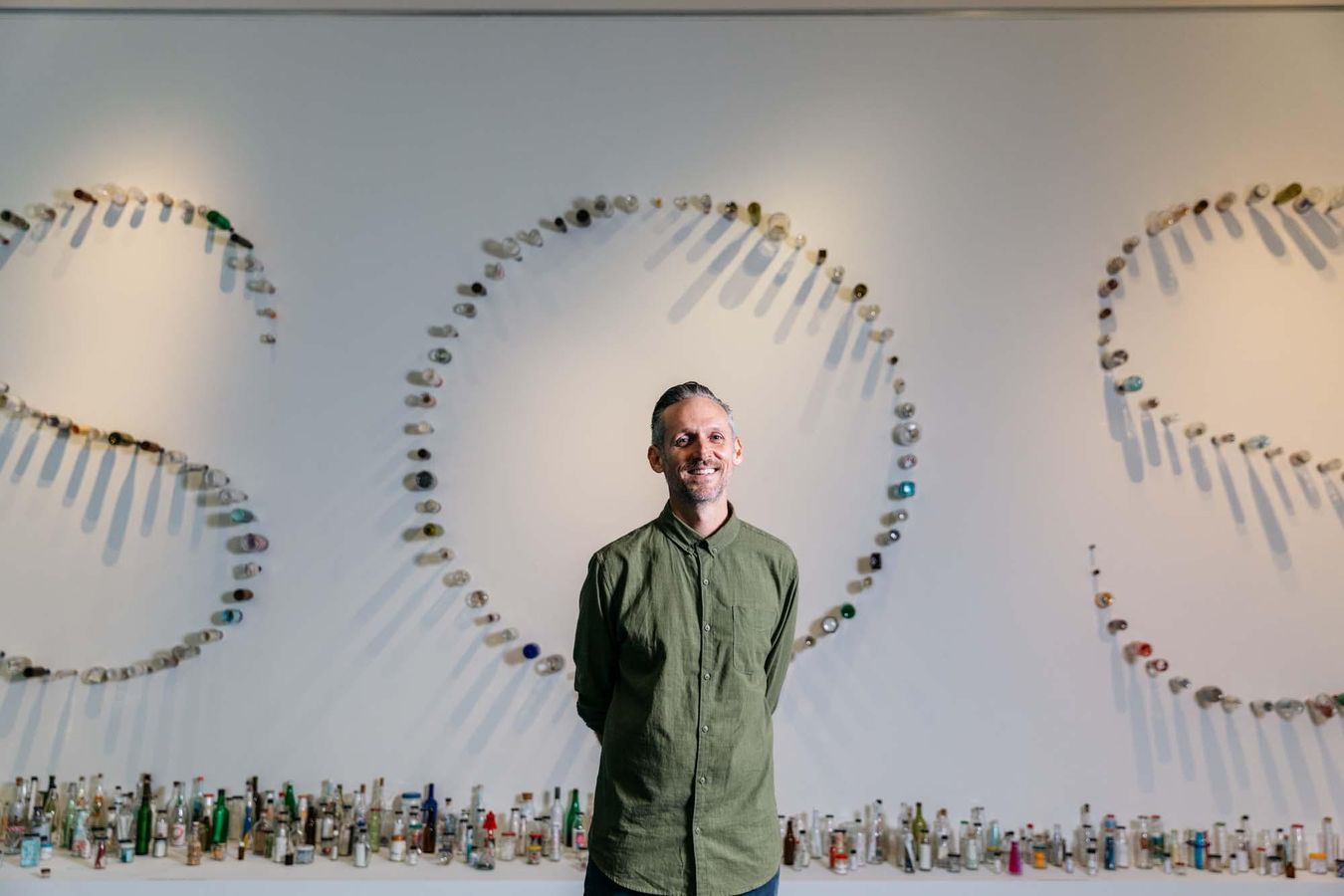 A bit of fun. Attention teachers! Why not try something unexpected to kick off your lesson about Laith McGregor? Welcome your students to class by playing the song 'Message in a bottle' by the Police. After 42 years – it is still a hit and the lyrics would be great to analyse and piece together the narrative of the song.
Look closely at the work HOPE (2022). List all the things you can recognise. Some of the abstract shapes have been borrowed from nautical distress flags. Take a look at a chart of the International Maritime Signal Flags. Can you identify any of these flag designs in HOPE?
Listen
Leigh Robb and Bernadette Klavins discuss works of art in the exhibition 'Free/State'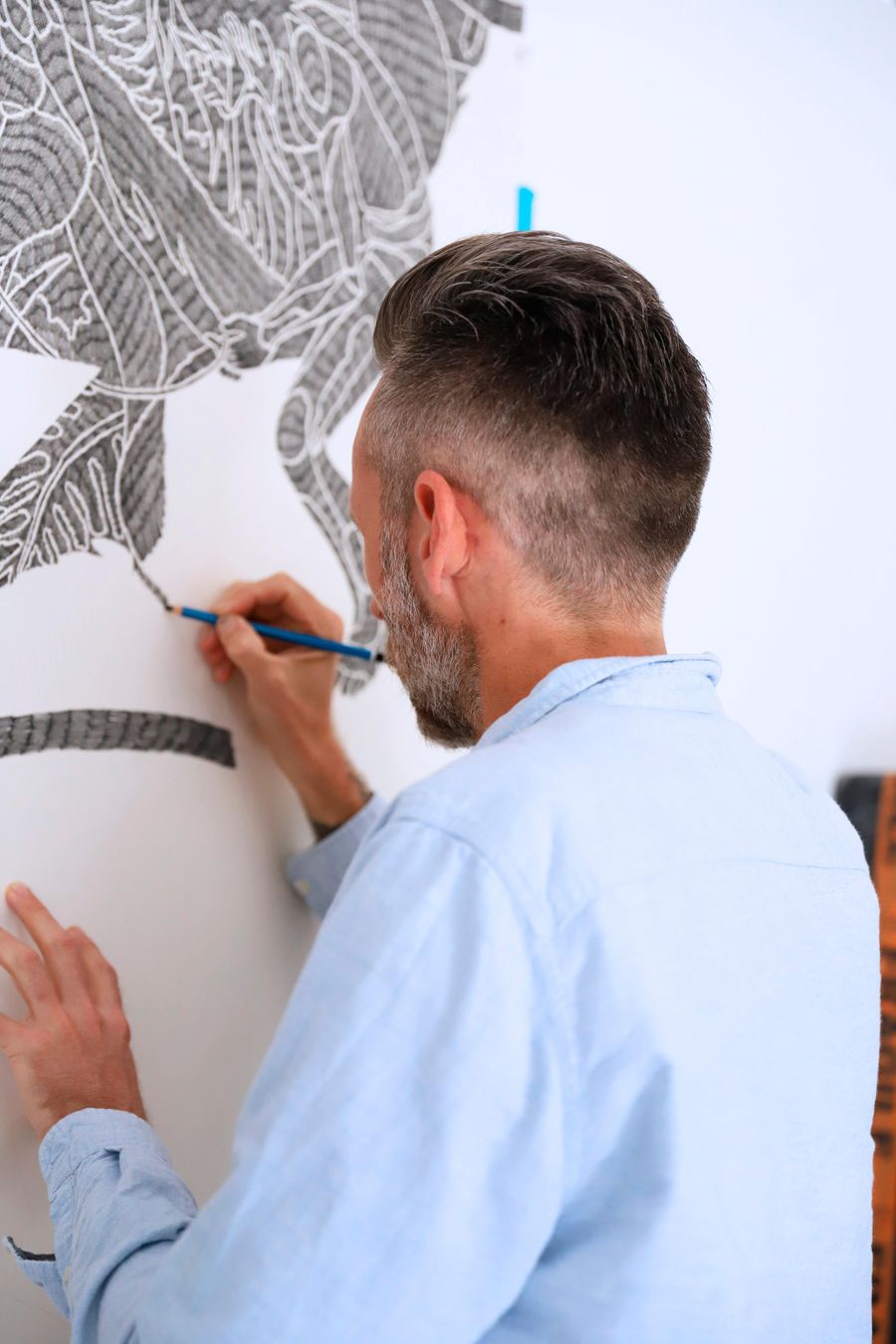 McGregor would often visit and draw in galleries, looking for different ways of mark making. Explore AGSA's collection online or in person and find a variety of works where diverse mark making techniques have been used.
McGregor likes to use large sheets of paper to draw on and sometimes approaches drawing as a daily documentation of his thoughts and ideas. In 2012 McGregor created a 4-metre drawing titled Someone which took a year to complete. This work includes text, free hand drawing, lists and dreams – McGregor describes it as a giant diary of the year. Create your own visual wall diary for the year. Find a large surface where you can attach large sheets of paper to create a giant canvas. It could be a bedroom wall or a wall in your classroom – this activity could be a collaborative one that you undertake as a class.
At almost five metres long, HOPE is made from hundreds of small pencil lines, which create a dreamlike landscape whereby a hidden message is revealed to those who take the time to look. McGregor emphasises: The drawing reflects my own feelings of helplessness, isolation, and expectancy. I see this work as a self-portrait as such, a moment in time that I will never forget, as I'm sure most won't. Are any of us free to walk away from this current state of being or will we all be consumed by this state of emergency? We can only hope.
Create your own intricate drawing of an imaginary landscape using pencil or pen which includes a hidden message – only to be uncovered by those who choose to look closely and for longer.
Drawing is about looking. Sometimes, even when we draw the same things again and again, each drawing can look different. Draw an object in front of you for 1 minute onto a post-it note. Now draw the same object again on a new post-it note. Repeat this process again until you have 10-15 different drawings. You might like to vary the time you allocate to each drawing or the way you apply your mark – for example it could be one continuous line or a series of small short lines. Compare your drawings, which drawing do you prefer? Arrange your post-it note drawings in a interesting composition. Will you arrange them darkest to lightest or most accurate to least or the one you like the most to the one you like the least? What other ways could you display your post-it note works of art?
When McGregor was at art school, he vowed never to buy any art materials and used whatever he could find. He often would use biros for his drawings. Create a series of small drawings using only biro. Experiment with varying the pressure and pace at which apply the biro to the page.
McGregor says that drawing always come back to the line. Where do we see lines? How many different ways can you describe line? For example, long, short, bold or thin Find 5 works of art where lines have been drawn, painted or carved in different ways.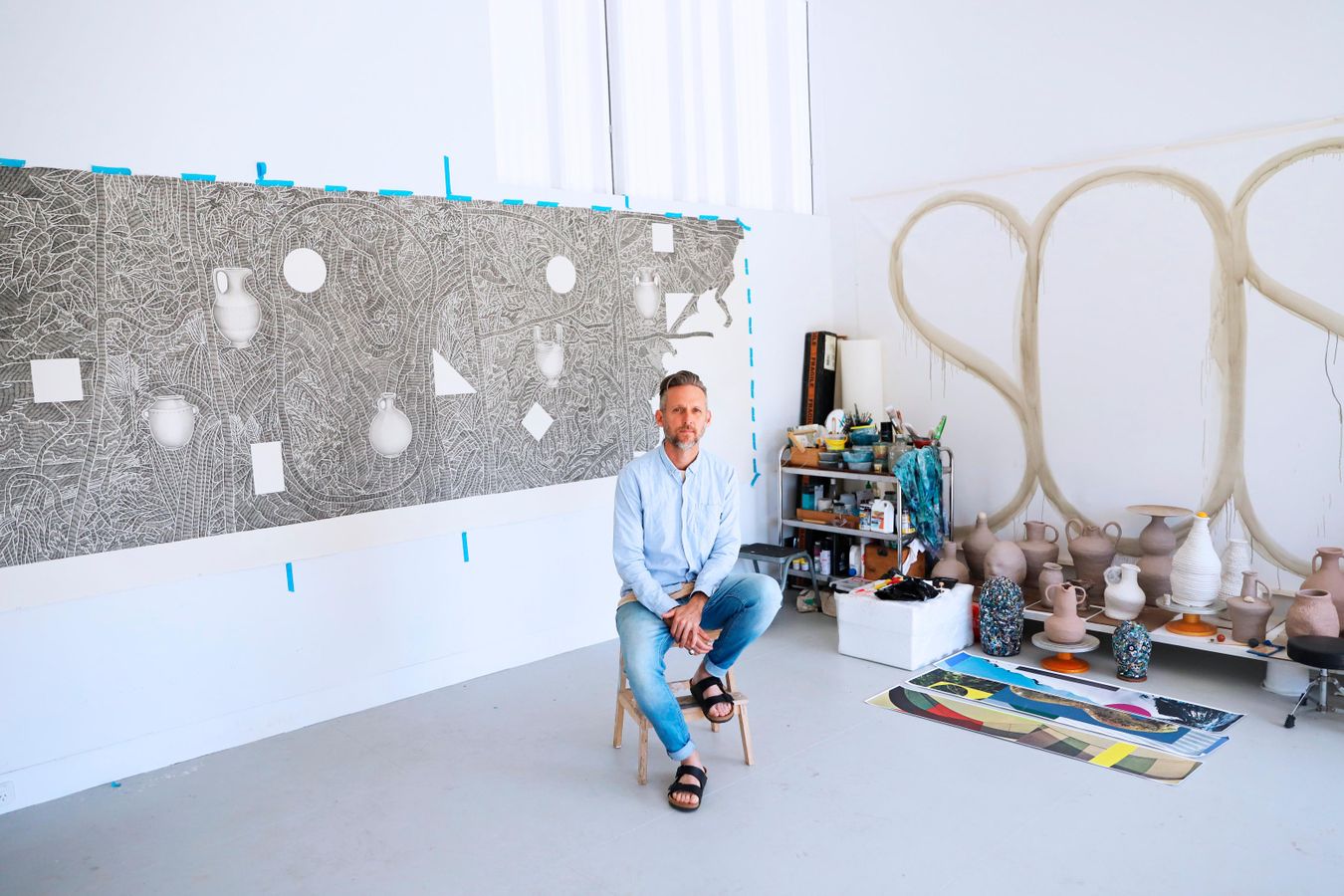 Traditionally a message in a bottle is a vessel, thrown out to sea that contains a message. They hold the potential for universal communication, and are representative of hope. McGregor's idea to create an installation generated from hundreds of messages in bottles, stems from the recognition that at some point over the last few years we have all felt adrift.
Similar to the sensation of being a castaway stuck on a desert island, we reach out to loved ones via our own 'messages in bottles' in an attempt to forge connection or in the hope that someone might 'save our souls'. I aim to harness this collective yearning, to develop a work that reminds us of our proximity to others and speaks to the idea that, as poet John Donne identified, "no man is an island" and we exist within a collective state of being during these strange days
Send your own SOS to the world. Imagine you are writing a message to someone on the other side of the world, 100 years from now. What do you think they need to know about the current day?
As a school community you may like to write a small message to someone you don't know. It could be a compliment, a positive affirmation or some advice. Place your message in a bottle you have brought from home. Collect all the bottles and redistribute the bottles back to another person.
Find an interesting story about a message in a bottle being found. Create a work of art inspired by that story.
Investigate other artists who use text, messaging or exchange as a means of making a work of art. Tips: Hans Ulrich Obrist, Lee Mingwei, and Kind words by Ziba Scott
Laith McGregor in the collection
Nigh Night (2013) is a large-scale pencil drawing executed in two parts. A colonial sailing ship on the ocean is represented in McGregor's celebrated and distinctive cross-hatching drawing technique, giving the work an embroidery-like quality. The varying tonalities of pencil marks delineate parts of the sail, sky and waves. This work is informed by McGregor's relationship with phantasmal character 'Water-face' who was an imaginary friend during his childhood. McGregor named him this as he could not make out any distinguishing features – his face looked like moving water. 'Water-face' is a mediator between representation as both physical and psychological, and for McGregor the slippage between the unconscious and conscious informs the narrative of his work.
In Nigh Night 'Water-face' is evoked through the presence of the ocean, however is has transitioned from the phantasmic to the tangible. In a similar way that McGregor's portraits often have embedded face motifs, a portrait is embedded in the mast of the rigging of the ship.
Written by Alice Clanachan, Assistant Curator, Prints Drawings & Photographs, October 2014.
McGregor has created an embroidery-like quality in his drawing by simply using a combination of lines. Find examples of embroidery or long stitch to compare to McGregor's work. How are they similar or different?
Pareidolia is being able to see faces or patterns in objects, where there are none. Did you notice how in HOPE (2022), the circle doubles like a sun? McGregor has embedded a portrait in the mast of the rigging of the ship in Nigh Night. Can you locate it? How has he disguised this portrait – does it double as something else?
Nigh Night is thematically linked to colonial nautical narratives. Locate another nautical works of art in the collection to pair with McGregor's work. Why did you make this selection?
Artists sometimes rely on their subconscious to create works of art - the Surrealists were well known for this. Document your dreams for one week. Look at what you have written, is there anything that resonates with you? If not, cut out sentences or words from what you have documented and place them in a hat. Select a word or sentence at random and create a tonal line drawing based on this.
The Gallery's Learning programs are supported by the Department for Education.
This education resource has been developed and written in collaboration Dr. Belinda Howden, Kylie Neagle Education Coordinator and Dr. Lisa Slade Assistant Director, Artistic Programs.