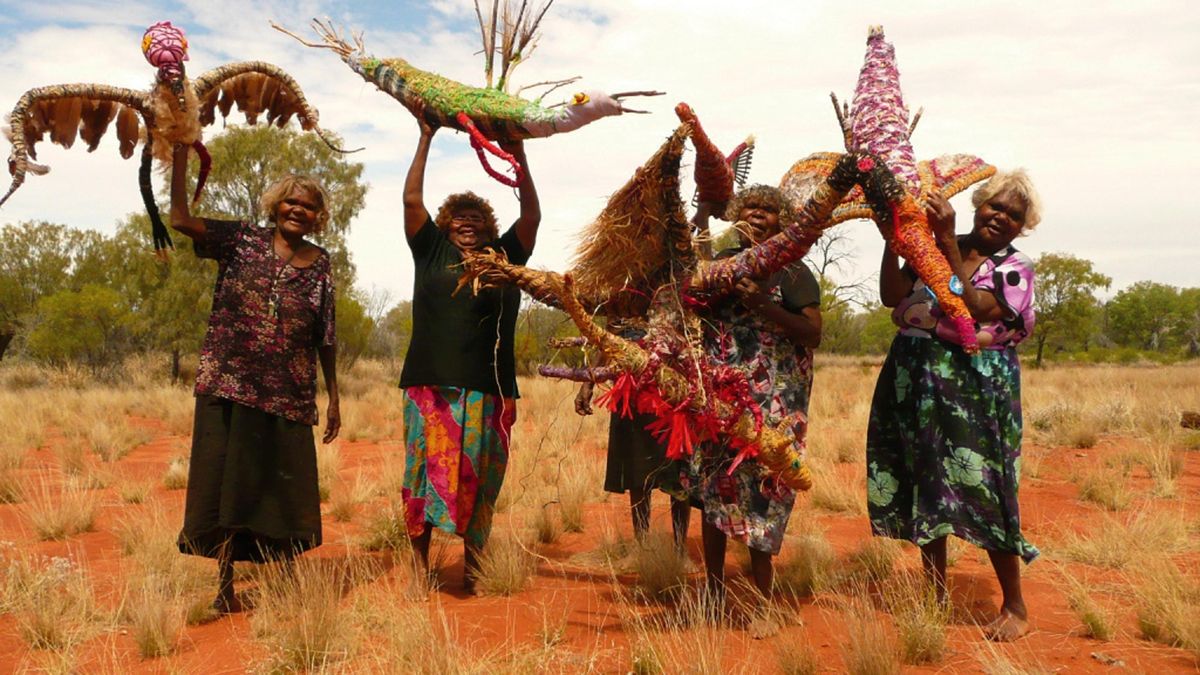 Tjanpi Desert Weavers
---
The Tjanpi Desert Weavers are an art collective involving over 400 Aboriginal women from twenty-six communities across the desert regions of South Australia, Western Australia and the Northern Territory. Tjanpi is the Pitjantjara word for dry spinifex grass. The women use grasses and coloured fibres to weave figurative sculptures and containers. Dried tjanpi is coiled and bundled in combination with other materials, such as coloured yarns and raffia, string and wire, animal fur, beads and seeds. Found objects are often incorporated into their works.
Coiling is an ancient technique, one which has been used by Aboriginal women over generations to make reed and grass stalk mats and baskets. As innovative artists, the Tjanpi Desert Weavers experiment with new ideas and materials and create new forms.
Nine senior Aboriginal women from Amata and Ernabella made the sculptures for this exhibition – Paarpakani (Take Flight) and Tjanpi Punu (Trees) – during bush camps in 2011. The colourful sculptures form a whimsical landscape, with giant flying birds forming the centrepiece of the Tjala artists' installation of paintings and sculptures.
For Anangu artists, their works of art are the land and the people, and hence it is not surprising that the art takes myriad forms.
Woven tjina (footprints) were created especially for HEARTLAND and reflect the tracking of footprints, which is such a vital part of bush life.
Paarpakani (Take Flight) shows the artists' observations of local raptors hunting prey. Also represented are traditional healers called Ngangkari, placed on the backs of two of the birds. Woven Punu (trees) provide homes for birds and tell ancestral creation stories about the importance of the trees in Aboriginal culture.
Responding
Discuss how the Tjanpi Desert Weavers' works of art connect with their traditional lands and stories.
Find out how Aboriginal women add colour and texture to their weavings and sculptures.
Are the Tjanpi works of art contemporary works, even though traditional weaving techniques are used? Research their other projects.
Making
Use found objects and string to create your own sculptural creature.