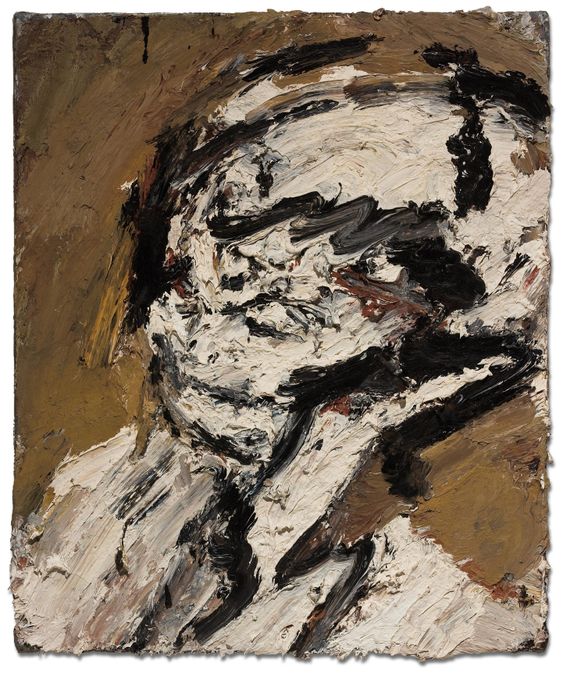 Frank Auerbach
---
A German-born painter and printmaker, Frank Auerbach was sent to England as a child and studied painting under the tutelage of the leading British cubist, David Bomberg. From the 1950s onwards Auerbach rarely left London, quickly establishing himself as one of Britain's key figurative painters.
With a focus on portraits, figurative nudes, construction sites and urban landscapes, Auerbach's images are built up using layer upon layer of thickly applied oil paint. Soft billowy peaks and deeply burrowed troughs reflect a sculptural approach to painting: the pure gestural energy of his mark-making often became the subject of his works.
Sculpted in paint in Frank Auerbach's Camden studio in London in 1965, this portrait can be seen as emblematic of modernism's redefinition of both painting and portraiture – and as a highpoint in the career of the now-lauded Auerbach. Preferring to paint people with whom he was extremely familiar, Auerbach painted Helen Gillespie nine times between 1962 and 1965. In his portraits he eschews realism, preferring to use colour, gesture and form to distil the essence of his sitter. Auerbach's bold and painterly technique using thick impasto captures his deep emotional connection to Gillespie.
Describe the application of paint in Auerbach's portrait of Helen Gillespie. Was the paint applied fast or slow?
What kind of person do you think Helen Gillespie was based on Auerbach's depiction? Write a hypothetical description of the sitter.
Choose a person who is familiar to you to be the subject of your portrait. Describe this person – what defines who they are? Are they funny or kind? Do they have a hobby? Create a portrait that captures the essence of this person. Make a series, one for each day of the week perhaps.
Create a textured portrait using fabric, paper and found materials.