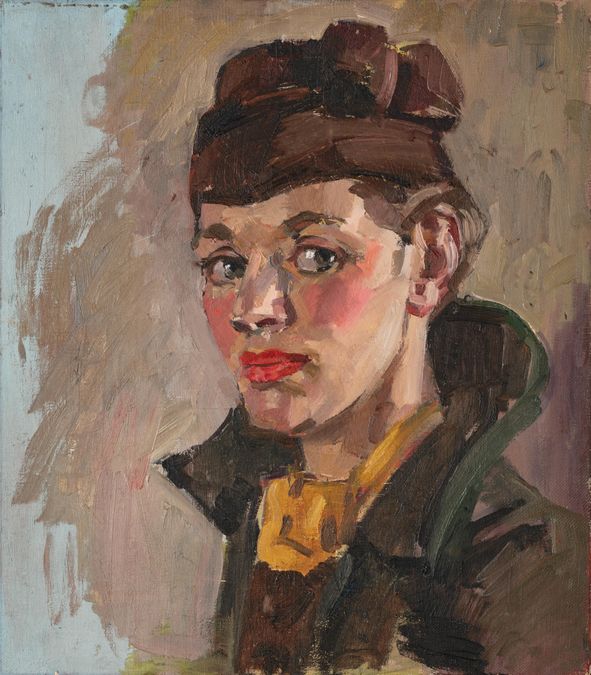 Dora Chapman
---
A painter, printmaker, potter and art educator, Dora Chapman was born in Mount Barker, South Australia, in 1911. In a life bookended by artistic recognition, Chapman spent the middle decades of her life teaching at the South Australian School of Art, as well as caring for and promoting the career of her ailing husband and the notable artist, James Cant.
With teachers as celebrated as Dorrit Black and Ivor Hele, Dora Chapman had a strong foundation in figuration. An accomplished and talented student, Chapman quickly established herself as a skilled draughtswoman and portraitist. She frequently painted from life – portraits, still life, scenes of nature and urban landscapes – until arriving in Sydney, in 1944, where the artistic scene was thriving with abstraction. In the stimulating setting of 1940s Sydney, Chapman met and married Cant and they soon moved to London, where they spent five years experiencing British abstraction first hand. When the couple returned to Australia in 1955, Chapman came to the realisation that the spirit of abstract painting had ultimately become self-conscious. Although Chapman never abandoned the principles of realist art, she later developed an interest in expressionism and abstraction. By the late 1960s she was producing radically minimal images in line with international modernism.
Self portrait in brown hat was made during Chapman's early phase of development, in the year she turned twenty-four. Distinguished by its rapidly applied brushstrokes and areas of vibrant colour, the painting is one of twelve self-portraits by the artist in the Gallery's collection. Chapman's dedication was rewarded in 1940 when she won the coveted Melrose Prize for a self-portrait.
Painted shortly after Chapman's retirement from teaching, Head captures the artist's mature approach to colour and form and her unique combination of figuration and abstraction. When interviewed by Hazel de Berg, Chapman described how one colour would suggest the next, spontaneously and without preconception. In this approach she claimed that she had found 'a new much deeper interest in painting than I ever had in abstraction or painting from nature'.
Create a series of quick self-portraits. You may like to change the material (paint, charcoal, pastels or biro) with each portrait or vary the time you take to capture your image. You may even like to change the application – perhaps use your non-dominant hand or draw with your eyes close.
Place a selection of paint samples into a hat. Draw out 3 colours and use tints and shades of these colour to create a self-portrait.