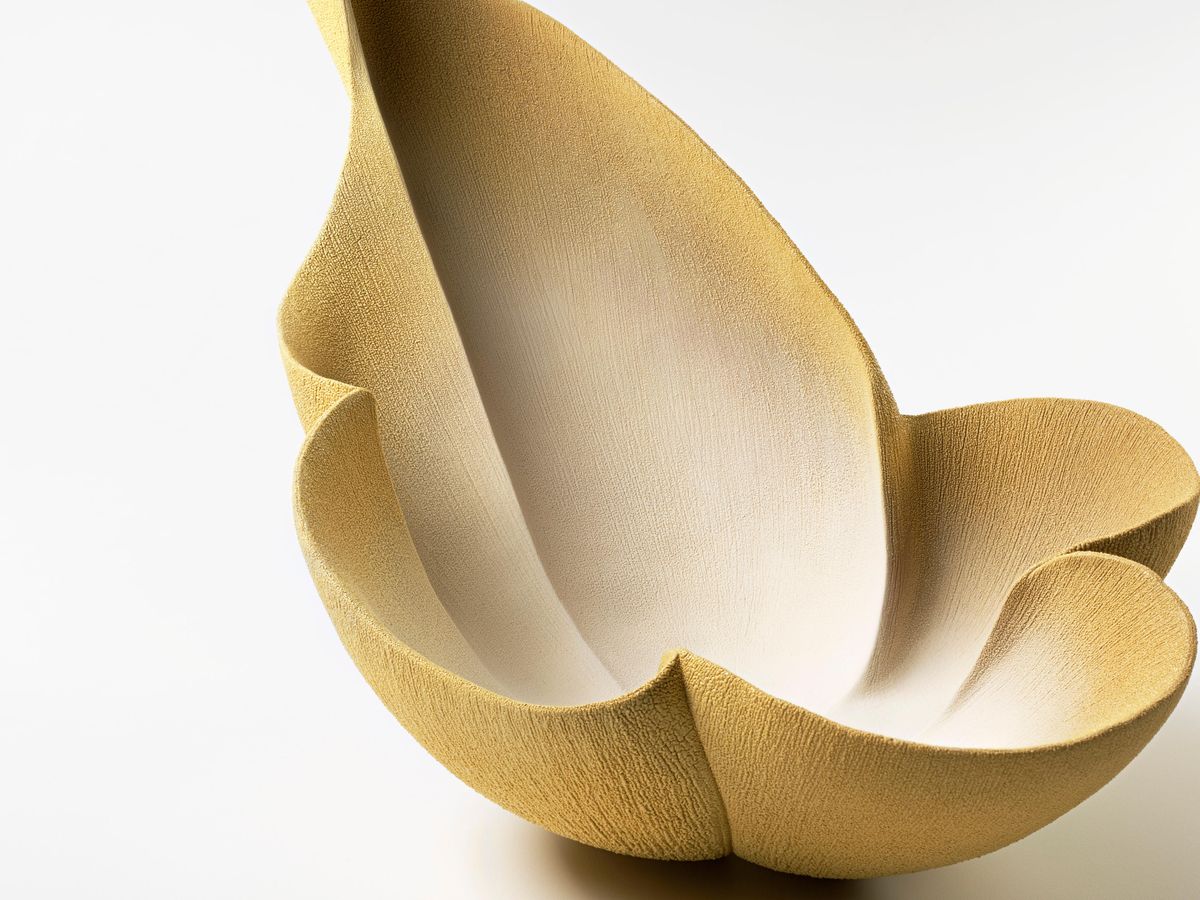 Pure Form: Japanese Sculptural Ceramics
---
This education resource will highlight works in this exhibition including works of art from AGSA's collection that can be used as a starting point in the classroom for students to learn about Japanese art, history and culture and develop an understanding of Australia's engagement with Asia.
Today Japan is home to one of the most dynamic and innovative ceramics cultures in the world. The infinite capacity of Japanese ceramicists to create is matched only by their pursuit of technical perfection. A prominent part of this culture are abstract, sculptural ceramics which display the expressive potential of clay.
Pure form: Japanese sculptural ceramics is a major exhibition that presents the complex narrative of Japanese ceramics which took place in the aftermath of the Second World War and its continuing resonance with contemporary practitioners. The revolution in clay which liberated future generations of ceramicists also gave rise to the first generation of female practitioners who injected a vital new energy and perspective into the ceramics culture of Japan.
Following Japan's attack on Pearl Harbour, Hawaii in 1940, the United States declared war on Japan. In 1945 the United States dropped an atomic bomb on the Japanese city of Hiroshima and later Nagasaki – killing tens of thousands of people. Shortly after, Japan surrendered and the country was then occupied by allied forces from 1945-52. This period was divided into a three phase plan: to reform and modernise the Japanese constitution and society, revive the economy and establish a peace treaty. Although the allied occupation came with some scarcity of freedoms in the first phase, dismantling Japan's military and eliminating patriotism in schools and public life, the latter was a time of great idealism and optimism. The social-political reforms imposed by the Allied forces dramatically altered Japanese society; women were given equal rights, powers of the police were regulated and democracy was established.
In the wake of the Second World War small groups of young artists formed collectives in the urban centres including Kyoto, Osaka and Kobe. A great rift opened between pre- and postwar society and, in this period, innovative young artists sought to create an aesthetic vocabulary to create new forms to capture the promise of this new age.
The revolution in clay, which liberated future generations and placed Japanese ceramicists at the forefront of international modernism, began in Kyoto. Highly trained ceramicists working in the insular community of the historic Gojōzaka area challenged existing hierarchies of taste and conventions. As the Japanese ceramics establishment sought to preserve, define and nurture traditional culture in postwar Japan, young artists sought to free themselves from the confines of that same history. Embracing the ceramic object (objet), they contravened the idea of utility as a guiding principle, along with the primacy of the wheel in the creative approach, and advocated clay as a medium for personal expression. In the process, they created abstract, sculptural ceramics and pushed the Japanese ceramics culture from modern to contemporary.
What is an Objet?
Historically in Japan, ceramicists created works which integrated form, function and design. The idea of 'art' as central to the appreciation of ceramics was introduced in the late nineteenth century. The rise of an appreciation of the individual artist and the creation of non-functional decorative ceramic objects foreshadowed the radical innovation of the postwar years, at which time the term objet, pronounced in Japanese as obuje, came into use. Objet is derived from the French term objet d'art and is associated with the Dada and Surrealists and movements in France from the 1920s. It was used in English to denote objects appreciated primarily for their artistic merit. considered to have artistic merit. In the postwar years in Japan, the fired ceramic object, objet, was largely appreciated for its form and beauty rather than divorced from considerations of utility.
Find Japan on a map of the world. The revolution in clay, which liberated future generations and placed Japanese ceramicists at the forefront of international modernism, began in Kyoto. Find Kyoto on the map of Japan.
Research historic ceramics from Japan, perhaps those from the Song Dynasty (966-1279) in China or during the Joseon dynasty in Korea (1310-1892) or as well as the beauty of useful ceramics created by well-known artists in Kyoto during the Edo period (1615-1868). What do you notice about these ceramic works compared to those you have seen in the exhibition Pure Form?
Investigate Japan's involvement in World War II, including why atomic bombs were dropped on Hiroshima and Nagasaki. Research what these places are like today – what impact did World War II have on the landscape and Japanese people?
One of the defining features of modern Japanese ceramics (c. 1910 – c.1940) was the emphasis placed on individual expressions of artistic creativity, achieved through mastery of technique and form. The hand of the artist (jitsuzaishugisha) was considered essential to the creative process, which meant they were not ordered ready-made or made by assistants. This contrasted with the compartmentalised production of ceramics prior to the early twentieth century and mass production during the Meiji era.
Select your favourite works in the exhibition. Look closely at objet and identify where you can see the hand of the artist. Hypothesise how the artist made these works – are there tool marks present – what kind of tool made these? Did they use slabs of clay, coils or another method? If the objet you have chosen is smooth in appearance how do you think the artist achieved this?
For hundreds of years, the ceramics community of Kyoto had been defined by the creativity and innovation of some of the best-known artists in the history of Japanese art, for whom form, function and design were inseparable. Designers and artists are often concerned with form and function, that is the shape of an object and the way it looks versus the intended purpose of the object.
Can you locate any functional objets in the exhibition?
What is the function of works of art that aren't necessarily used?
Discuss the following statement as a class: form is more important than function
Select one of the ceramic pieces in Pure Form and design and create a wearable work of art to complement your chosen objet.
The art of flower arrangement (ikebana) played a central role in the creation of ceramics in the pre and post war years. Often they displayed works together in exhibitions in Japan. Vase and Square jar by Suzuki Osamu, from the Art Gallery of New South Wales collection, display a striking transition into an abstract sculpture, which reveals the raw clay. They reference ancient Japanese precedents, as well as modern design, and appear to achieve the ideal of an 'impossible vase'.
As a class brainstorm the definition of an impossible vase. What characteristics or requirements would an impossible vase require to be considered one?
Design and create your own impossible vase that has some kind of floral element.
Black Toy (Kuroi gangu), by Kumakura Junkichi (1920–1985), joined Sōdeisha (an avant-garde ceramic group from 1948-1998), absorbing and injecting new expression into clay. Their ceramics were often, but not exclusively, created using slabs and hand-building rather than on the wheel, with an emphasis on monochrome sculptural forms, resembling walls or abstractions of the body. The titles of their works also become more conceptual and abstract.
Create a sculptural form using slabs of clay or thick carboard inspired by one of the following:
Select an iconic building, collect as many images of this building that include a variety of angles and perspectives. Use a view finder to sketch interesting sections of the building.
Or
Undertake a life drawing class or visit AGSA's permanent collection view and sketch figurative works of art. Use a view finder to sketch interesting sections of the figure.
Using these drawings create your abstract sculpture – so that it is not recognisable as your selected building or human form. Give your work an interesting title that captures the viewer's attention.
Recognition of female ceramicists represents one of the most profound influences on the shape of Japanese sculptural ceramics in the post-war years. The Allied Occupation identified liberation of women as one of their primary concerns, which increased opportunities for women to negotiate new roles in society. Women benefited from education reforms, opening doors to a diversity of training, resulting in participation in the arts, particularly traditional dance, tea ceremony and ikebana (flower arrangement). For the first time women were allowed to actively pursue ceramics as a career. Female ceramicists injected a vital new energy and perspective into the ceramics culture in Japan as they were no longer regarded as subservient to their male counterparts. Unrestrained by the weight of history and the importance given to the wheel previously, they created ceramics that were often asymmetric hand-built sculptural and biomorphic forms.
My work has always been inspired by the art of Japanese wrapping. I am intrigued by the idea of using a piece of cloth to enclose objects. A furoshiki is simple yet versatile. Throughout history, the Japanese have creatively used textiles to wrap a variety of everyday goods
Furoshiki is the art of Japanese fabric wrapping, where cloth is used to transport objects or gift wrapping. Tanaka describes this technique as versatile – list some reasons why furoshiki is an effective means of transporting goods. What other traditional methods of packaging or wrapping can you discover? Select an everyday item to wrap and trial some of these techniques. Use this wrapped object as a subject for an observational drawing exercise capturing the fold of the fabric from different alternatives. Tip: You might like to play with a light source and take some detailed photographs of the wrapped object, convert these images to black and white so that you can see the variety in tone more clearly.
Watch this video of Tanaka creating one of her sculptures.
Trompe l'oeil is a technique that uses realistic images to create an optical illusion. In a way, Tanaka's work Bundles could be considered a trompe l'oeil as the smooth ceramic sculpture appears to be made from cloth. Select an object and create your own trome l'oeil sculpture using clay. You might choose a food item for your subject – how will you create an illusion that your clay sculpture is real? Experiment with folding and coiling techniques and consider the texture, colour and proportions of you object.
Highlights from the Collection
Kondo Yuzò 近藤悠三 1902-1985
Kondo Yuzò is considered one of the modern masters of Japanese ceramics and was designated a Living National Treasure for his perfection of the decoration of porcelain in blue underglaze (sometsuke) in 1977. He broke with conventional methods of blue and white porcelain decoration and his large vessels (tsubo), andplates are meticulously crafted and display his powerful style of underglaze painting expressed through the symbols of nature such as pine trees, pomegranates, mountainous landscapes, and Mount Fuji.
Investigate the history of blue and white ceramics. Why was blue and white ceramic ware so popular in Europe from the sixteenth to the nineteenth centuries? Research contemporary artists who use blue and white palette in their ceramic works. Tip: Gerry Wedd and Robin Best.
Create a vessel to decorate with a scene of the Australian landscape. Perhaps you will be inspired by the place where you live. Consider the palette of your design and attempt to include a limited amount of colour that captures the place you have painted.

Aerial perspective is sometimes used by painters to create an illusion of depth. Objects or scenes in the distance often appear paler and less detailed than those in the foreground, which are often darker. This is often achieved by creating less contrast between colours as they recede.
Collect a variety of coloured paper. Tear the paper into strips and arrange them from darkest to lightest. Glue the torn paper together, one above the other, emphasising the uneven nature of the paper. Turn your sheet of graduation of colour into a cylinder or three-dimensional form by wrapping it over an existing object.
Miyashita Zenji's transforms the surfaces of his vessels into distant hills, drifting clouds or rolling waves.
Photograph a landscape that is close to where you live at different times of the day. Modify your images so that you create subtle gradations of colour in your scene. You could use Photoshop to edit and manipulate your image. Paint this scene onto a ceramic vessel you have made or use a found object or vessel. You may even like to create a series which captures this place at different times of the day.
Investigate minimalist and abstract art movements. What qualities of these movements are evident in the work of Morino? Considering these characteristics, make your own rectangular sculpture using either slabs of clay or a cereal box. Consider creating cut-outs in your material and adding layers of texture to your sculpture. This could be achieved with layering paper or combining sand to paint (once your work has been fired if using clay).
Morino being based in Kyoto would have been familiar with the abstract sculptural works of Hayashi Yasuo (born 1948) and Yagi Kazuo (1918–1979). Yagi Kazuo and Hayashi Yasuo were part of the avant-garde ceramics group Sōdeisha. Members of this group were open to trends in art and other influences from Europe and America. Members of Sōdeisha sought to harmonise the modern paintings of Pablo Picasso, Joan Miró (1893–1983) and Paul Klee (1879–1940) with Chinese and Japanese ceramics.
Research the ceramic work of Hayashi Yasuo and Yagi Kazuo and compare these to the work of Pablo Picasso, Joan Miró and Paul Klee. What do you notice that is similar about these artists' work?
Compare the work of Morino Hiroaki Taimei to that of Hayashi Yasuo and Yagi Kazuo.
Select a two-dimensional work of art by your favourite artist and create a three-dimensional sculpture from clay or cardboard that complements or pays homage to the artist's work you selected.
Kishi Eiko 岸映子 born Nara prefecture 1948
Kishi Eiko is best known for her geometric sculptures, which are inspired by the basic movement patterns (kata) of the elegantly dressed actors of the Nō theatre, a form of classical Japanese musical drama performed since the 14th century. The planes of the sculptures capture the play of light on the dramatic angles of their garments referred to as 'moving scenery'. Kishi's sculptures, as well as her vases and tea wares, use a technique developed by her called 'coloured inlay' (saiseki zogan). This process requires Kishi to knead together a mixture of Shigaraki clay and small fragments of crushed coloured clay, known as grog or fire sand, creating a mosaic-like surface. After this, she meticulously scores or 'pricks' the surface with hundreds of small holes with a needle and then fills the surface with coloured slip before spraying with a thin glaze.
The planes and angles in Kishi's sculptures are inspired by the role of light and angle in Nō theatre. Nō masks, carved from wood, are 'rigid' forms, yet in performance, and in conjunction with light and the actors' deliberate movements, seem to move and convey a host of different emotions, as do Kishi's sculptural pieces
Investigate a form or style of popular theatre, film or music. For example it could be a comedia dell'arte or film noir or heavy metal music. Create a ceramic sculpture that references your chosen style or form. Consider the costumes, tempo, themes, lighting, movement or atmosphere that are synonymous with your topic.
Tip: You may consider liaising with your drama, music or English teacher to see what they are covering in their learning programs – perhaps this is an opportunity to collaborate!
Kishi Eiko scores her clay with fine tools so that she can pour the surface with coloured slip. Experiment with different tools to make marks into the surface of a slab of clay. Create a vessel of your choosing and score this clay with your favourite repetitive mark.
Tip: You might begin by looking at other contemporary ceramic artists who use repetitive marks such as Glenn Barkley, Sam Gold and Juz Kitzon.
Sculptural ceramics in the collection
Explore other artists in AGSA's collection whose ceramic works are abstract, humorous, imbued with symbolism and explore the expressive potential of clay.
The Gallery's Learning programs are supported by the Department for Education.
Art Gallery of South Australia staff Russell Kelty, Dr. Lisa Slade and Kylie Neagle contributed to the development of this resource.