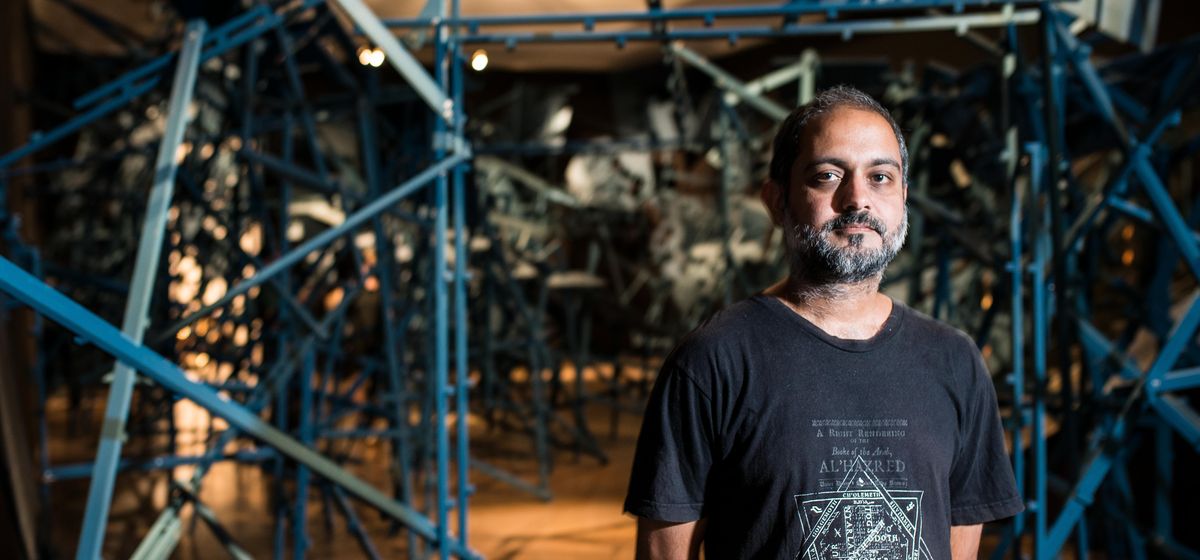 Drawing a line straight from the collection to the classroom
---
Roy Ananda, with Kylie Neagle
The AGSA Education team, in conjunction with artists Luke Thurgate and Roy Ananda, recently took a deep dive into the possibilities of line with the online event Come Draw with us #1: The Line Up. Line is so innately embedded in visual art, and in our experience of the world more generally, that perhaps, in many instances, we do not give it the conscious consideration it deserves. Aimed at teachers, this professional development workshop was focused on this fundamental component of drawing practice. Taking a work from AGSA's collection (specifically, an eighteenth-century tsuitate – a single-panel portable screen – recently displayed as part of the Samurai exhibition), Ananda led the workshop participants through different formal and conceptual understandings of line.
The work in question, Archery contest at Sanjusangendo, makes powerful use of linear perspective, with its dramatically converging lines both delineating pictorial space and conveying the trajectory of the bowman's arrow. Here, the function of line in the work of art is as ubiquitous as it is profound: to transform a two-dimensional surface into an illusion of three-dimensional space. Line also operates in a symbolic manner within this image, most notably demarcating the concentric rings of the archery target. Here, lines are used to arbitrarily assign value to various portions of the target. The work also makes extensive use of outlining around figures and objects, another conceptual conceit. Such lines don't exist in the 'real' world; rather, they are an accepted code, one used to help us to interpret the world through images. Finally, the bow and arrows themselves were considered as objects embodying a pleasing variety of lines, from the curve of the bow and the tautness of its string, to the line in space that is drawn when the arrow is fired.
These interpretations were then transposed into practical exercises that could be applied in the classroom. Participants were asked to make drawings from the point of view of either the target or the arrow, taking cues from the depiction of movement in futurist paintings or pop art inspired by comic books. The group was also asked to construct drawing implements inspired by the bow and arrow, using wire, satay skewers and elastic. Although tethered to the discipline of drawing in this instance, the whole process also served as something of a template for how students and artists might take inspiration from an existing work of art, without merely mimicking it stylistically, or even necessarily exploring the same subject matter as the original work.
The online format of these workshops allows AGSA Education to engage with teachers across South Australia, particularly those in regional areas who may not be able to attend our regular after-hours educator events. Teachers have loved this online offering, commenting on its affordability, accessibility and the opportunity it presents to meet up (virtually) with like-minded people and to build on their knowledge and arts practice.