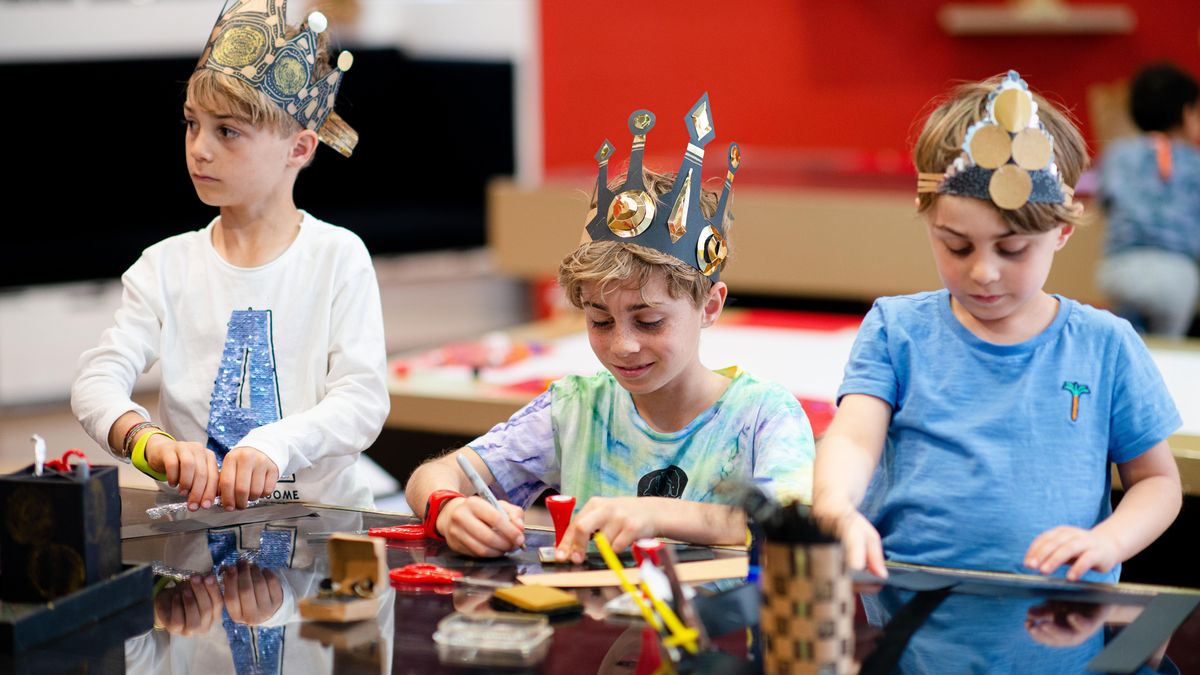 Carly Tarkari Dodd in conversation with Thomas Readett
---
Thomas Readett speaks with artist Carly Tarkari Dodd
Carly Tarkari Dodd is a Kaurna, Narungga and Ngarrindjeri artist from Adelaide. She has learnt traditional weaving techniques and puts these to new use in creating contemporary works of art, often combining weaving with painting and found objects to tell her story.
Carly is interested in regalia – the distinctive clothing and ornaments worn by royalty. She is committed to shedding light on the injustices experienced by Aboriginal people, choosing to award recognition to those ignored by society.
In this iteration of The Studio, Carly explores how First Nations people and cultures can be empowered by wearable art and regalia considered as royal. Studio participants are asked to take ownership of the most powerful symbol of power and sovereignty – the crown.
Carly's involvement in Tarnanthi has extended over a two- year period: in the 2019 Festival Carly was the recipient of a two-month artist-in-residence program at The Mill, in Angas Street. This residency saw Carly develop a body of work entitled Shackled Excellence, which brought to the foreground the sporting successes of her family members and the broader Aboriginal community. Following the success of Shackled Excellence, Carly's practice has extended into different types of methods and materials, resulting once again in her involvement in Tarnanthi, in 2020.
Tom Readett (TR): What inspired you to become an artist?
Carly Dodd (CD): I have always been encouraged from a young age to pursue art. Being taught by Aunty Ellen Trevorrow and Max Mansell had a big impact on me as a young artist. When I was younger I didn't really know where art would take me but I knew that I was really passionate about it and I was destined to blend art and culture. I found expressing myself through art provided me with strength in my cultural identity and my sense of wellbeing.
TR: What is the role of an artist?
CD: I think the role of an artist constantly changes. I develop an idea and then, by exploring the story I want to tell, the mediums and colours that will ultimately form the final piece are determined. Sometimes I start with one idea and then as the story unfolds it takes me on another tangent of self- expression.
TR: How has being involved with Tarnanthi helped you to develop as an artist?
CD: This amazing opportunity to showcase my range of artwork helped me both personally and professionally. Tarnanthi helped build my self-confidence and belief in being a visual artist as well as establish networks in both the arts and media sectors. I have also made many new friendships and learnt much from other artists.
TR: How important are the arts in today's uncertain times?
CD: During the COVID period art has helped me to reflect on my career and highlighted the importance of social justice through BLM [Black Lives Matter]. It has also provided me with inner strength to share my ideas about the importance of connections to people, land and stories. I have had more of an opportunity to build my portfolio as my work hours decrease due to COVID. I acknowledge it's been challenging for artists and performers during this time of isolation and work closures. However, I believe all artists are uniting and will come back into the community with a sense of strength and unity to share their stories.
TR: What is next for you?
CD: I hope to continue to develop as a young artist and be mentored to strengthen my connections in the arts and media sectors. I would like to work towards exhibiting interstate and overseas. I am hoping to forge partnerships and relationships that will help promote my unique contemporary and traditional art style to the world.
Thomas is Education Officer, Tarnanhti at AGSA, a position supported by BHP. This article first appeared in AGSA Magazine Issue 41, 2020/21.