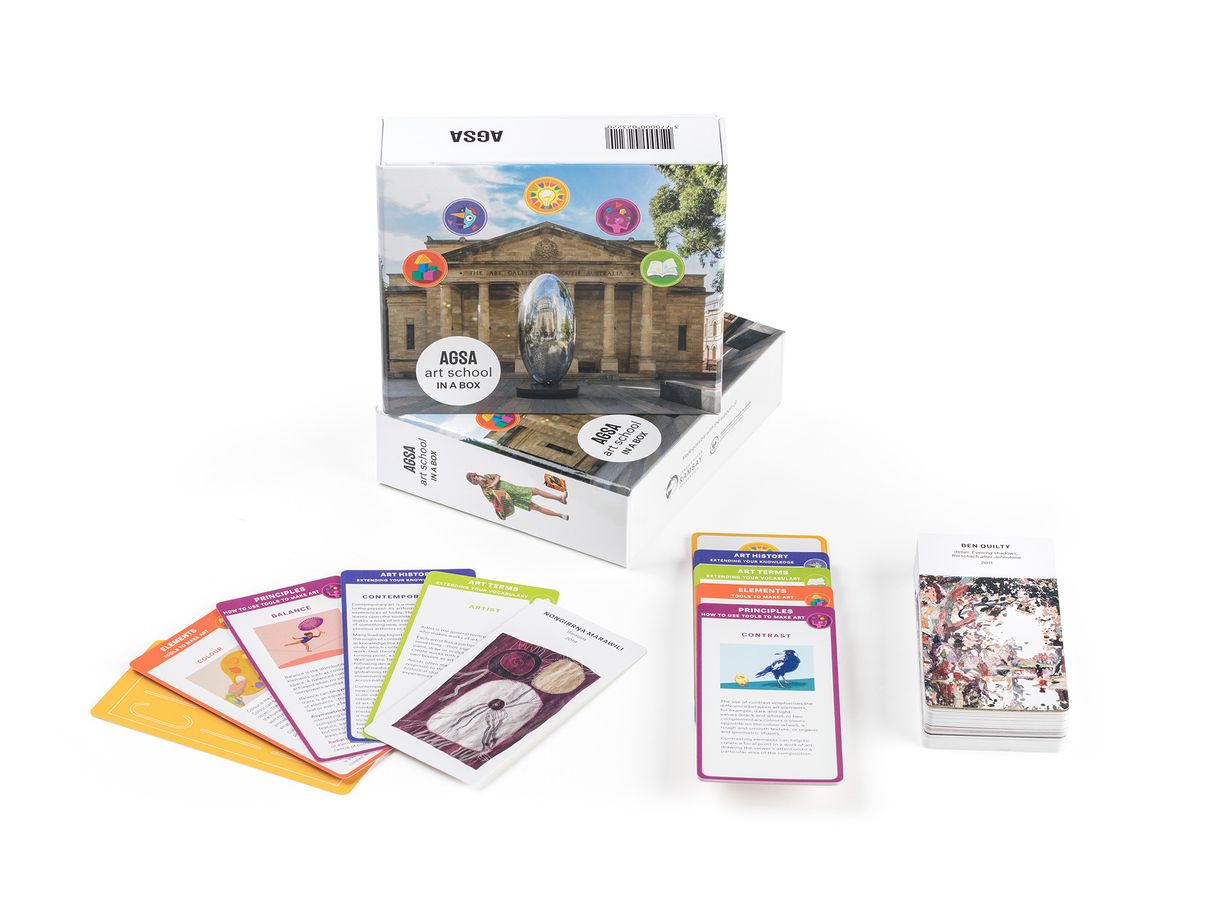 An art school in a box – a new resource from AGSA
---
Megan McEvoy and Kylie Neagle introduce a new resource for teachers and students
This year AGSA Education and The Studio have collaborated as never before to produce a new resource for children, with the support of the James & Diana Ramsay Foundation and the Department for Education.
With The Studio temporarily on hold and school visits non- existent during the global pandemic, it became clear that we needed another vehicle by which to reach students and children. While all departments worked towards delivering workshops and art ideas online in the short term, AGSA Education and The Studio have developed a new – and invaluable – resource, AGSA art school in a box. A resource that would endure a lockdown, this cleverly devised box will remain a relevant and useful tool for teachers and students engaging with art learning in a post-COVID-19 environment, whether in the Gallery, in their classroom, or at home.
The AGSA art school in a box is the one-stop shop for children of all ages to learn more about art, artists and art making. The box contains 106 cards, covering over 200 activities spread across the five categories of elements, principles, terms, history and wild cards. Encouraging problem-solving and critical thinking, the activities are designed to be paired with any work of art – which means the combinations are endless.
AGSA art school in a box will be especially beneficial in providing more opportunities and greater flexibility for visitors accessing The Studio and engaging with the Gallery's collection and exhibitions, particularly as the community embraces life with social distancing. Using the cards as prompts for activities in The Studio and across the Gallery, facilitators will now be able to extend and enhance art experiences for children and their families visiting the Gallery on weekends and during school holidays.
Available from the Gallery Store or online $29.95.
Megan is Exhibitions and Public Programs Coordinator, Children and Families, at AGSA and Kylie is Education Officer at AGSA, a position supported by the Department for Education. This article first appeared in AGSA Magazine Issue 40, 2020.