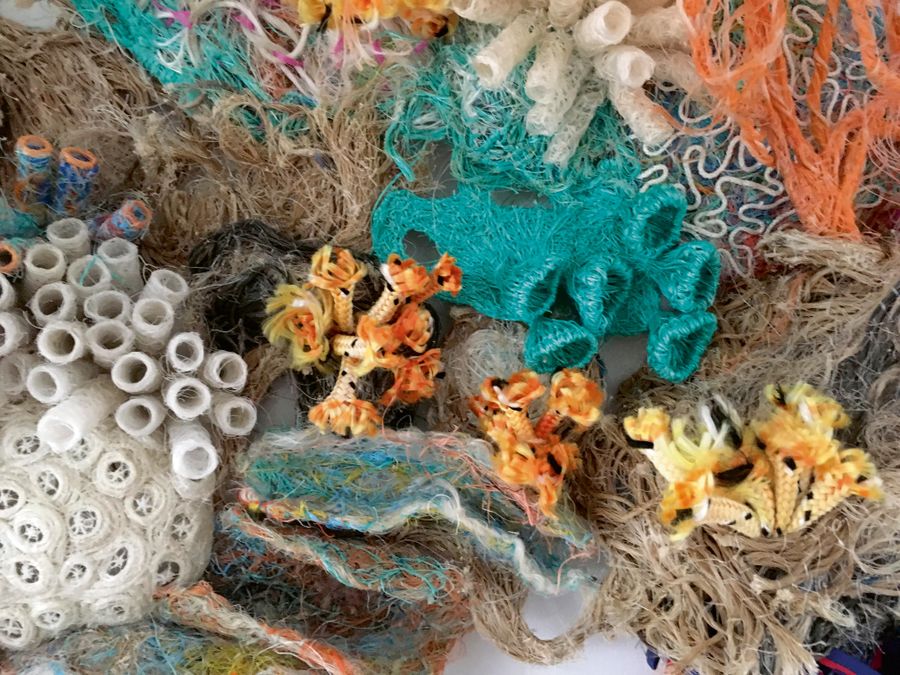 A school's response to Erub Arts collaborative: Ghost Nets from the Ocean
---
Educator Kate Wright, St John's Grammar School, Belair
Artists from the island of Erub on the edge of the Great Barrier Reef and their non-indigenous collaborators from far North Queensland, took over the Studio at the Art Gallery of South Australia in 2017, bringing to light the irreparable harm that discarded fishing nets – known as ghost nets – cause to local marine life.[1] As part of Tarnanthi: Festival of Contemporary Aboriginal & Torres Strait Islander Art in 2017, the artists repurposed the retrieved nets to create sea creatures, thus raising awareness of destructive marine debris.
The Erub artists, who consist of Indigenous and non-indigenous people working together, had identified a problem impacting on their local environment and found a way to raise awareness of the devastation caused by rogue fishing nets. The repurposing of the deadly detritus resulted in the most incredible visual representation of sea life, one which provided ultimate inspiration to my students throughout 2018.
We visited the Tarnanthi exhibition, used resources developed by Learning at the Gallery and designed a thematic teaching and learning program, Ocean Life. The program spanned the Year 7 to Year 11 Visual Arts and Design curriculum and addressed the cross-curriculum priorities of sustainability and Aboriginal and Torres Strait Islander histories and cultures. The Australian Curriculum guidelines are exactly that, a guide, and are not to be simply ticked off as an isolated study. Rather, our aim is to ensure these priorities were embedded into all learning areas.
With the growing availability of resources, regular displays at state cultural institutions and free exhibitions of Aboriginal and Torres Strait Islander art, the age-old excuse of 'I don't know enough' or 'I don't want to offend' is no longer valid. As lifelong learners, we all need to be proactive and engage with what is on offer – artist talks, videos, workshops, articles and exhibitions. In an ideal world, every school would have an Aboriginal or Torres Strait Islander artist in the classroom, but this is not our current reality.
Before planning any unit of work, I begin with 'what do I want my students to learn?' A simple question, I know, but a powerful one to help focus my planning. When addressing how to teach Aboriginal and Torres Strait Islander art, I consider the following – keeping in mind that our aim is to encourage students to respond critically and creatively, not copy:
Do I want my students to learn about patterns and symbolism and how they can represent ideas and stories?
Do I want them to learn the importance of Country?
Or do I want them to learn that Aboriginal and Torres Strait Islander art is an important aspect of these thriving cultures?
Ultimately, it is all three, and so much more.
The Erub Arts collective and their response to an environmental issue that impacts on their Country was our starting point and became a consistent thread throughout the project. Discussing these issues with students helped us to identify environmental problems in our own surroundings, pollution in our own waterways, plastic use, overfishing and the impact on ecosystems. We completed observation drawings of plastic bags and created handmade paper from waste, which was then used as the base for a variety of printmaking activities. Meanwhile, other students repurposed junk to create art about ocean life. We highlighted the importance of looking after our environment and recognised our own connection to place while relishing creative challenges, much like the practices of the Erub artists. A collaborative coral reef, made entirely from rubbish (predominately single-use plastic), was created for an exhibition at the school. This prompted student led discussions, where they reflected on personal use of plastic and what they could do to reduce waste.
By using the works of art made by Erub artists as our starting point for Ocean Life, students made connections between the artists' work and their own experiences, resulting in works of art that spoke to the students' stories and their response to issues important to their environment. So, when teaching Aboriginal and Torres Strait Islander art in the classroom, keep your response simple and personal to the student. You may begin by asking students to define Aboriginal and Torres Strait Islander art and then challenge their thinking with a collection of images that demonstrate the variety and breadth of this rich culture.
[1] Erub Collaboration in the context of Ghost Nets from the Ocean is inclusive of Indigenous and non- Indigenous people from Erub, Townsville and Cairns.
Aboriginal and Torres Strait Islander cultures have an incredibly strong and integral connection to Country.
Not all Aboriginal and Torres Strait Islander art looks the same.
Contemporary practice sometimes means dealing with contemporary problems and these problems may lead to evolving art forms and new solutions. This led to a greater understanding of problem-solving skills, technical expertise and the importance of collaboration.
Watch
TARNANTHI 2017 - Erub Arts Collaborative
This article was first published in Aboriginal and Torres Strait Islander Art in the Classroom, 2019, AGSA