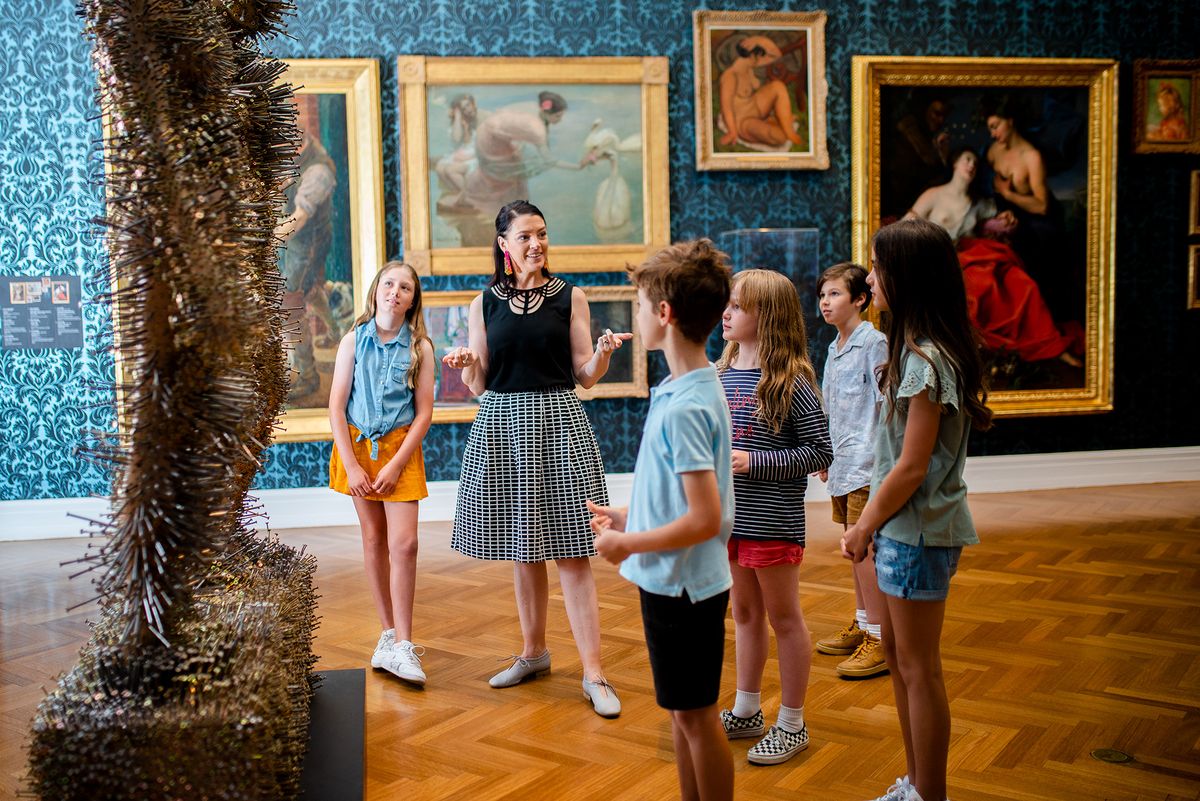 2022 Heads-Up
---
AGSA Education has already hit the ground running, with the release of a dynamic 2022 program for teachers and students – and there is still so much more to come.
In January we held our annual Full Disclosure: Teacher Preview Quiz Night, at which teachers had the opportunity to network with colleagues, unwind before the school year began and win some fantastic education prizes. The teachers' program Aboriginal and Torres Strait Islander Art in the Classroom returned to the Gallery for its eleventh iteration, this time featuring Kamilaroi/Gamilaraay artist and curator Dennis Golding. In this busy January we also held the full-day workshop Art Teaching 101: Back to Basics, designed to support primary and non-art-trained teachers to develop dynamic visual arts lessons for their students.
With eighty-five hours of professional development opportunities available to teachers in 2022, AGSA Education is sure to have something to suit all educators, whether it be in person or online. Some highlights coming up include 2022 Adelaide Biennial of Australian Art: Free/State's teacher briefing and companion workshop, Contemporary Art in the Classroom, which will also highlight our newly developed online resource of the same name. Curators in the Collection will also return in May and June, this time with a thematic approach, with the titles, 'To dot or not to dot' and 'What's in a face'. These workshops draw on our curators' knowledge to address the common topics on which teachers focus in their classrooms each year.
After a successful term four in 2021, which saw 4973 students visit Tarnanthi – an increase of fifty-three per cent compared with the same time last year – we have decided to extend Tarnanthi, albeit virtually, with the support of the Tarnanthi Matterport. This online virtual tour and associated resources have allowed us to develop a 'virtual excursion' for those regional and remote schools who had no opportunity to visit the Gallery last year. In March a Tarnanthi guest educator will Zoom into schools, guiding the virtual tour and running a hands-on workshop focusing on the work of John Prince Siddon, enabling Tarnanthi to continue outside the Gallery walls and into classrooms across South Australia.
To keep up to date with what is coming up in Education for the remainder of the year, including additional Aboriginal and Torres Strait Islander Art in the Classroom workshops, visit the website or follow @agsa.education on Instagram or Facebook.