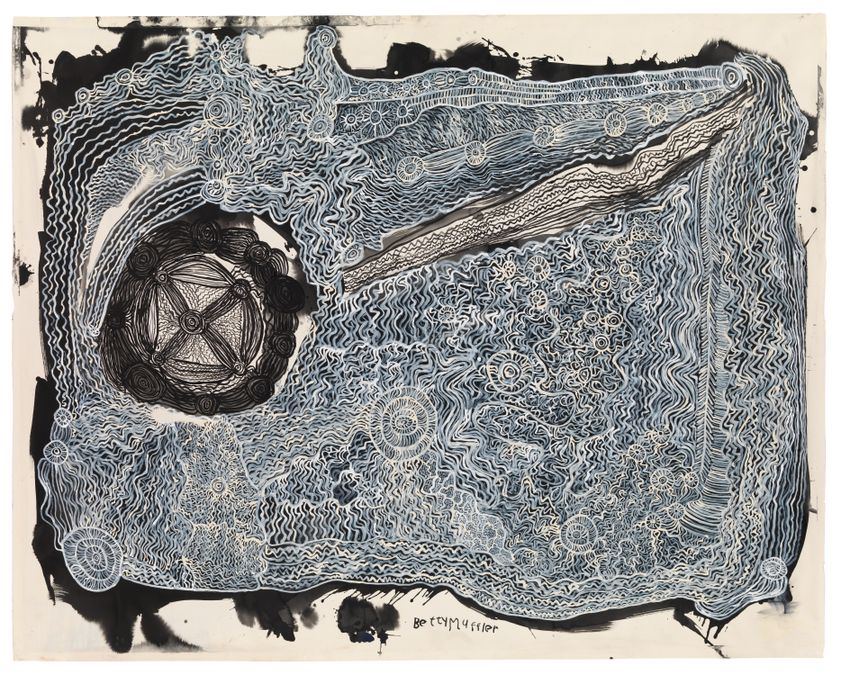 Inclusive Education Centre at Nuriootpa High School
---
Ink drawings inspired by Pitjantjatjara artist Betty Muffler
Betty Muffler grew up at the Ernabella Mission in Pukatja in the APY Lands, following the displacement and death of family members in the aftermath of the British nuclear testing at Maralinga and Emu Field in the middle of last century. Witnessing the devastation of country and surviving this experience motivates her recurring depiction of healing sites, and the intensity of her connection to these places is the subject of her paintings entitled Ngangkari Ngura (Healing Country).
Muffler's work continues to be a favourite among art lovers of all ages with teachers utilising on our online resource to introduce their students to the work of Muffler, such as Arlon Hall, Art teacher from Nuriootpa High School, South Australia.
'Sense of Place' by The Art Masters
Students Austin Grigg, Aiden Grigg, Branden Sparks, Riley Standish, Thorn Crowhust from the Inclusive Education Centre at Nuriootpa High School form The Art Masters. Together they explore a range of techniques and concepts that stretch and celebrate their critical and creative thinking and making skills.
This year the students investigated and responded to the drawings of Betty Muffler. We utilised AGSA Education resources to gain an understanding of Muffler's work, which supported the initiation of class discussion while viewing her work online.
Students then explored drawing with ink while using Chinese ink brushes. They first created line images from picking words out of a hat (zig zag, organic, broken etc) – this was one of the activities featured in the online resource.
Inspired by Muffler's connection to place, students created individual drawings based on a connection to place or something that had been handed down to them from their family or a combination of both. Students then translated these drawings into A2 drawings and also engaged in a collaborative large scale ink drawing where they chose elements of their own drawings and incorporated them into a large composition.
- Arlon Hall Art teacher from Nuriootpa High School, South Australia. See more from Nuriootpa High students with their online SALA Exhibition.