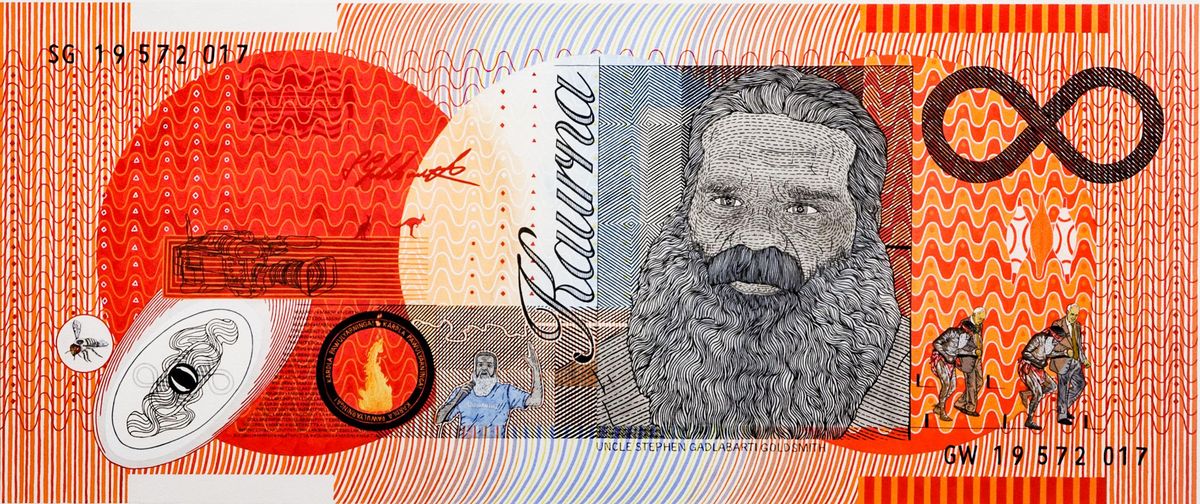 Year 6 Drawings - West Lakes Shore School
---
Year 6 students were introduced to the work of Ryan Presley's Blood Money series, with a particular focus on Infinite Dollar Note - Uncle Stephen Gadlabarti Goldsmith Commemorative. Presley is inspired by his family's heritage and uses a range of mediums to express his ideas, including printmaking, watercolour, oil painting, sculpture and new media. He explores and questions Australia's colonial history and its impact on the present, and he is particularly interested in how political power is conveyed through cultural and economic systems. Presley's Blood Money series consists of large watercolour paintings that closely resemble Australian banknotes. The paintings feature portraits of Aboriginal leaders, warriors, advocates and writers as figures worthy of national commemoration, such as the resistance warrior Pemulwuy (1750–1802) and the poet, activist, environmentalist and educator Oodgeroo Noonuccal (1920–1993).
New Year 6 Bank Notes
Students were asked to choose someone who was of great importance to them, someone who had influenced their life in some way. Some students chose parents, grandparents, siblings, neighbours and family friends. After researching the personal history and stories of their influential person, students began drafting their own currency with reference to real Australian notes. Students used fine liners, coloured sharpies and pencils to complete their note, making sure that each number, symbol, pattern and image communicated something important about the person featured on their new note.
Your turn
Create your own currency. Think of someone in your life you would like to honour or an Australian who has made an important contribution. Design a banknote featuring this person. What secondary symbols or imagery will you include to tell the story of who your person is? Photocopy your currency and make notes of different denomination. Set an exchange rate between your classmates and exchange your currency.