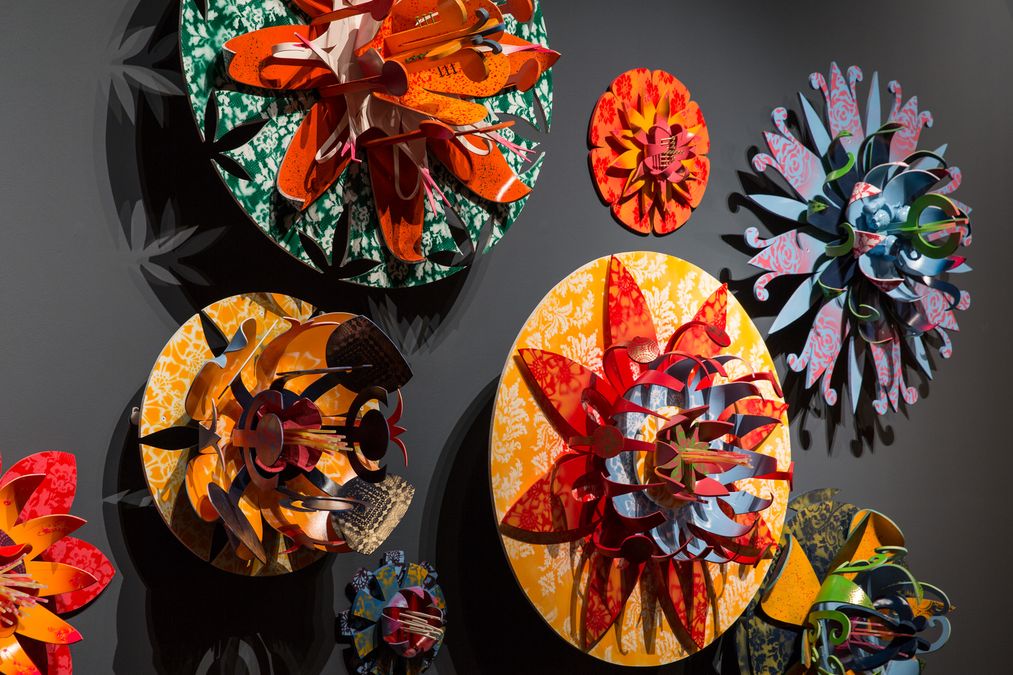 Year 3 & 4 Paper Sculptures - Dernancourt School
---
PAPER BLOOMS INSPIRED BY MALUYLIGAL AND WUTHATHI ARTIST BRIAN ROBINSON
Year 3 and 4 students from Dernancourt School created paper sculptures inspired by Maluyligal and Wuthathi artist Brian Robinson. Students practised their 3D paper construction skills, cutting, folding, rolling and fringing recycled paper.
Custodian of the blooms by Robinson is inspired by the flowering and fruit trees grow wild or in garden pots in the Torres Strait. Hibiscus, frangipani, bougainvillea, coconut, beach almond, mango, banana and even wongai, to name a few, bear garlands and fruit year-round.
'Initially we used the Paper Play unit from the Dream BIG teaching and learning resource. Here students were introduced to what paper can do in order to make the paper three dimensional. Using recycled papers from the school, old books and photocopies, students explored the possibilities of paper over a number of lessons. They used a word bank to get started; fold, cut, coil, twist, feather, rip, shred, rip, scrunch, pinch and roll, which students then added to over time. This list was provided in Dream BIG resource companion word list.
Students where then introduced to Brian Robinson and his work Custodian of the blooms. Students brainstormed what a garden is and we began to focus on ideas of sustainability and the idea of using recycled materials that could be composted.
We discussed the concept of a custodian through our HASS unit and reinforced the importance of sustainability and caring for Country and the environment. Students planned their designs and considered how they might manipulate the paper to realise their ideas.
Tip: Tearing paper from magazines and sorting this into colours meant that students could learn about colour theory along the way and even have conversations about why some advertisements use certain colours.
Using a paper plate as a base, students created their designs using all the skills they had learnt in previous lessons and brought the works together to create a collaborative display. Students are also working on procedure writing and were asked to create a set of instructions on how to make their bloom"
– Art Educator, Suzanne Conboy, Dernancourt School