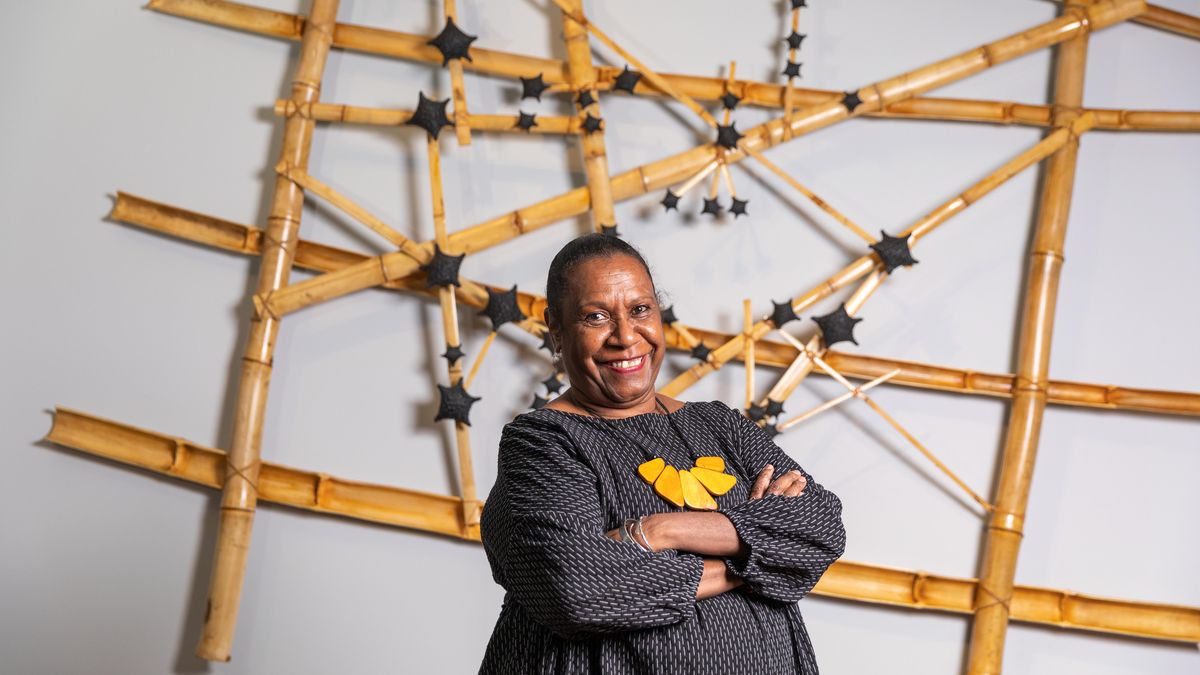 Year 2 Sculptures - Immanuel Primary School
---
Gail Mabo is a multidisciplinary artist working across dance, performing arts and visual arts. Now residing in Gurambilbarra (Townsville), Gail is a Meriam artist, from Mer Island in the Torres Strait, her language group is Piadram. The daughter of celebrated land rights activist, Eddie Koiki Mabo, she maintains an strong commitment to cultural knowledge honouring her Country and community. Her artistic practice frequently references the celestial navigation systems of the Torres Strait Islanders highlighting the importance of observing nature and responding to Country with respect.
"This story was told to me as a child by my father, Eddie Koiki Mabo, as he was told by his father, Benny Mabo, about the stories of the Torres Straits Islands. The story of Tagai, which is still told to the young people today, is considered an important aspect of daily life. Tagai is important for navigation, as the Southern Cross (Tagai's left hand) points to the south. We use Tagai to navigate through the Torres Strait from island to island. Tagai also tells the islanders when to plant their gardens, when to hunt turtles and dugong, when the monsoon season arrives, when the winds change and many other important aspects of daily life."
Gail Mabo
Year 2 students have been focusing on building techniques in technology, looking at sculpture and construction. After watching the short video of Gail Mabo installing her work at the Art Gallery of South Australia we discussed how Mabo joins the pieces in her composition and what her installation represents.
We looked at different constellations in the sky, as well as star signs they were already familiar with. Using straws, card and craft materials the children made their own constellation and displayed these during Reconciliation Week
- Visual Arts Specialist - Sharon Lynch (teacher)
More for early years and primary