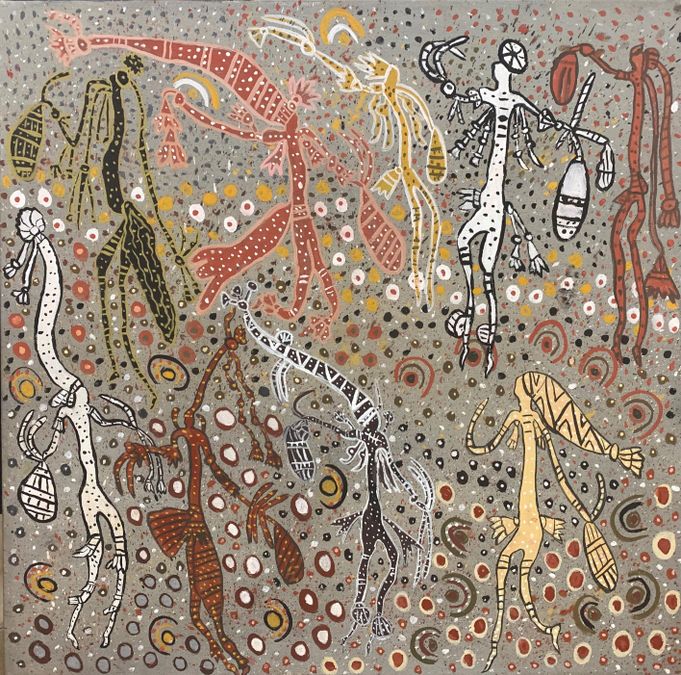 Kira Kiro Artists
---
Kira Kiro Artists is the art centre of the community of Kalumburu, located on land owned by the Kwini people in the Kimberley region of northern Western Australia. Kira Kiro's artists are renowned for their depictions of detailed flora and fauna, as well as Kira Kiro spirits and Wandjina imagery found in the region's rock art.
Established in 2009, the remote art centre represented senior artists such as Mary Punchi Clement, Mary Teresa Taylor and Betty Bundamurra. Today an ever-increasing number of younger artists are following in their elders' footsteps and painting a diverse range of vibrant works. Artists paint with natural ochre pigments on canvas, paper and bark and are skilled engravers of slate and boab nuts. Kira Kiro provides enterprise opportunities for artists to develop skills and cultural traditions while promoting ethical sales to collectors and galleries nationally and internationally.
Kira Kiro Artists paint with natural ochres on canvas, paper and bark, depicting flora, fauna and the Kira Kiro and Wandjina figures found in Kimberley rock art. They also engrave slate and boab nuts.