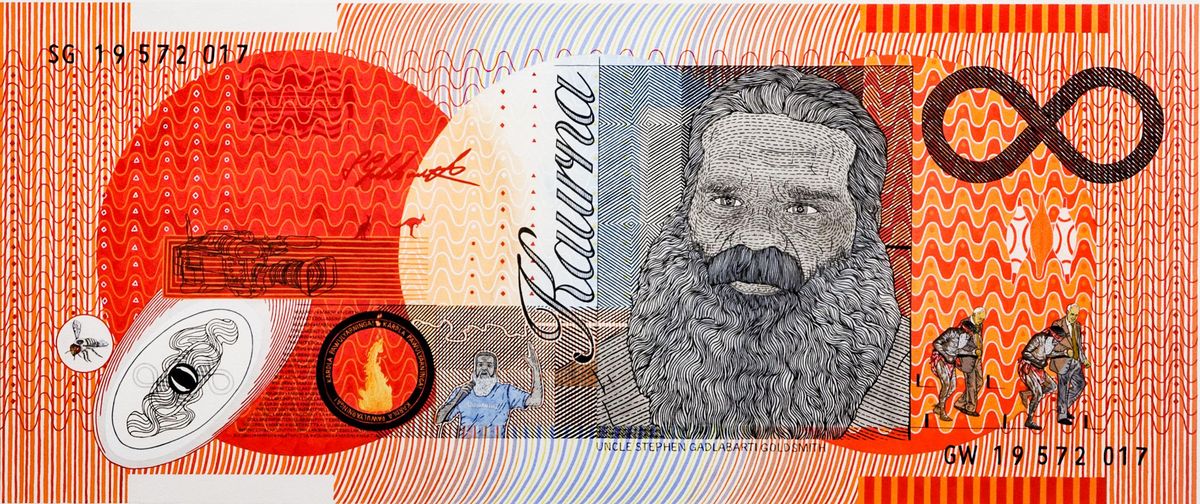 Tribute - Stephen Gadlabarti Goldsmith
---
It is with a heavy heart and deep sadness that I acknowledge the unexpected passing of Stephen Gadlabarti Goldsmith during the lead-up to Tarnanthi in 2017. A treasured member of our Tarnanthi Cultural Advisory Committee, Uncle Stevie was a very dear friend and an important advisor to the Art Gallery of South Australia.
With both Kaurna and Narungga heritage, Uncle Stevie welcomed guests onto Country on many occasions. Much to the delight of our guests, he danced each of our speakers, including the Premier of South Australia, the Hon. Jay Weatherill, Asset President BHP Jacqui McGill, and the Hon. Paul Keating onto the podium on the opening night of Tarnanthi in 2015. He was met with sheer joy as they moved across the forecourt together.
A warm and charismatic storyteller and performer (present in the Tarnanthi Welcome to Country video), Uncle Stevie's most recent accolade came for his performance as a Dharug elder in the sell-out Sydney Theatre Company production of The secret river, presented for the 2017 Adelaide Festival. He was a central figure in the team at Adelaide University's Kaurna Warra Pintyanthi, striving constantly for the revival and sharing of Kaurna language and culture. We worked closely with him to find the best word in Kaurna language to express the new beginning that Tarnanthi signifies.
We will miss his council and regular catch-ups, and we share our deepest condolences with his family and friends. It is in his memory that Tarnanthi will remain a place and a time where we can all dance together.
Nici Cumpston
Artistic Director, Tarnanthi