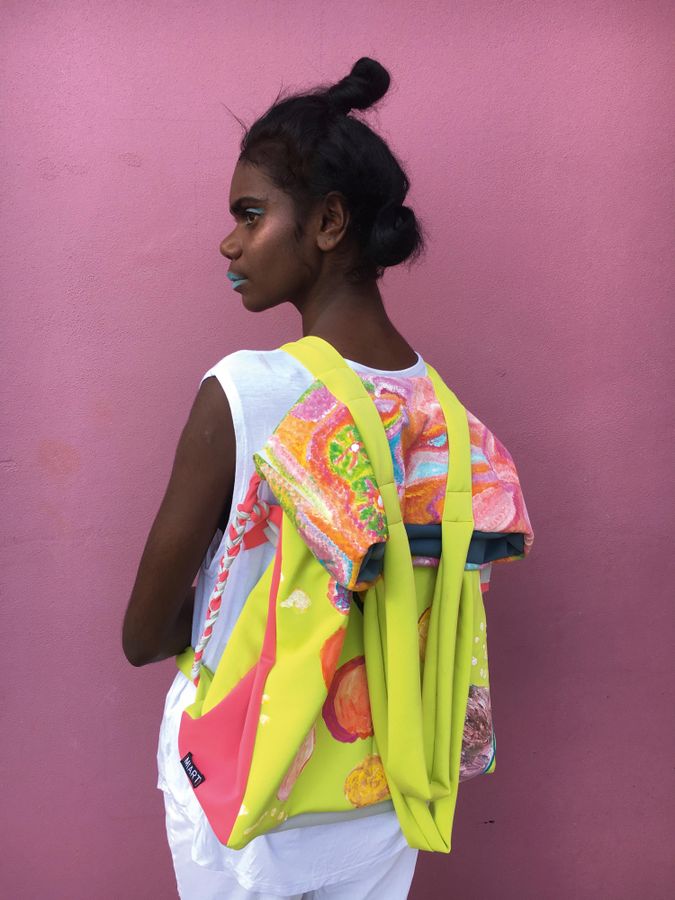 Melaa Thaldin – Standing in the Sea
---
Artists from MIArts Centre, on Mornington Island, collaborate with renowned fashion designer and curator Grace Lillian Lee to present a range of new handmade bags inspired by their island home, the sea and their culture.
'This new collection of bags is a celebration of what is normal to most island life – the swaying of the sea grass under the waves, the silent travels of a jelly fish, the colour bursts of the corals. Melaa Thaldin offers a window in on countless generations who have lived and existed continuously on the island in the Gulf of Carpentaria.' – Margaret Hancock-Davis
Previous iterations of these designs were presented during Melbourne Fashion Week in 2016.
Artists
Dolly Loogatha Thunduyingathui Bangaa, Ethel Thomas Warthardangathi Bijarrba, Allira Charles, Lynniesha Charles, Elsie Gabori Dibirdibi, Ezekiel Dick, Amanda Jane Gabori, Aiden Kohler, Netta Loogatha Birrmuyingathi Maali, Amy Loogatha Rayarriwarrtharrbayingat and Shonnelle Thompson
With Grace Lillian Lee
Melaa Thaldin – Standing in the Sea is presented in partnership with JamFactory.