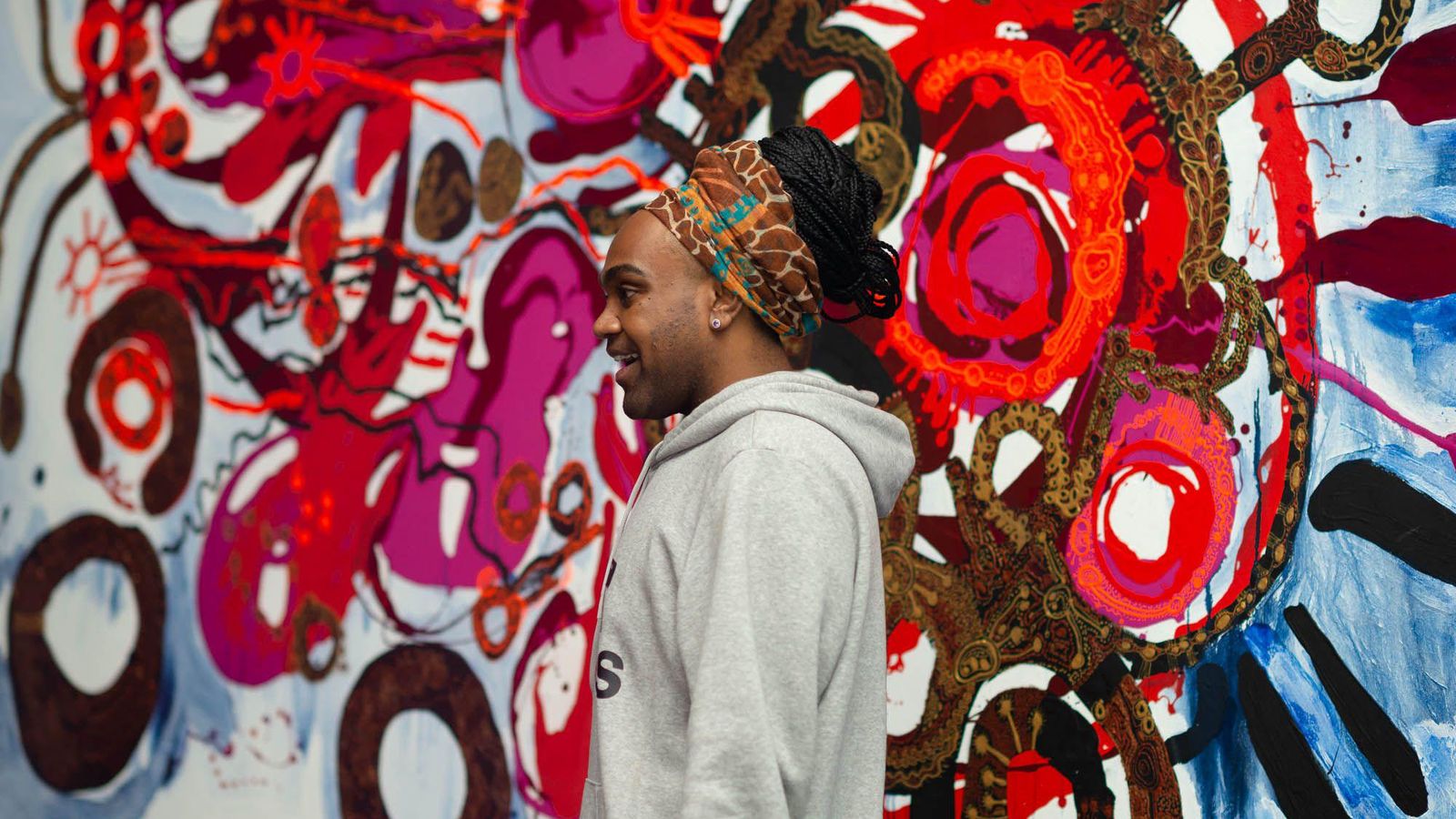 Zaachariaha Fielding
---
"I was raised on desert country in the eastern Anangu Pitjantjatjara Yankunytjatjara Lands, and come from a long line of multi-disciplinary artists. I am compelled to make work that honours the visual language of my ancient culture. The iconography reflects the way I live my culture in the present,as a constant feature of my world, and visualises how I interact with the beings that populate the Tjukurpa I've inherited.
A Question About Direction acknowledges that the world feels weird and unsettling right now. It acknowledges pain and conflict (both historic and current) but also refuses to succumb to it. It asks how are we all going to go forward together? It proposes that we are a bit like a shattered glass that can't fulfil its purpose- it can't hold water until it works out a way to come together again. This concept is important to me and central to my work. "Oneness" was built into my upbringing. That's cultural for me. Belonging to the land, to a story, to a tribe. But I think it's cross-cultural, and there's a national (and global) connectivity that we need to open up to. I am drawn to the use of gold and metallics in my work because they represent the power, the richness, the regality that can be achieved through oneness, through knowing and accepting you are part of something bigger, and the feeling of being WITH. I like to imagine a global choir- all the different voices harmonising to create music so rich and powerful, beyond any individual capability. That is so exciting to me, and my work invites people to share in that excitement.
People say they look up to me, and sometimes I know I'm looked down upon- I'm not interested in either of these things. I want people to look with me, and walk alongside me and am confident this is the foundation for positive and meaningful change in Australia and the world."
Zaachariaha Fielding is represented by APY Art Centre Collective.