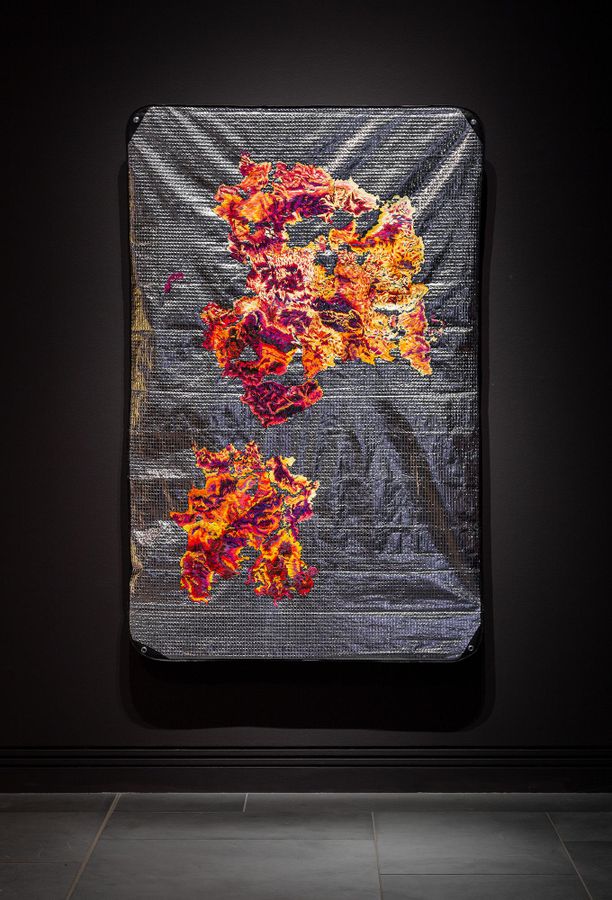 Anna Madeleine Raupach
---
Based on Ngunnawal/Ngambri Country (Canberra), Anna Madeleine Raupach's practice explores the intersection of human and nonhuman timescales evident in climate change. Raupach merges scientific data and diagrammatic language to interpret how our experience of time and space co-evolves with technological advancement and environmental decline.
Slow Violence (Gospers Mountain) is an embroidered map of the 2019 Gospers Mountain and Kanangra Boyd National Park bushfires. Raupach has translated data that visualises fire damage to vegetation by hand-stitching vivid coloured thread into an emergency thermal blanket. The slow technique of stitching encompasses a repetitive and meditative practice that simultaneously destroys and repairs its grounding substrate.
The title Slow Violence refers to the invisible implications of climate change that are temporally and spatially removed from sites of immediate destruction. The accumulated time and labour of individual actions dissolve to envelop the viewer in vibrant motion as satellite imagery converges with human scale. Unstitched areas on the blanket indicate sites of protection, such as growth areas of ancient Wollemi Pine, where thousands of years of growth intersect with human time.