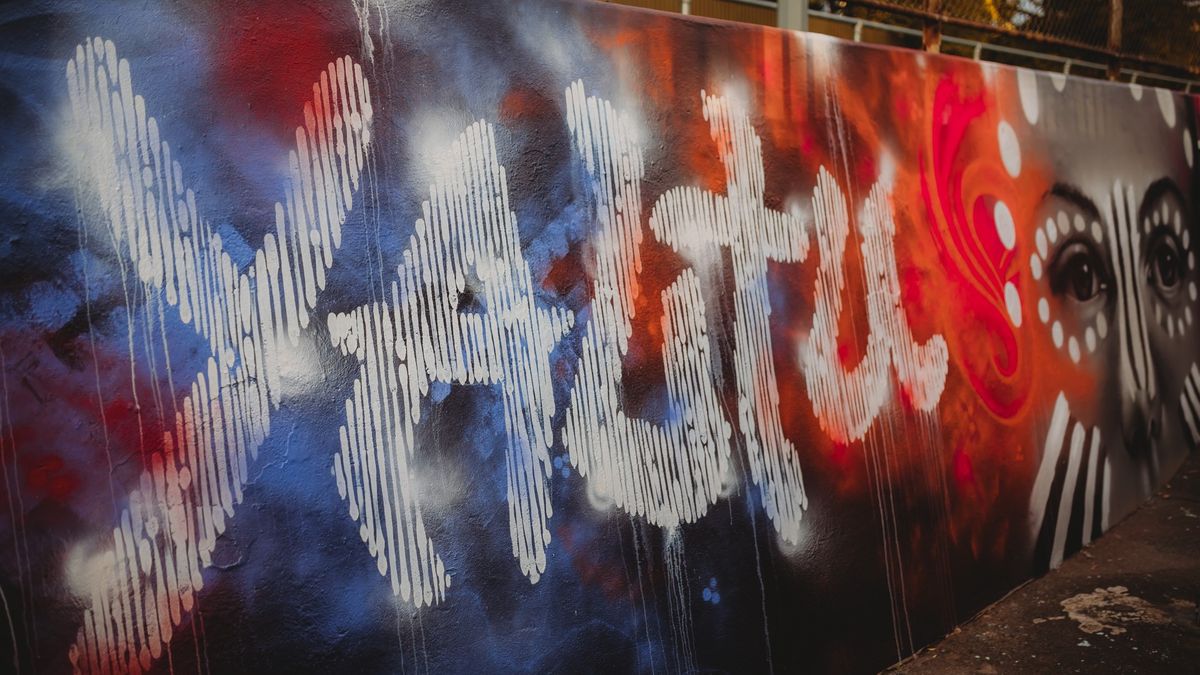 Street Script with Shane Mankitya Cook
---
Local artist Shane Mankitya uses a variety of techniques in his work, traditional brush styled painting learnt from his mother at a young age soon developed into a taste for graffiti writing in aerosol. His works are bold and vivid with a carefully selected colour palette. Shane's backgrounds are normally layered aerosol with hints of shading, graffiti and mark making done with three or four different tones.
Materials
Scrap cardboard or a strip of canvas roll
Reusable spray bottle
Water soluble paint
Coloured paper OR Aerosol (three different shades
Acrylic paint (black or white) OR Posca markers
Paint brushes
Step 1
Prepare your scrap cardboard or canvas for painting onto. You can even use a small piece of wood. In the example pictured a scrap piece of canvas has been used.
Step 2
Paint in your background! Select a paint colour and fill a third of the spray bottle with the paint. Slowly add water and stir gently until the paint mixture swirls around in the bottle. To make the mixture easier to spray, add more water. Then experiment with messy mark making, rolling or brushing your colours together. I used 3 shades of blue aerosol.
If using aerosol you will need to ask an adult for some help.
Step 3
Once your surface is dry, using acrylic paint, either black or white, paint your own name or a loved ones name. At this stage it is a good idea to test out some different types of script writing, it can be any style you like!
I have tested a few different ones, you can see below I tested some different types of versions of the letter "T".
Step 4
Now that we have our script in, lets think about some different ways we can stylise it. Shane uses repetitive mark making to build up colours and writing, we can do something similar but think about your own mark. I really like the rain, so I'm going to create drip like marks that will run through my script!
Using blue and white acrylic paint I am able to mix different shades, try it out with your own colours!
You'll also notice my mark making layers are going the same direction as the aerosol I sprayed on earlier.
Step 5
Now for the finishing touches! I really like the marks that I came up with. it looks like rain drops. Now I am going to experiment with scale and do some bigger marks, this will help me merge the script with the background more.