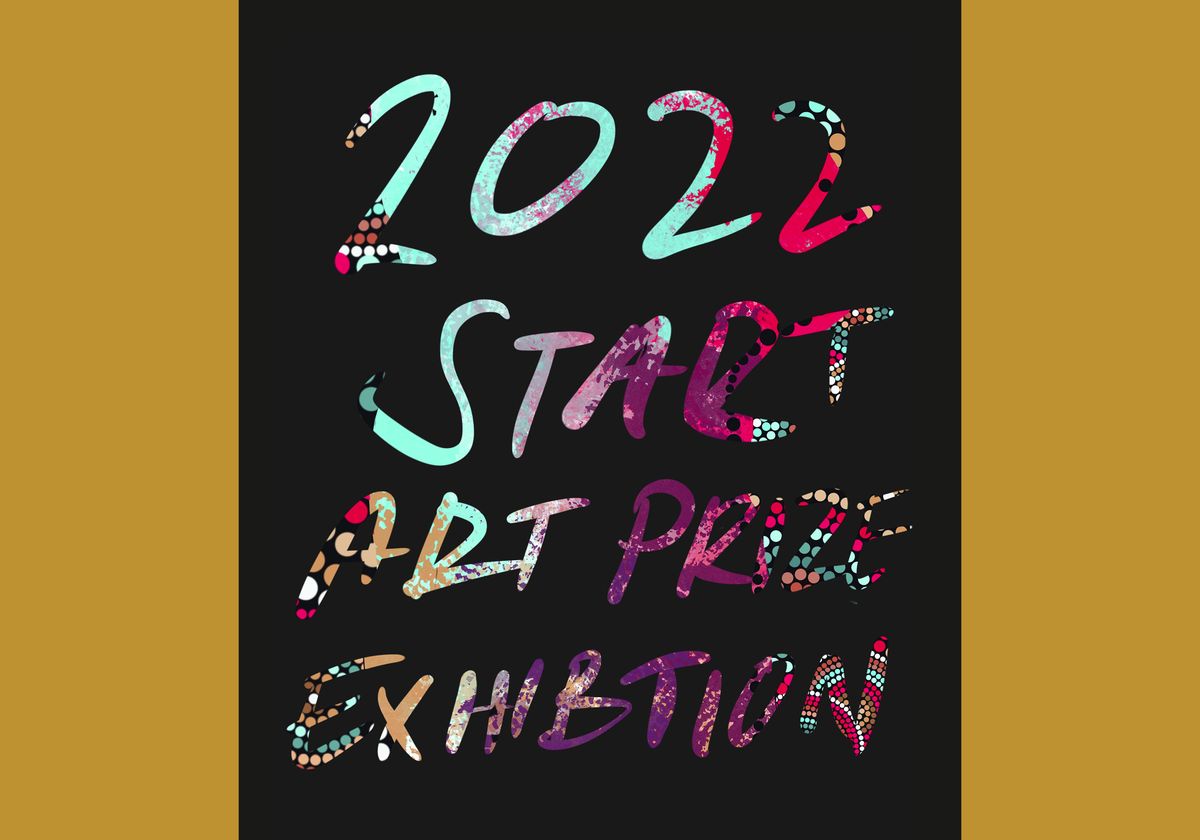 2022 Start Art Prize Winners
---
Selected by AGSA Associate Curator, Elle Freak
Congratulations to all the young art stars who entered this year's Start Art Prize. Here is the list of winners selected by AGSA curator Elle Freak.
Artists Under 3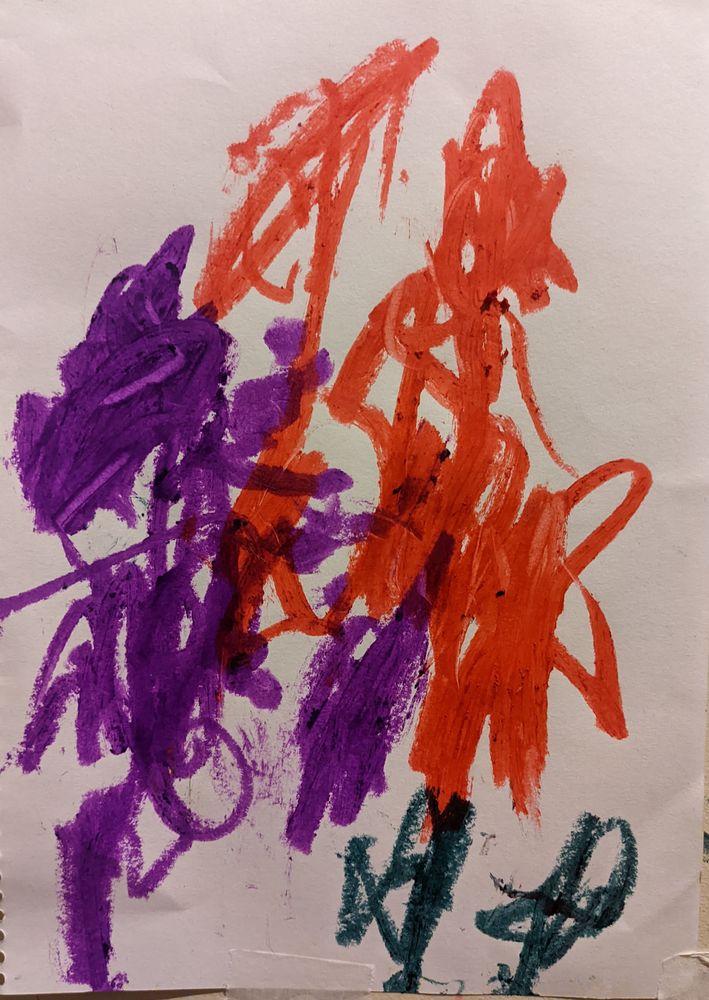 Astrid
Crazy clash of colour, Red, purple, green
Congratulations Astrid! This expressive drawing conveys such a wonderful feeling of energy. I like the way you have overlapped your rapidly applied lines in red, purple and green. I hope you continue to freely record your feelings through art.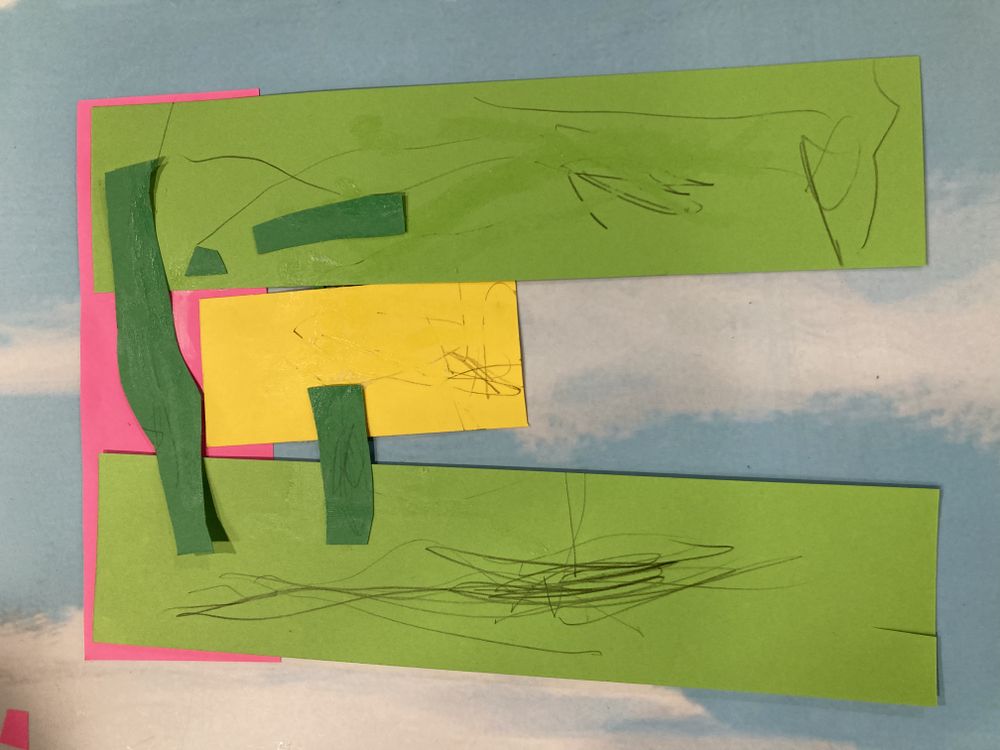 Edie
A Plant, It's a plant!
Congratulations Edie! What an inspired interpretation of a plant. This abstract collage of what could be long green leaves and a small pink flower with a yellow centre ignites the imagination. Well done!
---
Artists 3-5 Years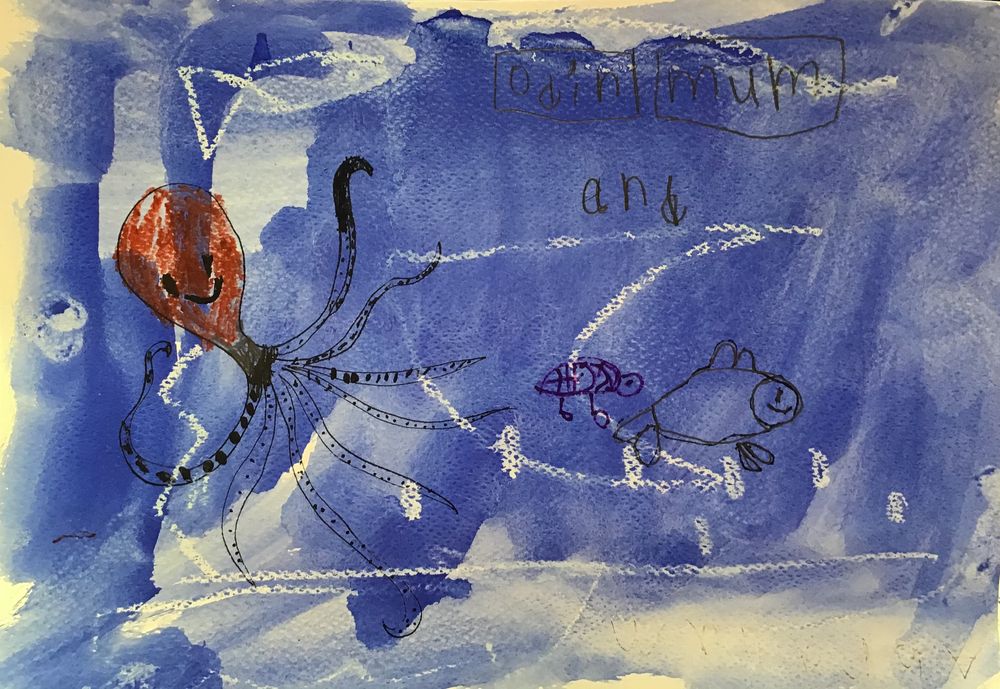 Odin
Octopus in orange, Octopus chasing turtle, turtle chasing fish
Congratulations Odin! You have created a captivating underwater scene using a range of colours, forms and materials. I particularly like your combination of a painterly blue background with carefully drawn sea creatures in pen.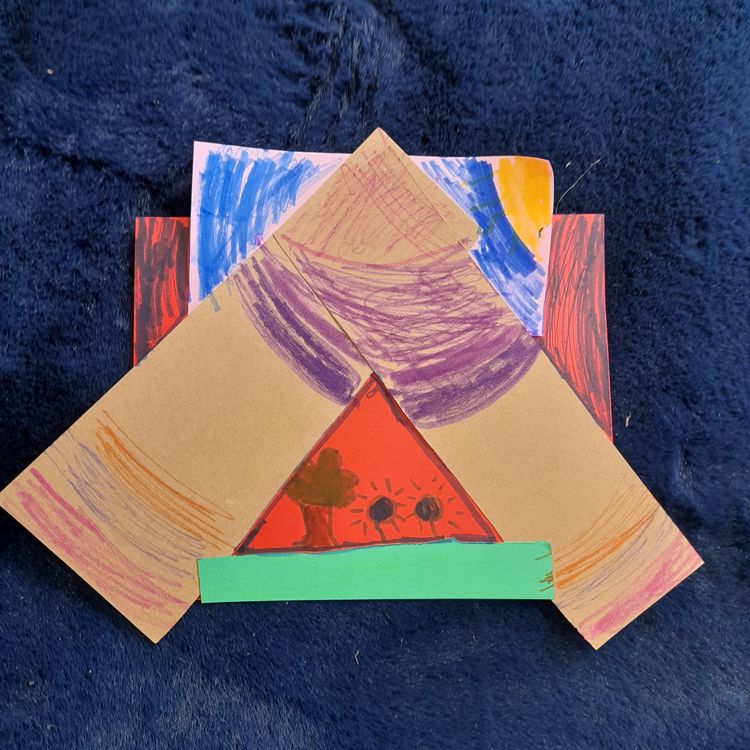 Emmeline
My house, Flowers, trees, sun, roof, grass, sky
Congratulations Emmeline! This collage demonstrates great skill and imagination. The abstract combination of shapes and colours has been executed with great care and thought. Your home looks like a happy place.
---
Artists 6-8 Years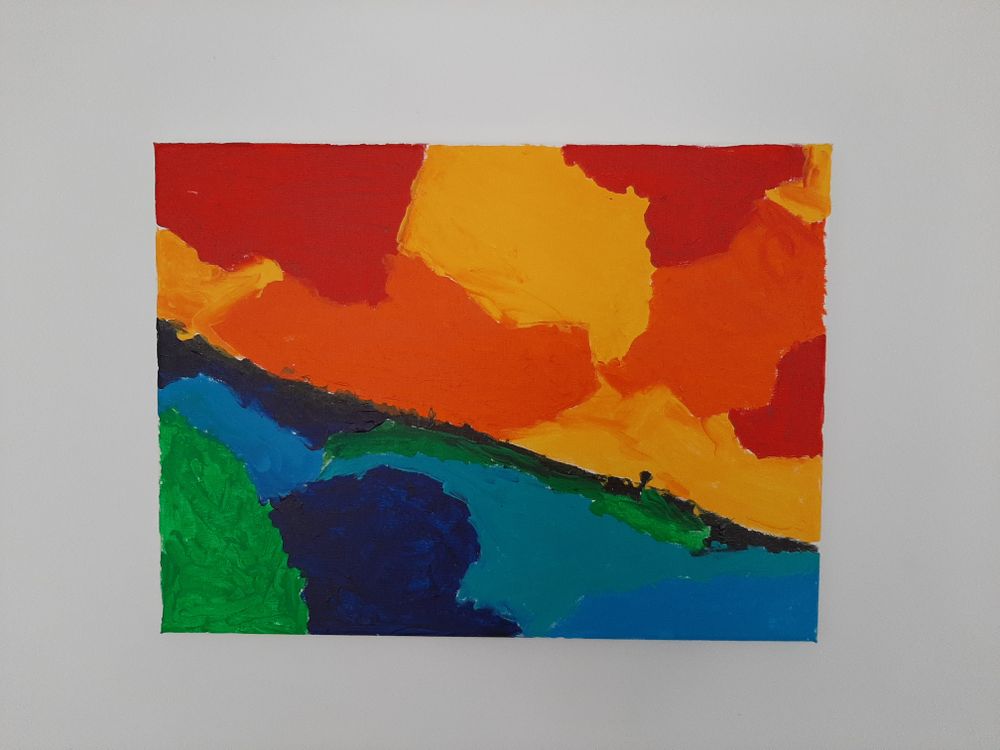 Stelios
Scottish Sunset, Abstract and colourful memories of my life in Scotland
Congratulations Stelios! Your expressive application of paint and choice of vibrant colours conveys a lively sense of energy and emotion. Art is a wonderful way to record your memories and you have conveyed the warm feeling of seeing a Scottish sunset perfectly. You have transported me to a different time and place!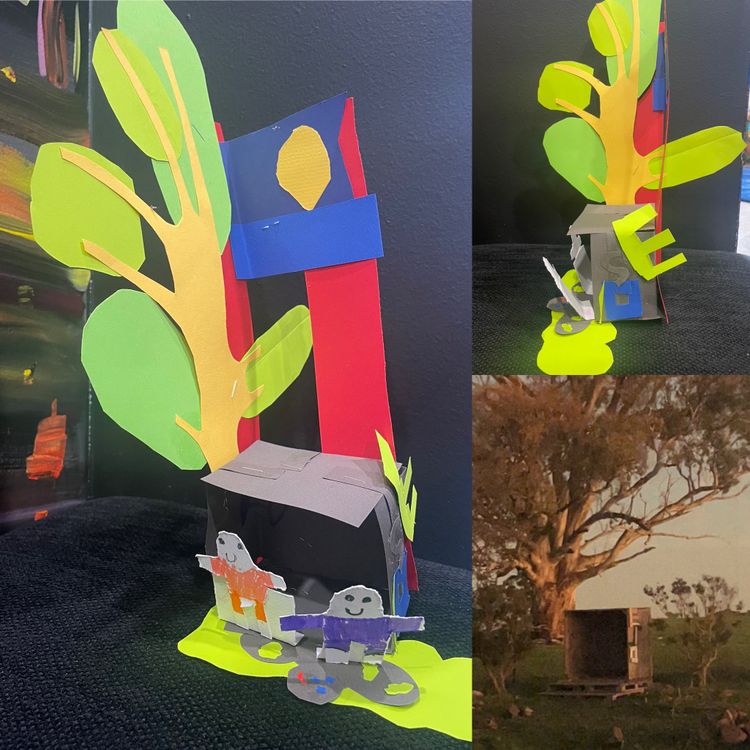 Eliott
My cubby, I built this cubby with my dad and my friends. It is my favourite place.
Congratulations Eliott! This is a very ambitious sculpture. I particularly like the way you have depicted the monumental tree that stands tall above your treasured cubby house. It looks like a joyous place to spend time with your family and friends.
---
Artists 9-10 Years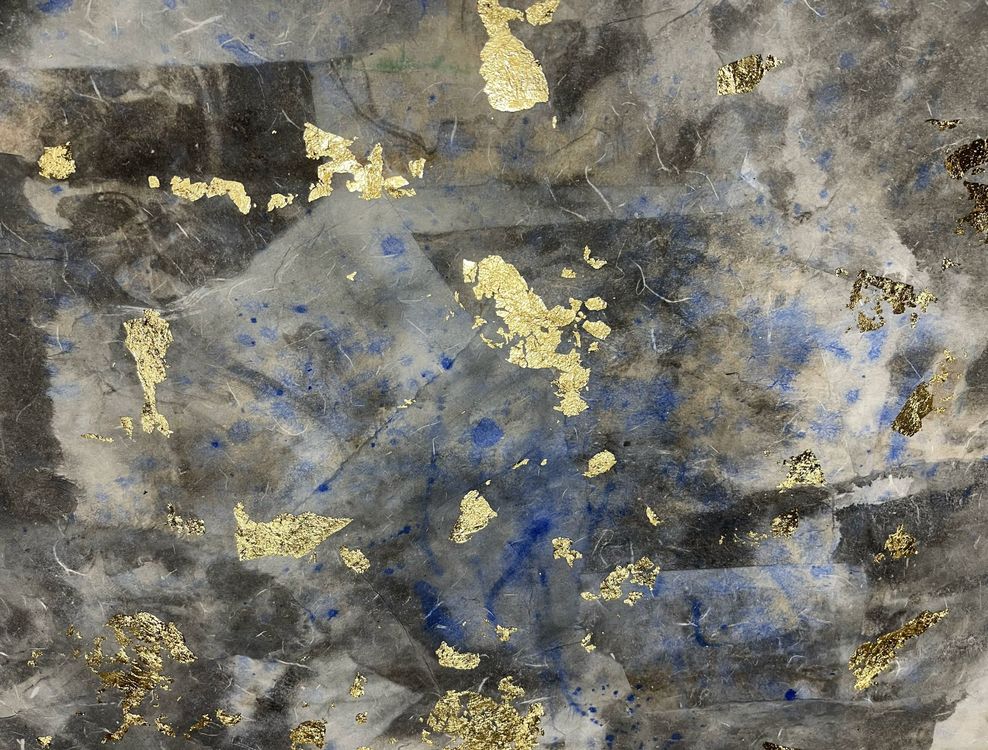 Max
"Art is not inspired by 1 person", I got my inspiration from different artists in the "Start at home page" and chinese ink paintings, and created something with both elements.
Congratulations Max! You are correct that there are many ways to find inspiration for your art. In this work I can see your interest in the fluid lines and textured surfaces associated with Chinese ink paintings. Your use of gold foil radiates on top of a grey tonal background and the blue ink provides additional depth. I hope you continue to experiment!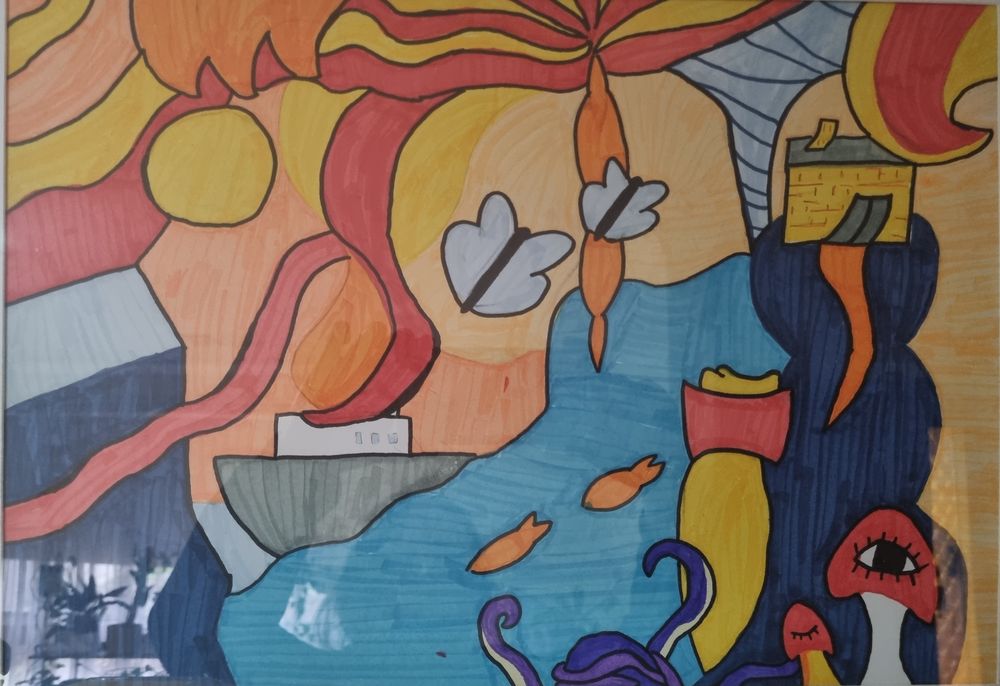 April
World of wobder, An abstract landscape of living things, a storm approaches, the water recedes
Congratulations April! This surreal scene has been executed with great care and attention to detail. I like your combination of a cool blue sea with a warm orange sky, and your inclusion of several curious creatures. Your long and flowing lines suggest a fluid world where all living things depend on each other. Well done!
---
Artists 11-12 Years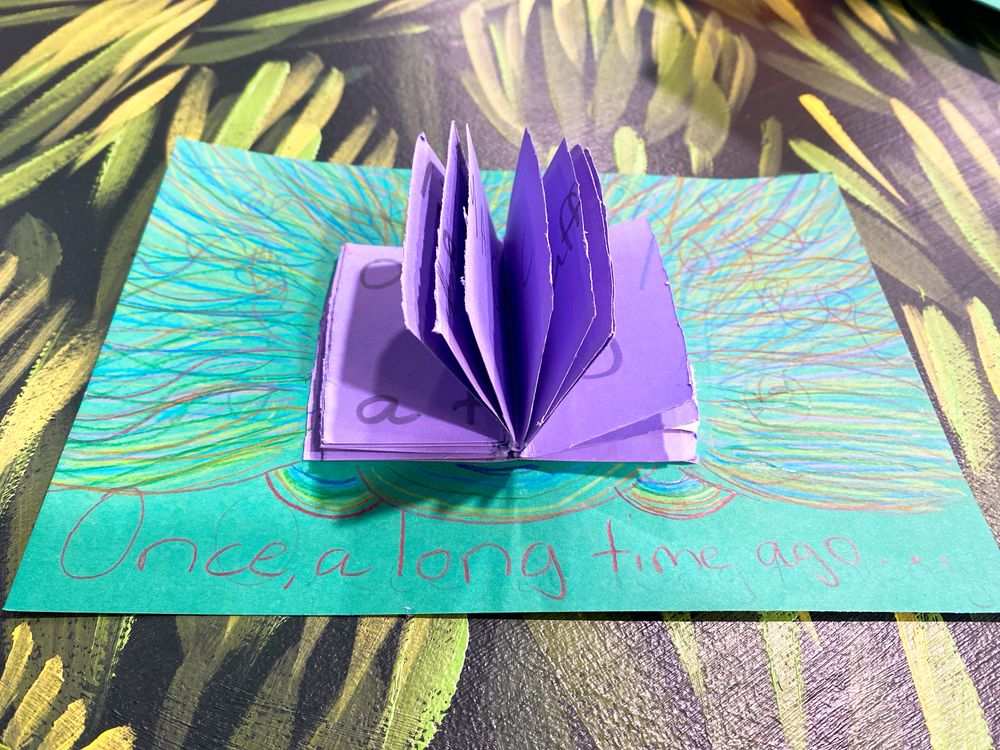 Emma
A Magic book is where you can dive in and discover great things, When you get read, delve deep into the magic of reading fantastic and magical stories that people tell each other.
Congratulations Emma! Your fantasy story scape conveys the magic of reading. Your combination of a purple book on a green background allows your expressive, rainbow-coloured lines to pop. This experimental work suggests the transformative experience of storytelling.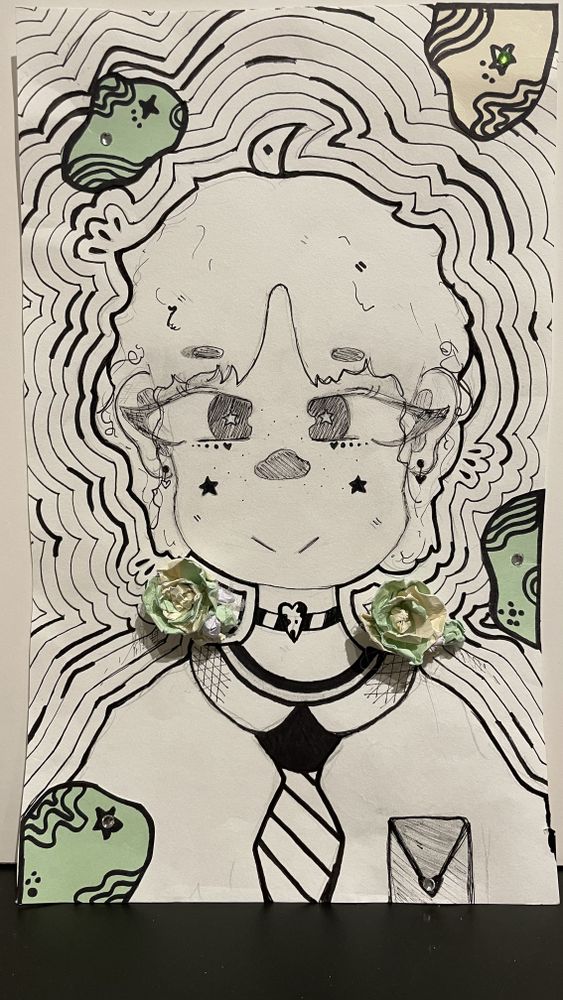 Zoe
𝖨ℓℓ𝗎𝗌𝗂𝗈𝗇𝗂𝗌𝗍, 𝖨 drew this drawing in my own style and turned it into pattern art. i named it illusionist because of the patterns
Congratulations Zoe! I can see the time and effort that went into creating this detailed drawing Illusionist. Your character stands out in the centre of your densely patterned background. Your combination of thick and thin lines, in pen and pencil, adds further interest to the work.
---