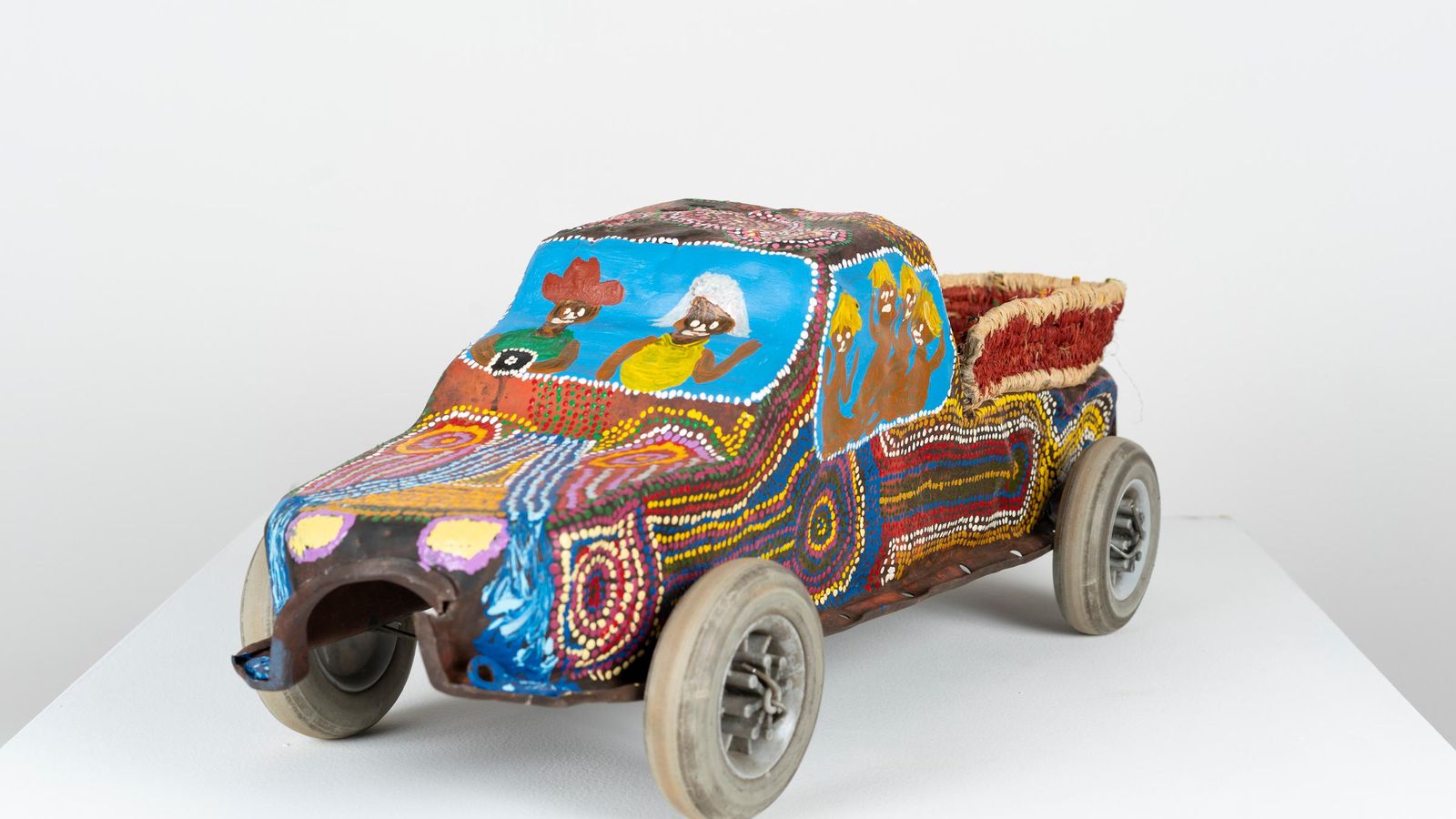 Minyma Kutjara Arts Project
---
Mutaka
Irrunytju artist Diane Dawson has many fond and formative memories of travelling around the Ngaanyatjarra Lands in the first car her father bought, in Yulara in the 1970s. She says,
Cars are an important part of life in the Ngaanyatjarra Lands. Cars take you to the homelands, take you hunting and camping and take you on holidays. These trips help you remember stories and journeys with family and all the much-loved motor cars.
For Noreen Parker, her camouflage-clad army vehicle references darker histories, specifically the British and Australian government atomic bomb testing at Emu Fields and Maralinga, which displaced her family. She says,
"My mother told me this story, how the people were all sitting down and they saw a big light and then lots of smoke – the smoke just went up and up and up. The people were frightened, they thought it was a walpa pulka (big storm) or the Wanampi (Rainbow Serpent). My Uncle had gone to hunt bush tucker in Maralinga Country – he never came back, he died from that bomb. That's a true story."
The works are accompanied by a series of short films produced by Desart and Minyma Kutjara Arts Project.
Artists
Eva Anyupa Baker, Russell Tjuwintjara Bryant, Jennifer Mintaya Connelly Ward, Diane Dawson, Linda Eddy, Sally Ann Wipana Foster, Maureen Tjalumi Nelson, Noreen Parker
Pitjantjatjara people, Western Australia & South Australia