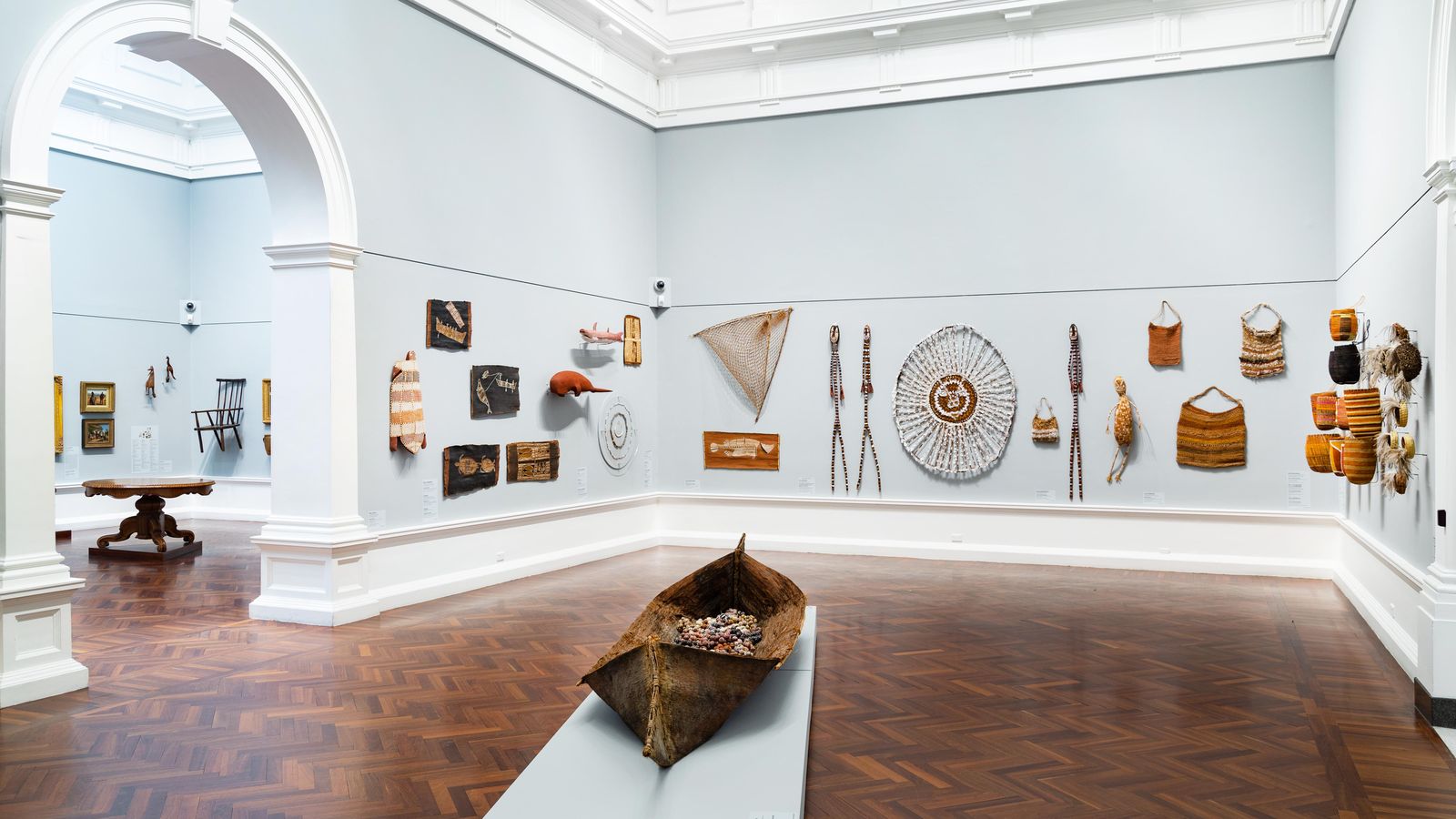 Keepers of Culture
---
Closes 23 January 2022
Keepers of Culture brings together baskets, paintings and other works of art that can be understood as vessels carrying culture. Whether woven, carved, painted, strung or sculpted, these works from the Gallery's collection embody the cultural knowledge and stories that have been 'carried' by Aboriginal and Torres Strait Islander people since time immemorial and continue to be 'carried' today.
Keepers of Culture, part of Tarnanthi 2021, includes some of the first works by Aboriginal artists to enter the Gallery's collection. One of these is the bark painting Mäṉa, the shark, by Yolŋu artist Bandaka Munuŋgurr. The depiction of this important ancestral figure shows Mäṉa's liver, a motif that suggests the succession of life for the artist's Djapu clan in northeast Arnhem Land.
More recent works include Helen Ganalmirriwuy Garrawurra's and Margaret Rarru Garrawurra's Mol miṉḏirr (black conical baskets). The varying gradations and superb depths of black in the Mol miṉḏirr are the result of the artists' knowledge, experience and commitment to refining the dyeing process. The recipe for this black dye belongs specifically to Rarru and those she recognises as following in her footsteps.
Keepers of Culture recognises the power of these works of art as living objects, offering new insights into past acquisitions. Each work is a dynamic keeper of culture, carrying culture within it. Each holds, nurtures, protects and shares the life and lore that resonates from Country.
Artists
Jane Alimankinni, Marie Evelyn Puautjimi, Juanita Tipiloura
Tiwi people, Northern Territory

David Bell, Charles Pootchemunka
Wik people, Queensland

Johnny Bulunbulun (deceased), Julie Djulibing Malibirr
Ganalbingu people, Northern Territory

Lorraine Connelly-Northey
Waradgerie people, New South Wales

Mary Djarraga (deceased)
Garryindi Djinang clan, Yan-nhaŋa language, Yolŋu people, Northern Territory

Willy Djolpa (deceased), Margaret Lanbubu (deceased), Shirley Minyingarla, Mary Mirdaburrwa
Burrara people, Northern Territory

Helen Ganalmirriwuy Garrawurra
Liyagawumirr-Garrawurra people, Northern Territory

Linda Ganyila
Yolŋu people, Northern Territory

Lola Greeno
Trawlwoolway people, Tasmania

Frewa Bardaluna (deceased), Melba Gunjarrwanga, James Iyuna (deceased), Nancy Kaybbirama (previously Kaibirama) (deceased), Mick Kubarkku (deceased), Alison Kuwanjguwanj, Samantha Mulkudja, Kalarriya Jimmy Namarnyilk (deceased), Timothy Wulanjbirr (deceased), Deborah Wurrkidj
Kuninjku people, Northern Territory

Crusoe Kuningbal (deceased)
Eastern Kunwinjku people, Northern Territory

Rosemary Mamuniny Gurruwiwi
Galpu people, Northern Territory

Desley Henry (deceased), Donna Henry, Tonya Grant
Jirrbal people, Queensland

Kulpidga (deceased), Minimini Mamarika (deceased), Dakilarra Wurramara (deceased), Damangiyarrwa Wurrawilya, Yaliowa (deceased)
Anindilyakwa people, Northern Territory

David Daymirringu Malangi (deceased)
Manyarrngu people, Northern Territory

Betty Matjarra
Garrawurra people, Northern Territory

Mabel Mayangal (deceased)
Burarra/Yanhangu people, Northern Territory

Bandaka Munuŋgurr (deceased)
Djapu clan, Yolŋu people, Northern Territory

Abe Muriata
Girramay people, Queensland

Alfred Namadjerrek
Gunbalanya (Oenpelli), Northern Territory

Margaret Rarru Garrawurra
Liyagawumirr-Garrawurra people, Northern Territory

Jay Jurrupula Rostron
Kune/Rembarrnga people, Northern Territory

Delissa Ngadijina Walker
Kuku Yalanji people, Queensland

Lena Yarinkura
Kune people, Northern Territory

Daisy Warru Yunupiŋu (deceased)
Yolŋu people, Northern Territory

Muŋgurrawuy Yunupiŋu (deceased)
Gumatj clan, Yolŋu people, Northern Territory