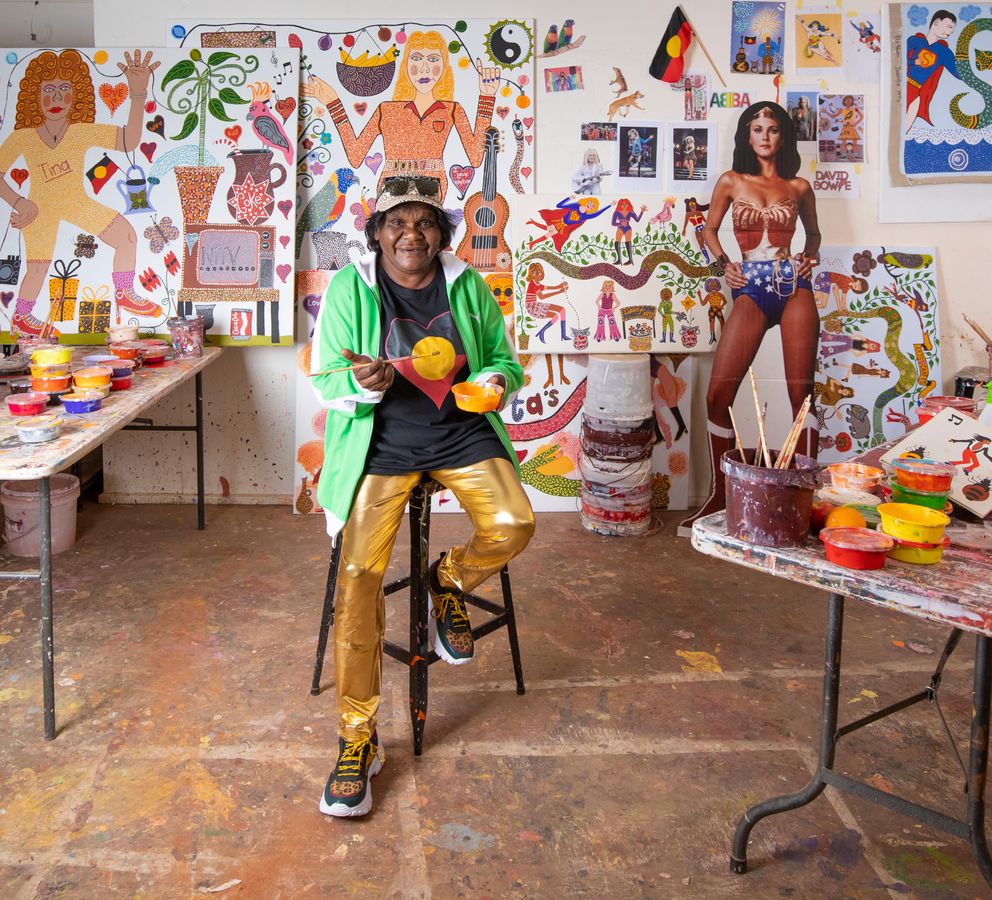 Kaylene Whiskey
---
Seven Sistas Sign
Kaylene Whiskey is a Yankunytjatjara artist who paints at Iwantja Arts and Crafts in Indulkana, in the Anangu Pitjantjatjara Yankunytjatjara (APY) Lands of South Australia. Her work is full of humour as she cleverly weaves her favourite pop stars into the Kungkarangkalpa Tjukurpa, the Seven Sisters creation story – an important story for Aboriginal women across Australia. Her painting celebrates kungka kunpu (strong women) and how they support each other and love to have fun together.
Painted on an old SA Tourist Attraction road sign are all the people and accompaniments for a big celebration, including cool drinks and lollies as well as traditional bush foods such as maku (witchetty grubs), tjala (honey ants) and mingkulpa (bush tobacco). The bush tobacco plant snakes across the entire sign, wrapping around Wonder Woman, Whoopi Goldberg, Cher, Tina Turner, Dolly Parton and Catwoman. They are partying with Anangu Kungka (Anangu Woman) – as the artist states, they are just like us.
You can also watch Kaylene TV, where she has animated her paintings to bring the party even closer to life.
Artist
Kaylene Whiskey
Yankunytjatjara people, South Australia
Iwantja Arts