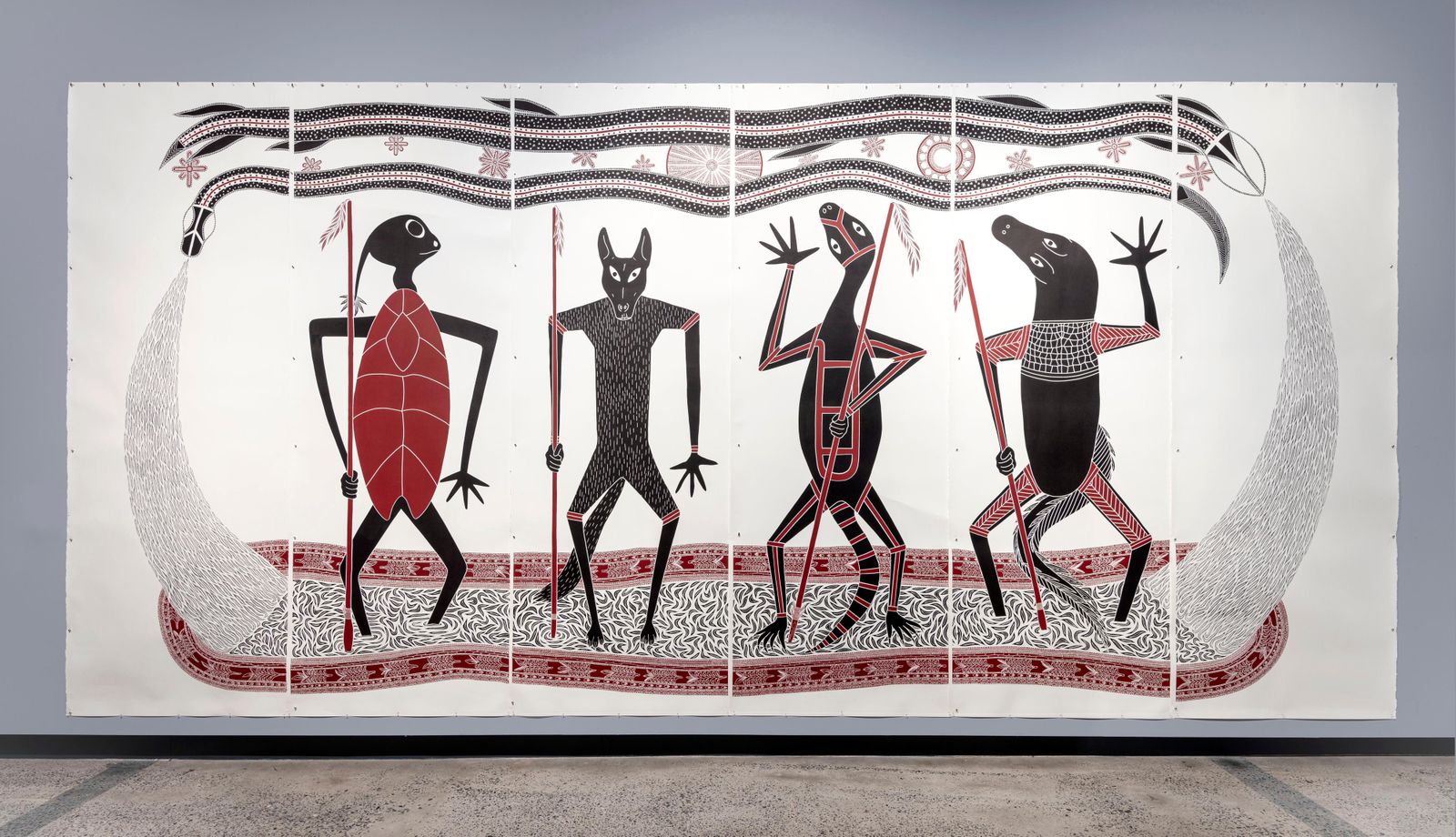 Teho Ropeyarn
---
Teho Ropeyarn's work fuses traditional and western art practice, combining customary carving with printing to create large-scale vinyl-cut works on paper. His work also reflects traditional knowledge and documented histories of his Angkamuthi and Yadhaykana people of far-north Cape York Peninsula. Ropeyarn says: 'I like to think of myself as a documenter of my people's stories through art. This is what informs my practice. Knowledge through innovation.'
This work was carved over two months from six vinyl panels, each 3.5 metres high, to create a series 7.2 metres wide. The coloured sections were inked first by a master printmaker, then placed in position for the overall work to be printed in a single inking roll. It depicts anthropomorphic totems representing four clan groups of northern Cape York, who were created as protectors of their people, land, water and identity. The work is a visual representation of the philosophy that Aboriginal people are at one with the land, sea and sky.
Listen
Athumu Paypa Adthinhuunamu (my birth certificate)

I am Teho Ropeyarn from Injinoo Community. I am from the Angkamuthi and Yadhaykana clans and my totems are the freshwater turtle, dingo, and crocodile. Ayub abil Teho Ropeyarn, Inychiinumun. Ayub amang Angkamuthi, amang Yadhaykenu amu. Ayuba uyinthanyumun, akwanjumun, ikanpamun amu.

I was raised here in Injinoo and grew up on country, camping in the bush, learning from my family and our old people, traditional life and country. I have travelled all over our country, engaging, connecting, adapting, and understanding our ancestors, listening, speaking, responding. Ayuba urramun Inychiinu. Ayub ampungamu abang urra inan, yampangu unan. Amalitadthi wutpu anthumu, athiina apulukunyu, ulab athiinychu ibaa. Ayub urrang abang ilaanan; akyin, ukyaan, amin, ikyan.

Our ancestors continue to guide us, they are here, they are with us, and they walk with us. They are our spiritual compass, provider, link and lore and order. Anab amalitadthi wutpu anaamu atinyima; anab apudthamang anama.

We inherit this ancient blood, and our ancient land, water and sky. The dreamtime is written within our genes, we are oldest living culture in the world. Lukuny anaamu, abang anaamu, ipi anaamu, achal anaamu; ulub anaanyu urrang un. Anab anpachama inama, aghuymanyungu.