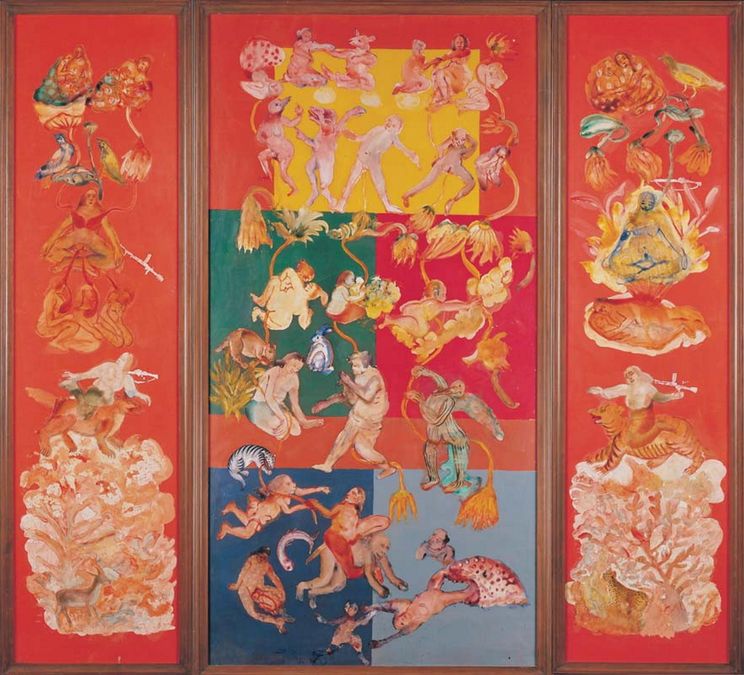 Stories Retold
---
For me, history, fantasy, ritual remembrance, dream life, memory, transformation can all be melded in the crucible of narrative.
For Malani, ancient Indian myths are the generative origin of potent and pervasive female archetypes. In the series Stories Retold, the artist reworks the tales of five legendary Indian female protagonists, Sita, Yashodara, Radha, Mohini and Putana, whose narratives offer important moral insights when considered alongside modern mythologies and contemporary readings of empowered female figures. Stories Retold specifically references the Hindu morality stories of the Bhagavata Purana, written in Sanskrit around 900 CE. In these works, Malani harnesses the technique of reverse painting. Originally rendered on glass, reverse painting emerged in Byzantine Europe and was especially used for sacred images, then became popular in nineteenth-century China, Japan and India.
A protagonist of the Hindu epic Ramayana, Sita is a Hindu goddess, avatar of Lakshmi and consort of Rama, who is also an avatar of Vishnu. She is associated with beauty, self-sacrifice, purity and courage. Sita was kidnapped by the god Ravana, the king of Lanka, and imprisoned in the garden of Ashoka Vatika until she was rescued by Rama. After her rescue, Rama asked her to undergo an ordeal of fire (Agni Pariksha) to prove her purity, then she and Rama returned to Ayodhya as king and queen.
Varaha is an avatar of the god Krishna in the form of a boar, with origins in Hinduism's Vedas scriptures. Varaha is often associated with lifting the earth out of the cosmic ocean. Yashodara is Varaha's mother and the wife of Prince Siddhartha. She later became a Buddhist nun who achieved nirvana, the release from the endless cycle of rebirth.
In Hinduism, Radha is a supreme female deity, worshipped as the goddess of love, compassion and devotion, and the chief consort and female counterpart of Krishna since childhood. She is also an avatar of the goddess Lakshmi. Holi (the festival of love and colours), one of Hinduism's major festivals, is a celebration of the eternal love between Radha and Krishna.
Mohini is the Hindu goddess of enchantment and an active protagonist in the destruction of demons. Her powers are enacted through her mesmerising beauty. She first appeared in the great narrative epic the Mahabharata as the female avatar of the male god Vishnu.
In Hinduism, Putana is a demoness who tried to kill the infant god Krishna by breastfeeding him poisoned milk. In turn, Krishna killed Putana by drinking her milk and then consuming her life. With her evil motives, she is associated with children's illnesses and also represents a fusion of danger and desire.