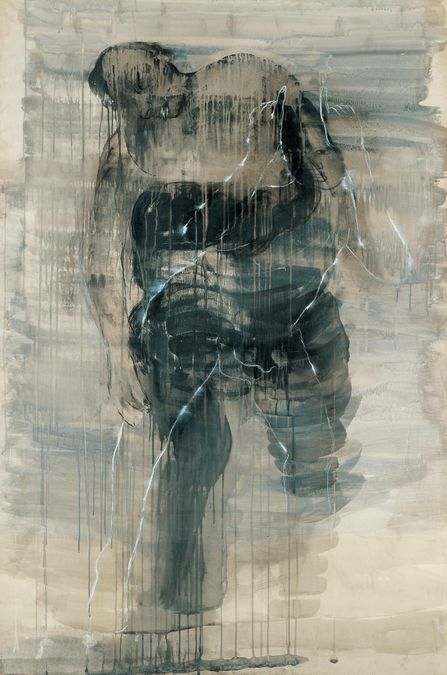 Mutant B
---
I strongly believe in a partisan space … I do believe if you are neutral you cannot be passionate … my endeavour is to make visible that which is invisible.
Malani created her powerful 'Mutant B' drawings for the Second Asia Pacific Triennial of Contemporary Art at the Queensland Art Gallery in 1996 and they were presented as part of her installation Body as site. Partly inspired by Andrei Tarkovsky's film Stalker, the installation comprised a suite of six large-scale 'Mutant B' drawings on milk carton paper alongside Woman, three mixed-media drawings made directly onto a gallery wall. Brisbane-based artist Judith Wright collaborated with Malani to erase the wall drawings at the close of the exhibition.
The 'Mutant B' works reference catastrophic events, including the devastating 1984 Bhopal disaster, a chemical leak from an Indian pesticide plant, which killed an estimated 15,000 to 20,000 workers and residents. A key reference for these works is the 1994 book Global parasites: Five hundred years of Western culture by Winin Pereira and Jeremy Seabrook.
The 'Mutant B' series alludes to issues of violence, fundamentalist politics and ecologial disaster, informed by Malani's longstanding interest in psycholanalysis, the female body as site and rendering the invisible visible.