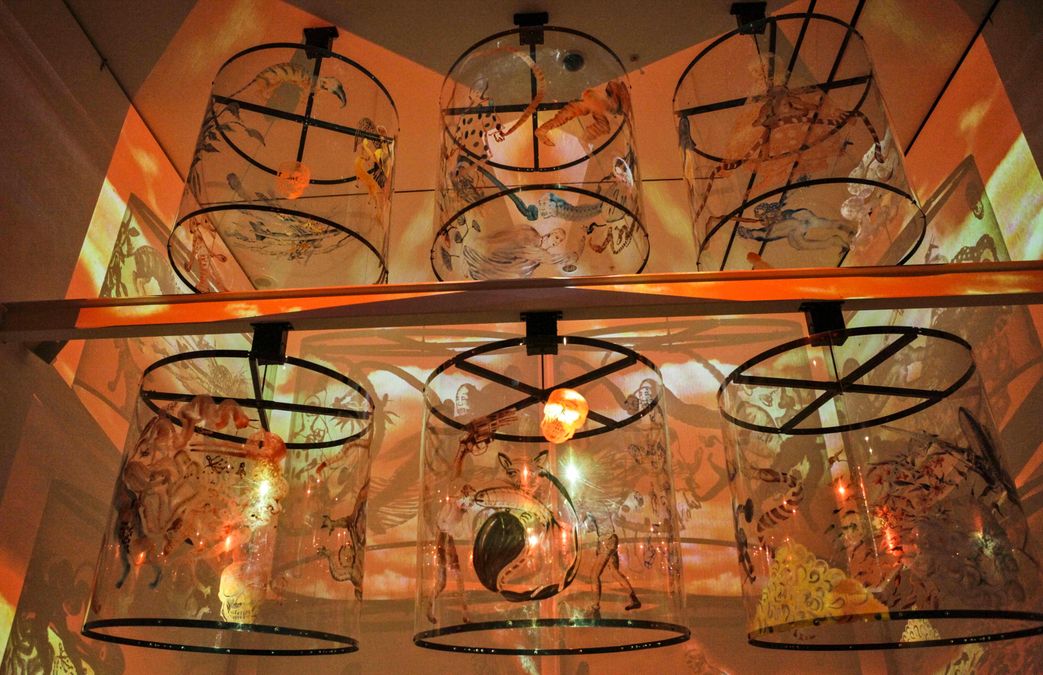 Gamepieces
---
The artwork is like a gossamer thread of fleeting experience. This element one sees especially in my video/shadow plays with their rotating cylinders, where a slow procession of shadows and images incessantly intermingle. The audience finally makes the work and gives it a meaning. It is very personally selective and depends on what one holds on to.
Malani's 'video/shadow plays' (since 2001) create a seductive, post-cinematic cyclorama of imagery and sound as silhouetted and video images collide and skim across surfaces and onto viewers' bodies, making the audience participants in her work. Gamepieces consists of six large, suspended transparent painted cylinders that rotate and are projected onto and through by four channels of video, creating a dramatic superimposition of mythology, history and wonder.
The precursor to Malani's 'video shadow/plays' was a theatre production of Bertolt Brecht's The Job, which she co-produced in 1997, in which the painted cylinders evoked costumes. Malani conceived Gamepieces in direct response to the alarming nuclear tests in India and then in Pakistan in 1998. On each cylinder, the artist has reverse-painted, often in Kalighat style, a fantastical menagerie of mythical creatures attempting to erase disaster, while the projections include footage of the atomic bombings at Hiroshima and Nagasaki.
Gamepieces is a career-defining work that brings together fifty years of practice and enduring concerns, harnessing collective memory and showcasing in a single work Malani's experimentation in painting, video and installation. Gamepieces is at once analogue and digital, literary and filmic, hybrid and experimental.
The soundscape is a Khyal or Khayal, a major form of Hindustani classical music from the north of the Indian subcontinent, it is associated with romantic poetry and its name is derived from the Persian/Arabic word for 'imagination'.